Good news for food businesses as Chairman CDA, Noor Ul Amin Mengal, recently announced the auction of plots at Capital Street in Islamabad.
The CDA will auction 20 plots in Islamabad, covering an area of 1 Kanal, and the auction will take place at Jinnah Convention Center Islamabad from the 20th to the 21st of July. 
Modeled after famous walking streets like JBR Dubai, City Walk Dubai, and Nizami Street Baku, the food street will be located in Shakarparian.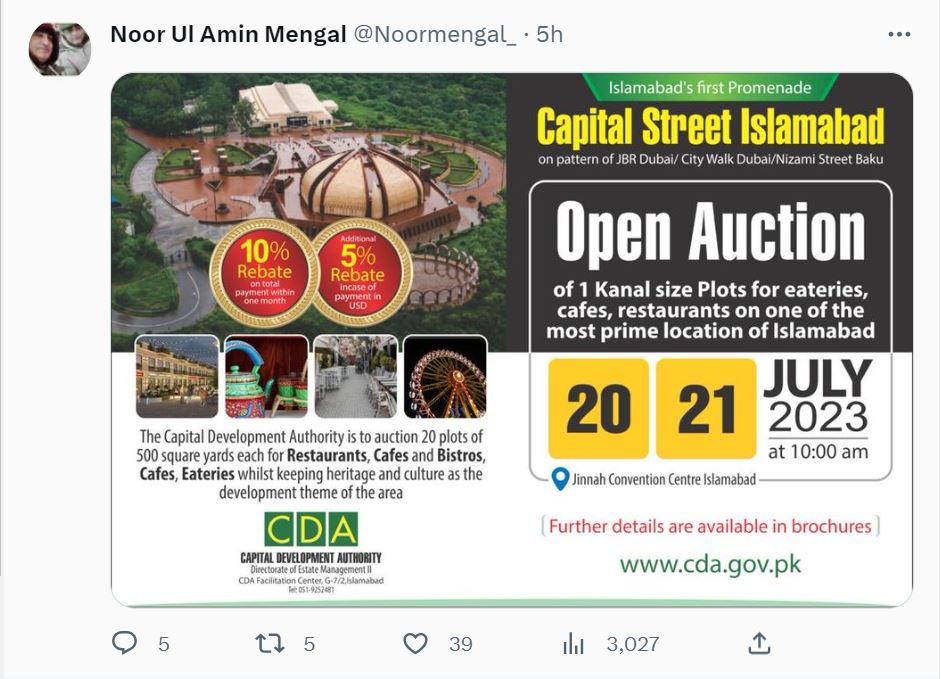 Great Opportunity for Eateries
The auction offers a great opportunity for cafes, restaurants, and eateries to purchase land in the capital and promote their business.
The plots are available for food businesses, both domestic and international, registered with the relevant authorities.
Investors can obtain brochures from the CDA Facilitation Center, Directorate of Estate Management II, or access them on the CDA website.
The CDA offers a 10% rebate on total payments within one month and an additional 5% rebate for payments in USD.
Tenders of Rs. 1 billion
Moreover, the CDA approved tenders of Rs. 1 billion for dedicated regeneration of the area, with infrastructure development and other facilities to be improved within the next six months.
The advance tax will be deducted on a pro-rata basis, and a 25% payment will be required within 30 days of bid acceptance.
Additionally, 1/3 of the plot area will be reserved for art and craft, along with the creation of attractive pedestrian boulevards and streets.