De Daltons, a Dutch restaurant, proudly holds the title for serving the world's most expensive burger, known as "The Golden Boy."
This culinary masterpiece, which bears a price tag of €5,000 or Rs. 16 lac, demands an impressive nine hours of meticulous preparation.
At the heart of this extravagant burger are its gilded saffron buns, housing a medley of opulent ingredients that may leave your taste buds both delighted and bewildered.
It features A5 Wagyu beef (the most expensive beef in the world) and chuck short ribs, Alaskan king crab, beluga caviar, white truffles, Paleta Iberico Bellota ham, and onion rings infused with Dom Perignon.
An Extravagant Serving
The burger is served alongside pickled tiger tomato in matcha tea, smoked duck egg mayo, and a BBQ sauce crafted from the finest Macallan Single Malt whiskey and Kopi Luwak coffee.
It's a gastronomic symphony that commands attention.
Moreover, the burger's uniqueness is further enhanced by its solid gold-covered buns, adding an extra layer of extravagance that contributes to its staggering cost.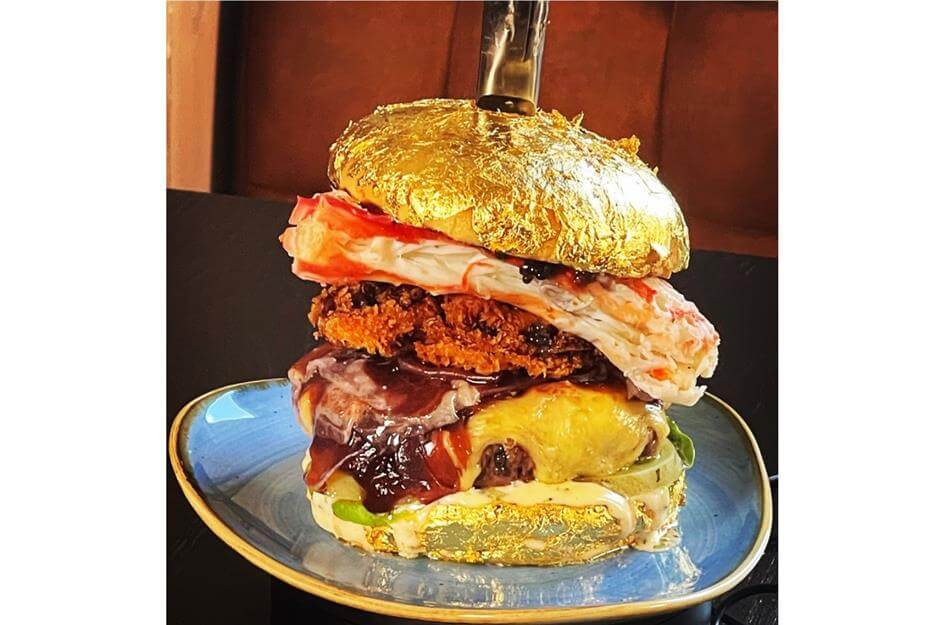 In essence, "The Golden Boy" presents a pretzel-style bun adorned with gold and features some of the world's most exquisite and rare ingredients.
It is the harmonious fusion of these exceptional elements that renders this burger a true culinary masterpiece, fully justifying its lofty price tag (maybe).
Making a Positive Impact
"The Golden Boy" made its debut in Amsterdam in the summer of 2021, thanks to the vision of restaurant owner Jan de Veen. His driving force was not merely culinary innovation but a profound desire to make a positive impact.
Proceeds from the burger's sales were dedicated to feeding hungry children worldwide, addressing a pressing humanitarian concern.
Simultaneously, Jan de Veen sought to support the struggling food-service industry, which had been severely affected by the COVID-19 pandemic.
"The Golden Boy" was sold only once, finding a delighted buyer in the Netherlands-based company Remia International.
The profits from this exceptional sale empowered Jan de Veen to provide 1,000 meals to children in need.
This extraordinary endeavor exemplifies how restaurants can play a pivotal role in nurturing their communities and making a meaningful difference in the world.