Dubai, the entertainment capital of the globe, is a city that attracts thousands of tourists every year. Dubai is the epitome of opulence and a swaggering way of life, with its ultra-modern architecture, exotic nightlife, and stunning bird's-eye views of the city's stunning skylines. The abundance of tourist attractions in Dubai means that your next trip to Dubai will be filled with plenty of options for you to choose from. The nightlife, beaches, skyscrapers, retail malls, five-star hotels, and museums and zoos that Dubai, United Arab Emirates, is known for are just some of the reasons that people flock there.
Best Time To Visit Dubai
The ideal time to visit Dubai is between November and March, when the weather is favorable and you can enjoy a full day of touring. The summer months are unbearably hot and muggy, so you'll want to make your trip during the cooler months.
The best time to visit Dubai is between the end of December and the beginning of February if you want to see the New Year events and participate in the Dubai Shopping Festival.
Places to Visit in Dubai
Luxurious shopping, ultramodern architecture, and a vibrant nightlife scene are among Dubai's most popular attractions. The 830-meter-tall Burj Khalifa dominates the city's skyline. Located at its base, the Dubai Fountain features synchronized jets and lights. Resorts with aquatic and marine-animal parks can be found on man-made islands just offshore.
We've compiled a list of some of the most exciting tourist attractions in Dubai that you shouldn't miss. When it comes to a city, Dubai is an excellent example of what hard work and dedication can achieve. Originally a harbor, it has evolved into one of the world's top tourist destinations. Dubai has a plethora of tourist attractions that you can see on your next trip. Continue reading to see photographs and learn more about the fascinating Dubai attractions.
Burj Khalifa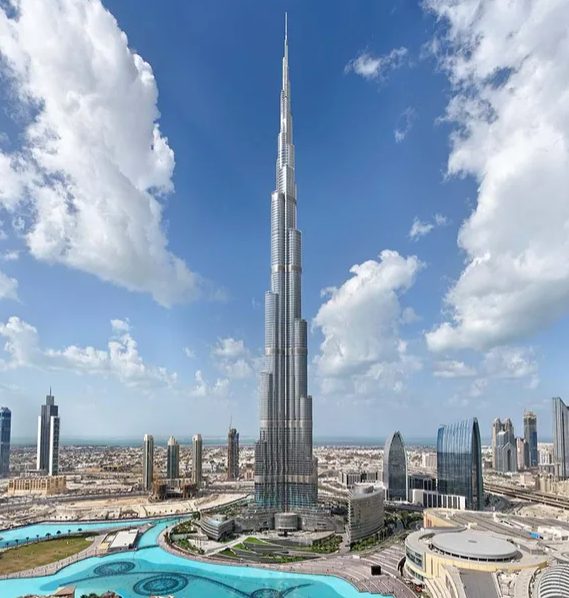 View Dubai's famed cityscape at Burj Khalifa. Towering at a height of 2,700 feet, the Burj Khalifa is now the tallest tower in the world. With two observation decks, a Las Vegas-inspired fountain, nine of the city's greatest luxury hotels and various restaurants, this 21st-century architectural marvel must be your number one spot to visit whether in Dubai or even the UAE.
At The Top, the observation deck on the 124th level, provides an unobstructed view of the city's skyline and the surrounding area. If you're looking for a great place to begin your Dubai sightseeing, this is it.
Opening Closing Time:
Sunday – Wednesday: 10 am – 10 pm
Thursday – Saturday: 10 am – midnight
Entrance Fee:
Adult: Dh 100
Child (4-12): Dh 75
Location: 1 Emaar Boulevard, Downtown Dubai.
Dubai Aquarium and Underwater Zoo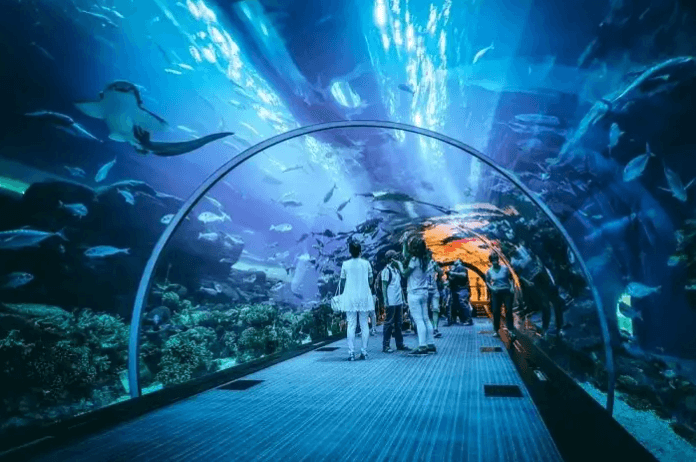 The Dubai Aquarium & Underwater Zoo, housed in a 10 million-liter tank on the ground level of the Dubai Mall, is home to over 33,000 aquatic animals. One of the aquarium's upper levels is dedicated to an extensive collection of aquatic animals that can be found in the oceans, rivers, and other aquatic environments throughout the world. There is a third portion of the museum dedicated to virtual safaris, where visitors can experience awe-inspiring wildlife experiences.
Opening Closing Time:
Sunday – Wednesday: 10 am – 10 pm
Thursday – Saturday: 10 am – 12 am
Entrance Fee:
Aquarium Tunnel and Underwater Zoo: Dh 55
Aquarium Tunnel, Underwater Zoo, Behind the Scenes Tour, and Aquarium Gift Shop Voucher: Dh 80
Location: The Dubai Mall, Doha Street.
Palm Jumeirah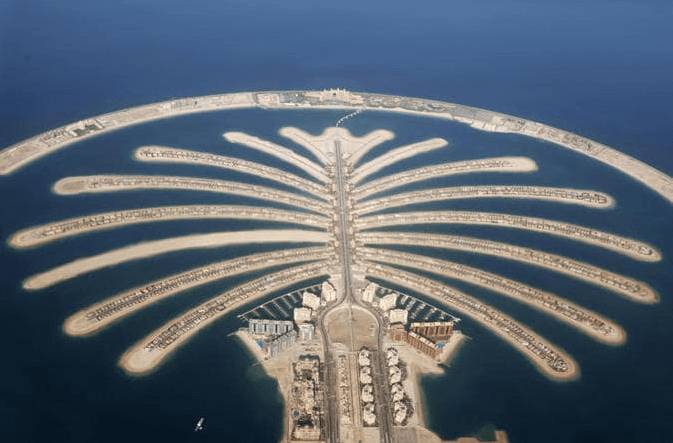 The Palm Jumeirah island in Dubai's Persian Gulf is a stunning example of land reclamation at its finest. The archipelago resembles a palm tree with a circle when you take an above view of it. Atlantis, the Palm, Aquaventure Waterpark, and the Lost Chambers Aquarium are just a few of Dubai's most popular tourist attractions. It was one of the country's first big tourism developments.
Opening Closing Time:
Entrance Fee: Free Entry
Location: Jumeirah coastal area of the Emirate of Dubai.
Aquaventure Waterpark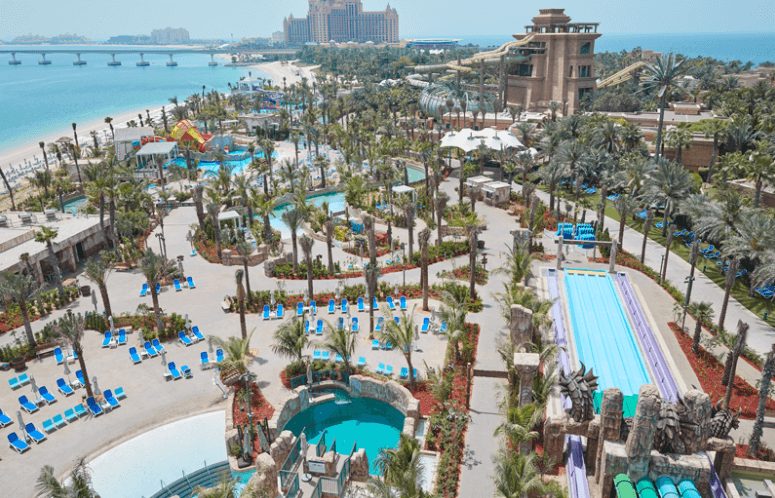 Aquaventure, one of Dubai's largest water parks, is housed in the Atlantis hotel complex. In addition to the slides, pools, and shoots that make up this fantastic water park, there are also a number of exhilarating rides. Some of the park's highlights are the adrenaline-pumping Tower of Neptune and the similarly thrilling Tower of Poseidon. Rest and relaxation in the Cabanas, delicious dining options, and souvenir shopping are all available to park visitors.
Opening Closing Time:
Location: Atlantis Palm Jumeirah, Crescent Road, Dubai.
Dubai Dolphinarium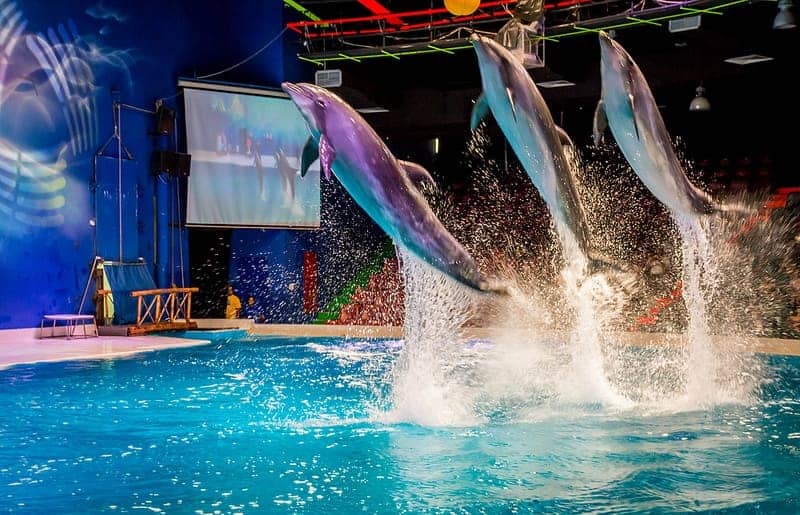 The Dubai Dolphinarium is world-famous for its awe-inspiring and participatory presentations including majestic Black Sea bottlenose dolphins, Northern and Southern American fur seals, and exotic birds. Visitors from all over the world come to see spectacular marine animal and bird exhibitions at the Dubai Dolphinarium, which is located in Creek Park, a family entertainment and amusement park in Dubai.
Opening Closing Time:
Dolphin Show Timings:
Monday – Thursday: 11 am, 6 pm
Friday – Saturday: 11 am, 3 pm, 6 pm
Entrance Fee:
Dolphin and Seal Show:
Adult: Dh 120
Child: Dh 80
Location: Creek Park Gate No.1, Riyadh Road, Dubai.
Dubai Fountains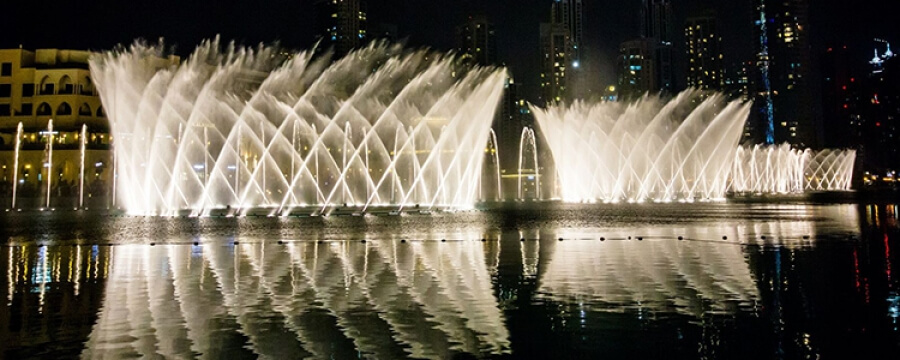 Within the stunning Burj Complex, you'll find Dubai Fountain, the world's largest choreographed water fountain. In synchronization with classical, Arabic, and other popular world music, this dancing fountain rises up to 150 meters. The Fountains of Bellagio in Las Vegas were designed by WET, a company based in California, and this fountain takes inspiration from their work. In order to get the greatest view of the event, go through Dubai Mall. The show starts every evening at around 8:30 pm.
Opening Closing Time:
Performances:
Sunday – Wednesday: 1 pm, 1:30 pm and every 30 minutes from 6 pm to 10 pm
Thursday – Saturday: 1 pm, 1:30 pm and every 30 minutes from 6 pm to 11 pm
Location: Burj Khalifa Lake, Outside Dubai Mall, Downtown Dubai, Dubai.
Jumeirah Mosque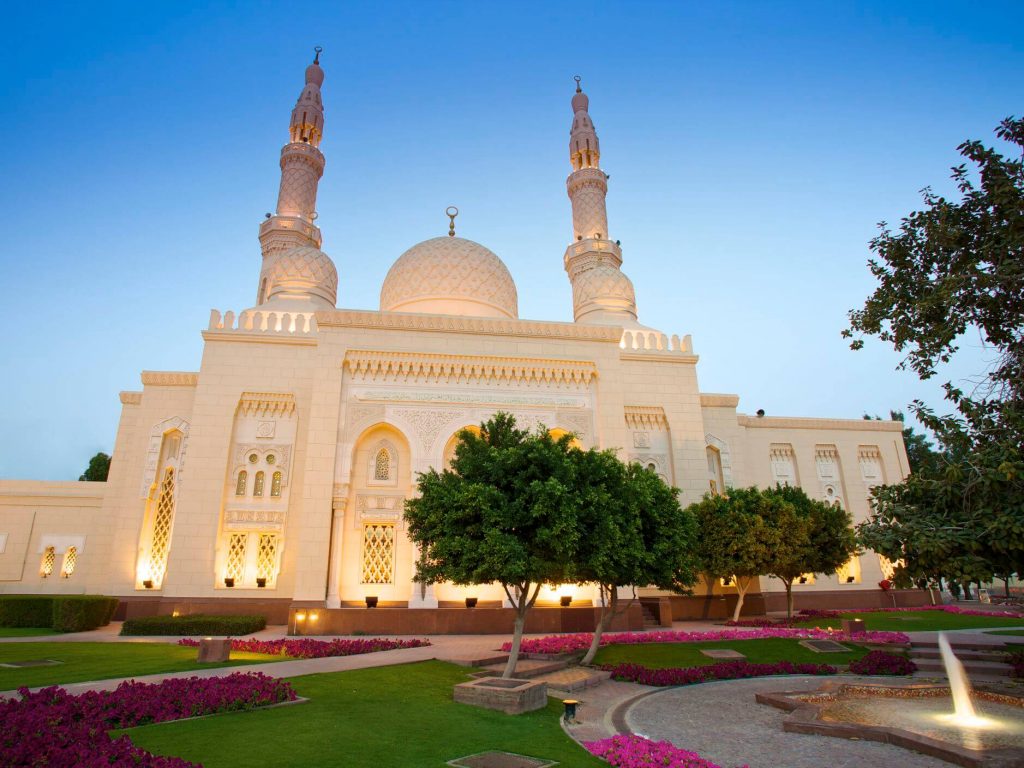 According to many, the UAE's Jumeirah Mosque is the most beautiful mosque. The Al Azhar Mosque in Cairo, Egypt, is eight times the size of this mosque, however this mosque is a fine example of Islamic architecture. Open to non-Muslims as well. When lit up at night, the building's intricate architecture and design come to life in all their glory. It is also one of the most photographed mosques in the United Arab Emirates.
Opening Closing Time:
Tours on Saturday, Sunday, Tuesday and Thursday: 10 am
Entrance Fee: Dh 10
Location: Jumeirah Road.
Jumeirah Beach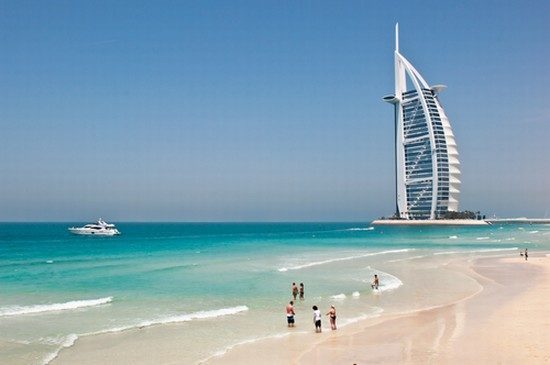 Visitors to Dubai go to this sandy white strip of sand south of the old Al Faihidi area to relax on the pristine sand. Wild Wadi Water Park, Jumeirah Beach Hotel, and Burj Al Arab (Arab Tower) hotel are just some of the high-end resorts and assets clustered along Dubai's coastline. Jet skiing, kitesurfing, and other water activities are available for thrill seekers. Tourists can also hire sun loungers along the beach for a peaceful day.
Entrance Fee: Dh 5 per person
Location: Jumeirah, Dubai.
Dubai Museum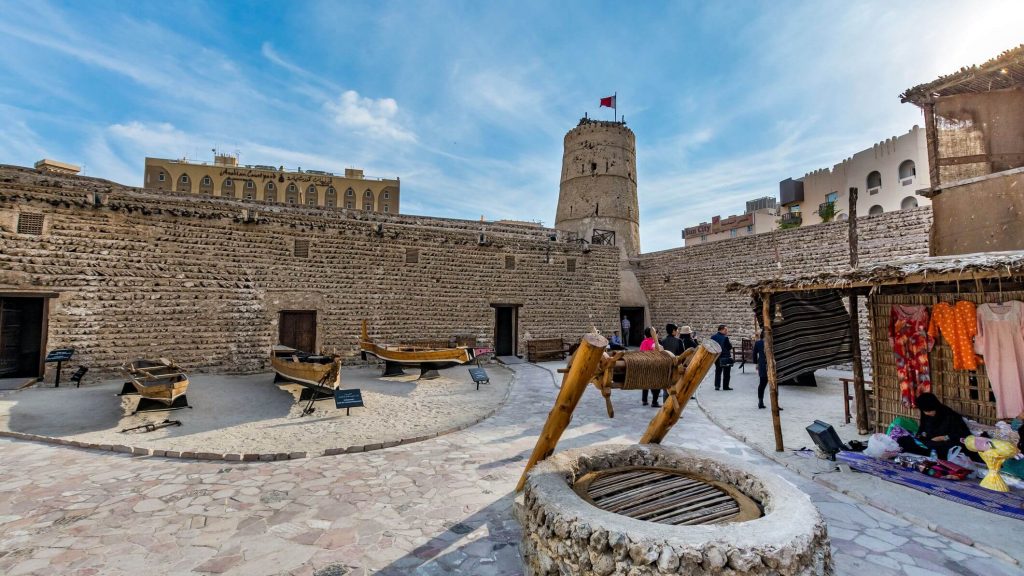 The oldest structure in the Emirate, Dubai's spectacular museum of Dubai dates back to 1787 when it was constructed in the Al-Fahidi Fort. The ruler of Dubai restored the building in 1971, and it was completely rebuilt in 1995. It now houses the city's history and numerous significant events. However, the museum's primary goal is to demonstrate the Emirati way of life, but it also displays intriguing historical maps of Dubai and the Emirates that illustrate how much the region expanded after the oil boom.
Opening Closing Time:
Saturday – Thursday: 8:30 am – 8:30 pm
Friday – 2:30 pm – 8:30 pm
Entrance Fee:
Location: Al Fahidi Fort, Al Fahidi Street, Opposite Grand Mosque.
Atlantis the Palm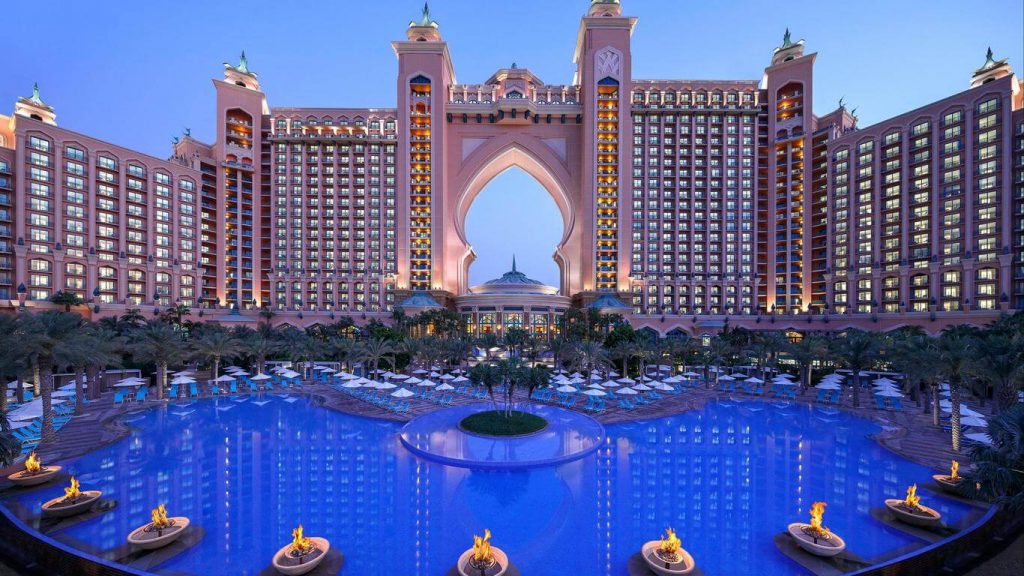 Atlantis is Dubai's first ever resort on the Palm Jumeirah Island, and it boasts a private sand beach and five-star amenities. The Arabian Gulf and the tale of Atlantis are the inspirations for this resort, which incorporates a few distinguishing Arabian characteristics. Tourists flock to Palm Atlantis for its unique attractions, including an underwater aquarium and dolphin-swimming chances, making it a popular location.
Entrance Fee: Free Entry. (Purchase of tickets required for different rides)
Location: Crescent Road, Palm Jumeirah.
Dubai Marina Walk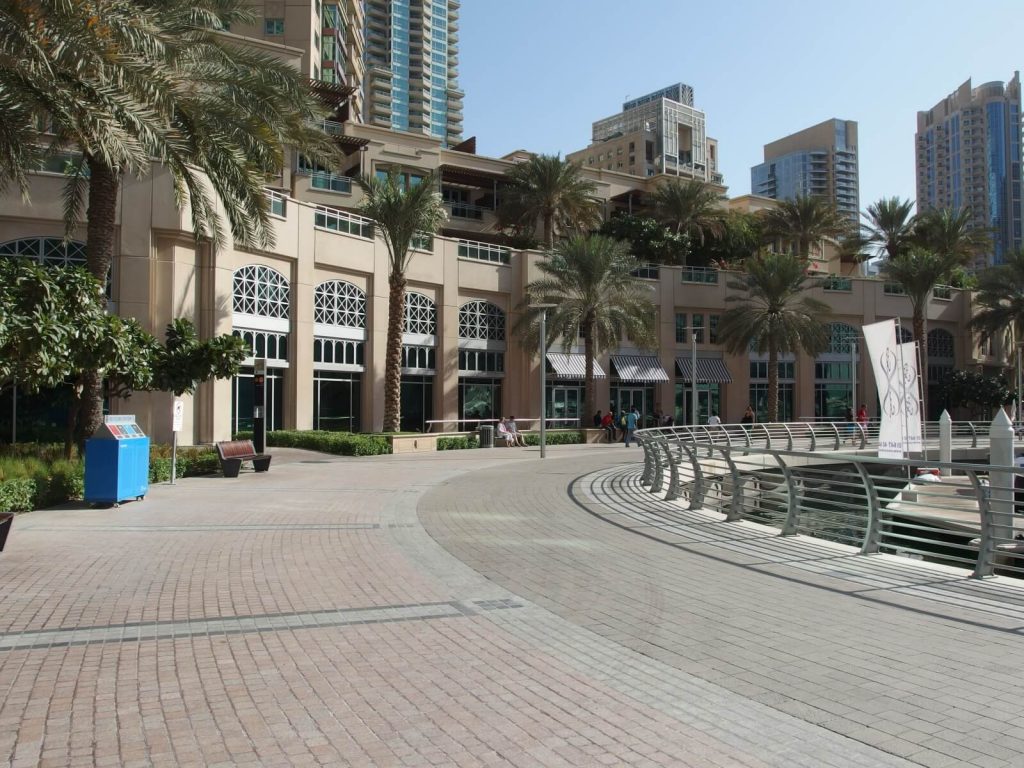 From the beginning to the end of Dubai Marina, the Dubai Marina Walk is a 7-kilometer long walkway. It's a terrific area to spend an evening with your loved ones because it's full with great restaurants, cafes, and shops. An impressive display of luxury ships and speedboats may be found around the shoreline. The Dubai Marina Walk is home to Angsana Spa & Health Club, Baskin Robbins, Lighthouse Restaurant, Round Table Pizza, and Starbucks, to name just a few of the many dining and retail options.
Location: Dubai Marina, Dubai.
Miracle Garden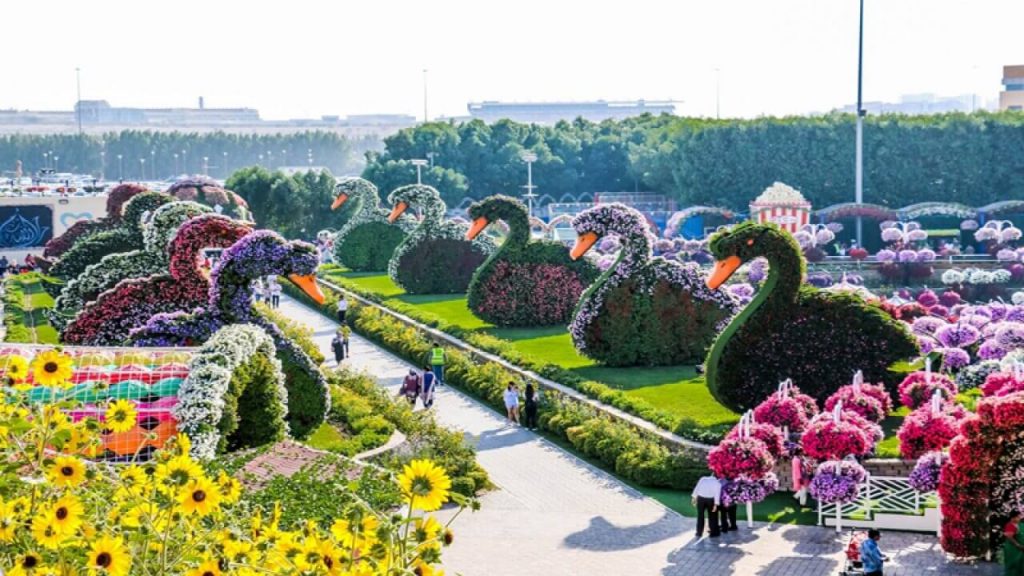 This natural floral garden is one of the world's most beautiful and largest flower gardens, located in Dubailand, spans an area of more than 72,000 square meters, and features more than 45 million blooms and plants. Those seeking the beauty of nature in the city will find it a retreat here. Mid-November to mid-May is the only time you can visit the garden.
Entrance Fee: Dh 20
Location: Al Barsha South 3, Barsha/DubaiLand Area.
Dubai Desert Safari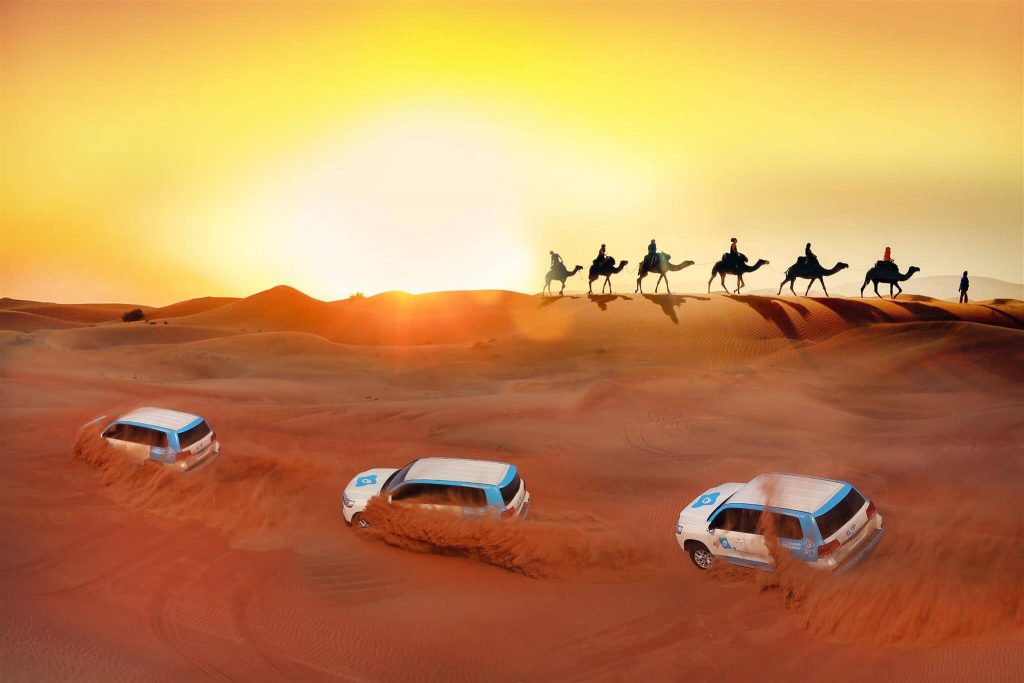 While Dubai is most recognised for its infrastructure, it also has a reputation for being adventurous. The desolate desert still lies at the core of Dubai. For this reason, the city has a variety of Desert Safari alternatives available. You won't regret spending your money on this once in a lifetime adventure! Visitors can enjoy a traditional Arabian banquet, belly dancers, and other performances while camping in the desert. With activities like Dune Bashing, sandboarding, quad biking, and camel rides, day safaris are a great way to see the desert up close and personal.
Opening Closing Time:
Legoland Dubai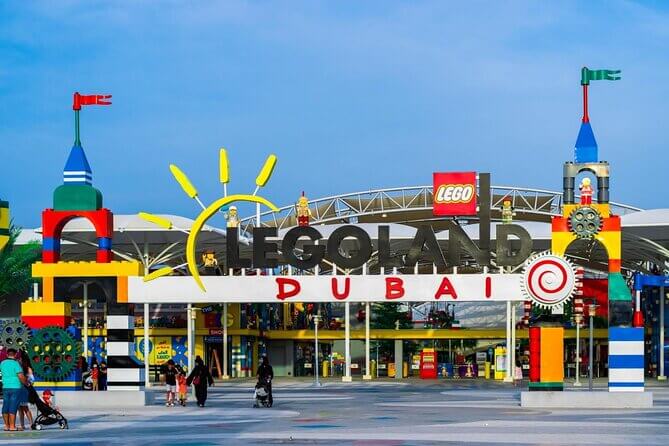 Legoland is a family-friendly theme park located in the middle of Dubai's parks and resorts. Visitors can play with Lego bricks and enjoy water slides at the same time! Legoland is separated into two parks: a Lego park and a Lego Water Park, which are suitable for children ages 2 to 12. Legoland Dubai features more than fifteen thousand Lego models, forty interactive rides, and twenty water slides.
Opening Closing Time:
Lego Park: 12:00 pm – 10:00 pm
Lego Water Park: 10:00 am – 06:00 pm
Location: Parks & Resorts, Sheikh Zayed Road.
Global Village Dubai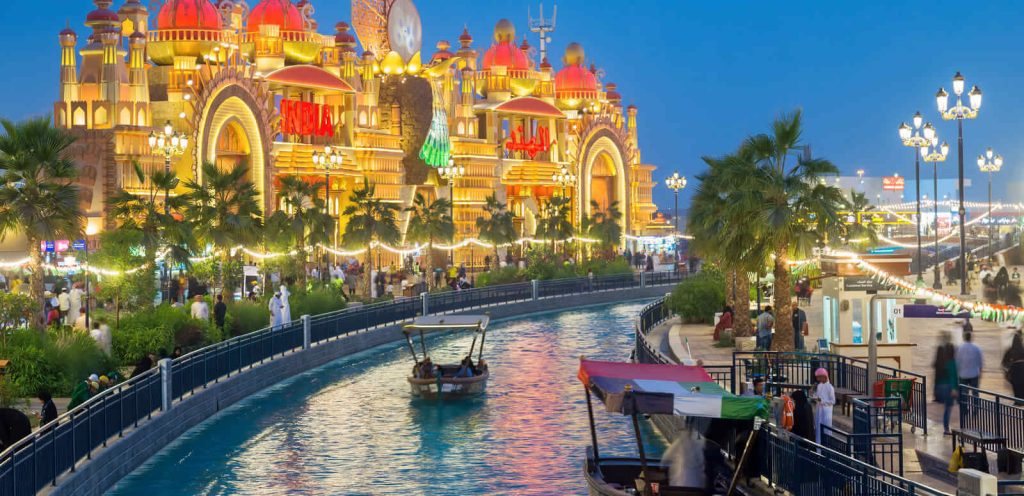 The UAE's Global Village Dubai is said to be the world's most major tourism, leisure, and entertainment project. Here, you'll find everything from arts and entertainment to fun for the whole family and retail therapy. Over the course of a year, more than 5 million people visit the site, which covers an area of 17,200,000 square feet. The Dubai Shopping Festival takes place in the winter, from the end of November to the end of February, and is staged by Dubailand on the city's outskirts. These pavilions typically imitate a well-known landmark from the country they're representing. It's a great place to buy gifts from around the world, as well as eat authentic foreign food, ride thrilling attractions, and see street entertainers.
Opening Closing Time:
Saturday Wednesday: 04:00 pm – 12:00 am
Thursday: 04:00 pm – 01:00 am
Entrance Fee: Dh 15
Location: Sheikh Zayed Road, Dubai.
Do not come back without visiting these marvels!