Gilgit-Baltistan is home to tall peaks (some above 8000 meters), lush green valleys, forests, cold deserts, and many other natural wonders.
It's a heaven for people wishing to reconnect with nature and is a peaceful escape from the city lights.
While the place is extremely beautiful, traveling there brings lots of questions about food and whether there are quality restaurants available or not.
To help you with that, here are popular cafes and restaurants in Gilgit to fulfill your hunger.
Cafes and Restaurants in Gilgit
Below are some of the most popular cafes and restaurants in Gilgit to visit on your tour. We have added venues with high ratings and reviews.
GB Steak House
Gilgit Food Yard
Chai Corner
Chacha Chai
Happy Hour
Now we will explore each restaurant in Gilgit, one by one.
1. GB Steak House
GB Steak House is the first-of-its-kind where you can relish mouth-watering steaks, burgers, and delightful Italian dishes. The quality of meat and cooking is commendable, and the prompt and efficient service adds to the overall experience.
The restaurant offers a cozy ambiance with separate spaces for individuals and families, along with ample car parking across the assembly road. While you indulge in their delectable dishes, you can also enjoy the beautiful view of the surroundings.
The GB Steak House has received a 4.1 rating on Google after 180 reviews.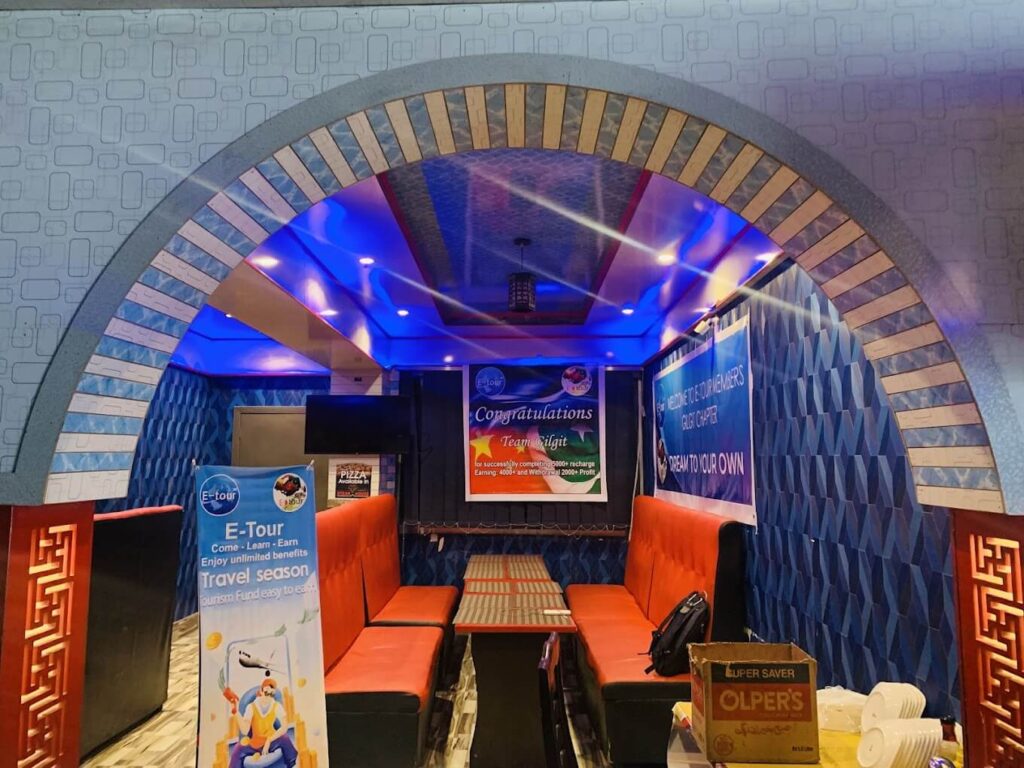 Specialties:
Steaks
Burgers
Parmesan Pasta
Contact Number: 0311 1330081
Location: Shahrah-e-Quaid-e-Azam, Jutial, beside Alpine Pasture Guest House, Gilgit
2. Gilgit Food Yard
Nestled next to the beautiful Gilgit River, this cute restaurant in Gilgit offers a delightful culinary experience with its amazing Chapli kababs and wild-caught trout.
The Mantu and Laxman are equally delicious, and the best part is that it's super reasonable.
Definitely a must-visit place for a memorable dining experience with the best of Gilgit's cuisine. With such remarkable food and a stunning view, you'll be convinced this is the place to go!
The Gilgit Food Yard has a 4.2-star rating on Google after 212 reviews.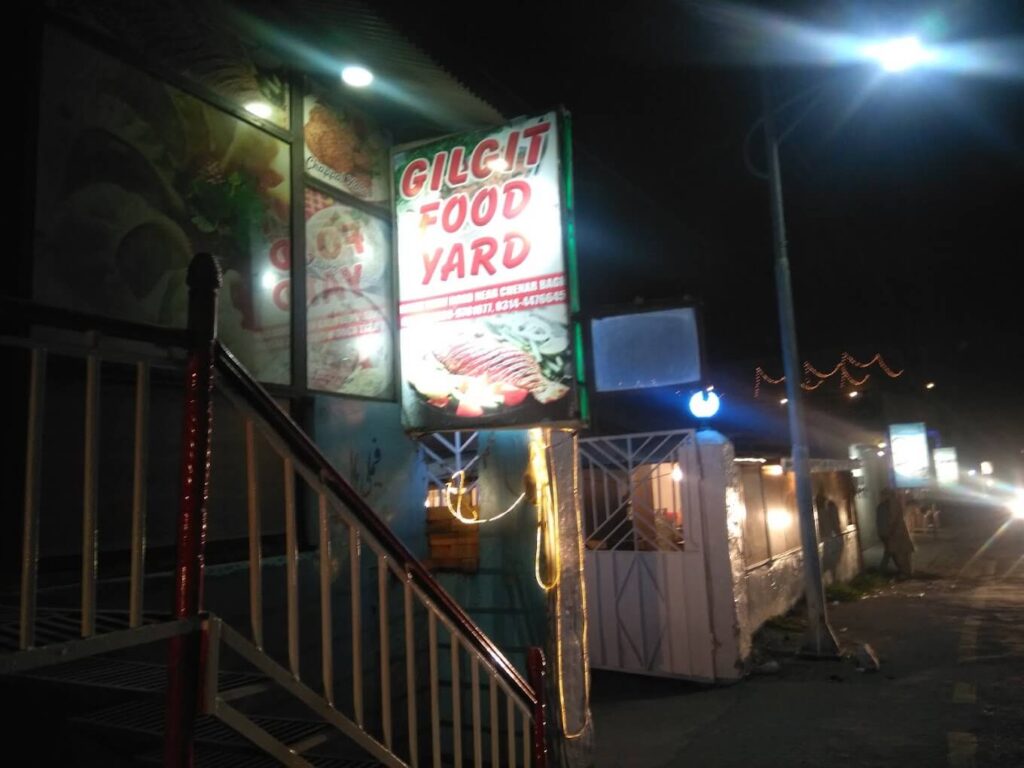 Specialties:
Chapli kababs
Wild-caught trout
Mantu
Laghman
Contact Number: 0355 5231666
Location: Opposite ETI office, River View Rd, Gilgit
3. Chai Corner
Looking for a unique hangout spot in the heart of Gilgit? Look no further than Chai Corner!
This charming cafe offers a cozy ambiance with a special touch – outdoor seating around fireplaces at every table! Perfect for socializing, relaxing, and enjoying fast food or sipping on their famous Karak Chai.
While the rest of the menu is okay, the chai and the ambiance make it a must-try spot when you're in town. So, gather your friends and experience this next-level tea corner!
The Chai Corner has a 4.4-star rating on Google after 335 reviews.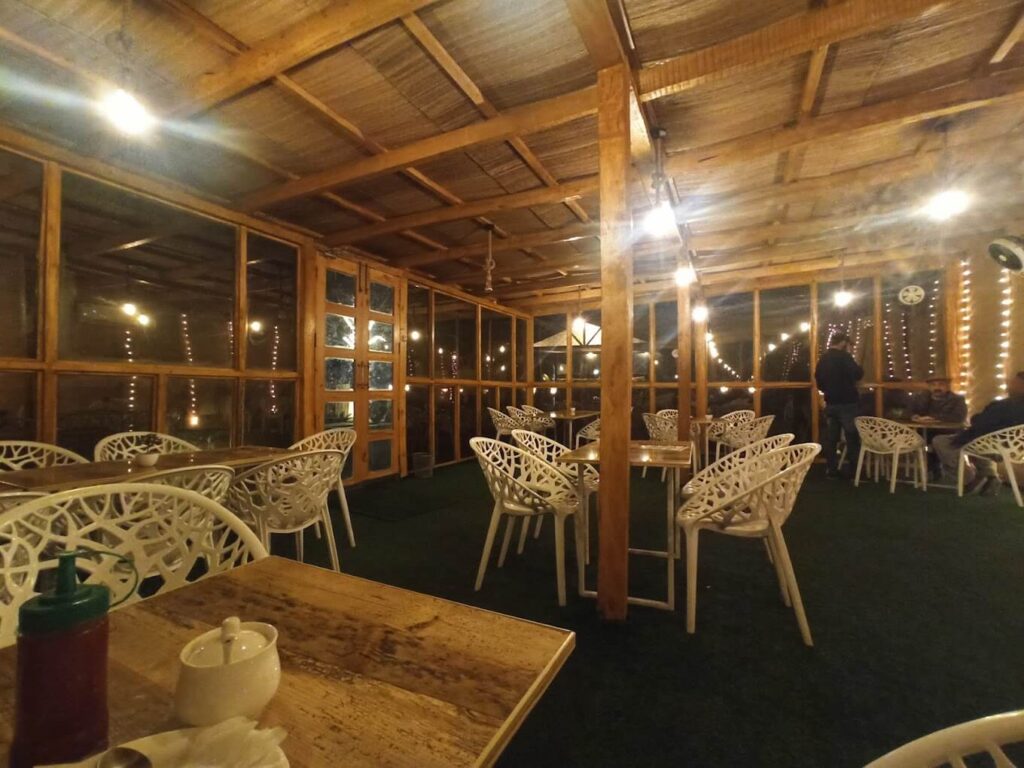 Specialties:
Karak Chai
Mandi
Banana Shake
Contact Number: 0344 8822212
Location: Sonikot, Near MP Check Post, Naveed Shaheed Rd, Gilgit
4. Chacha Chai
Looking for a cool spot in Gilgit to enjoy a delightful night? This place has got you covered with its open roof night setup, providing a perfect ambiance for a fun-filled evening. Savor a variety of tea and Qehva as you chat the night away.
The delicious breakfast with mouthwatering omelets, parathas, and chai, served by a hospitable owner, makes up for a great experience. So, gather your friends, play cards, and enjoy the awesome chacha chai!
The Chacha Chai Gilgit has a 4.4-star rating on Google after 85 reviews.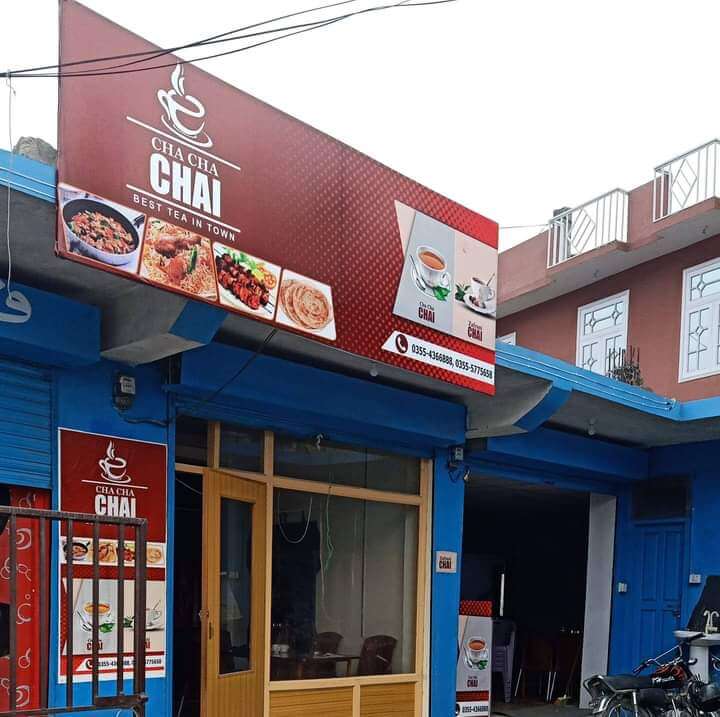 Specialties:
Mandi
Aloo parathas
Special Chai
Contact Number: 0355 5775658
Location: Near Nadir Chowk, University Road, Gilgit
5. Happy Hour
Welcome to Happy Hour, a coffee cafe located in Gilgit, known for its artistic ambiance and youthful vibe. The owner's passion for art is evident throughout the place, making it attractive and youth-friendly.
Besides the charming atmosphere, the food is worth trying, with their coffee being one of the best in town.
Don't miss out on their unique fish dish, which is truly one of a kind. So, if you're looking for a coffee shop with a creative touch, Happy Hour is the place to be.
The Happy Hour restaurant has a 4.4-star rating on Google after 195 reviews.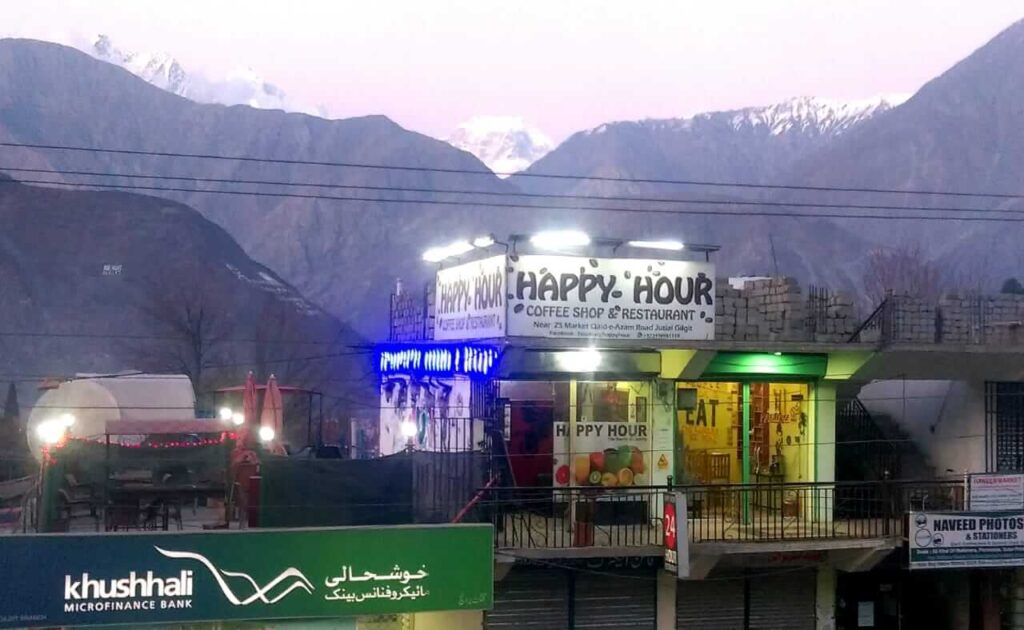 Specialties:
Burgers
Unique Fish Dish
French Fries
Contact Number: 0349 8951119
Location: Shah-e-rah Quied Azam, Jutial, Gilgit
Restaurants in Gilgit Await You!
So that was our list of the best cafes and restaurants in Gilgit. We hope your visit to these places will be positive and you will enjoy the food.
For more content on food, travel, and entertainment, visit BlogPakistan.