T20 World Cup 2020 Schedule
Now for all the cricket enthusiasts, T20 is the most zealously awaited event of the entire cricket season. And unfortunately, as we all know by now, thisyear's T20 World Cup was postponed. Which obviously means T20 World Cup2020 schedule won't be what we usually hope to fin, but still has somei mportant information. For example, we know that India still being the agreed upon host. However, UAE and Sri Lanka have been selected as backup hosts in the event that India has change of mind. Also, that a total of 16 teams are anticipated to partake the eventful T20 from October 18 to November 14, 2021. (More on T20 World Cup 2021 Schedule below.)
Recap: The Teams
Let's take a moment to review the participants – which fans of the gamewould probably already know – but… West Indies will be playing as thedefending champion from the T20 World Cup 2016. The 8 finalist teams tohave directly qualified for the Super 12 have been listed below,
Australia
Pakistan
India
South Africa
West Indies
England
New Zealand
Afghanistan
In addition, Bangladesh, Sri Lanka and another 6 teams that proved theirworth through 2019 ICC Men's T20 World Cup Qualifier will also make theirway to the playing field. These 6 teams are:
Papua New Guinea
Netherlands
Namibia
Ireland
Scotland
Oman
The T20 World Cup 2021 – What's To Come?
This World Cup is no different from any preceding match. The T20 is designed to support three major stages namely being the Group Matches,Super 12 and Knockout stage. The Group Matches are a series of matches between Group A and Group B followed by the Super 12. For those that are unaware, Super 12 is when the top 2 teams from the group matches are up against 10 teams that have directly qualified for the Super 12. After this,only 4 teams will remain and compete in a Knockout round that is made upof 2 semi-finals and one final. Since we are all caught up, let's dive right into the details of what's coming up.
This overview contains everything you need to know about the T20 WorldCup in 2021.
Schedule & Fixture
Tickets
Live Streaming
1. Schedule & Fixture
It is safe to imagine the below to be the upcoming Schedule & Fixture for T20World Cup 2021.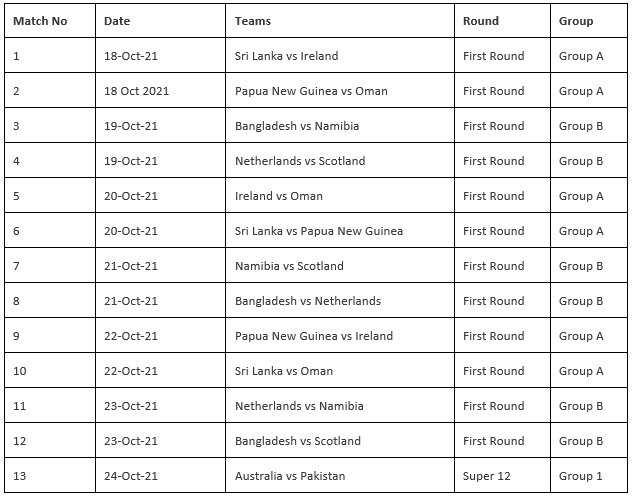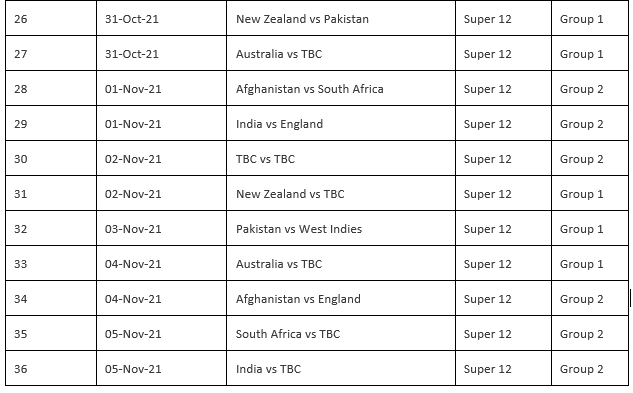 2. Tickets
The T20 World Cup 2021 tickets are already available for purchase online. If you are interested you can easily book it online or physically purchase it from a ticket counter at the stadiums. Pricing for Group/Super 12 matches begin at $20 for adults and $5 for children. However, semi-final tickets for adults start from $40 and $90 for first and second matches respectively, and $10 and $20 respectively for a child's ticket. To view the final, prices start at$125 for adults and $20 for children.
Many visitors like to come in groups of families and friends, which is exactly why the executives looking after the T20 World Cup have created an innovatively convenient "Fans first" policy. Now you can purchase a collective ticket for a group of 4 at $50 instead of paying an amount of $20 each. That is saving at its best, and the fun goes on. If you would like to book your tickets online,
please visit www.t20worldcup.com to enjoy the live experience of the event.
3. Live Streaming
Don't you hate it when you're working or stuck doing something important and can't watch the game on your 55" TV with snacks and a group of like-minded friends? That's why the T20 World Cup will also be streamed live on major live streaming platforms such as Hot Star and Willow TV. You can even watch highlights via the streaming platforms.