A royal vacation, business gathering, or a solo trip requires the right accommodation, food, and facilities. For people who enjoy a taste of luxury, 5-star hotels in Lahore become the perfect choice to make their stay memorable, comfortable, and exciting. 
For people planning to visit Lahore, here is a list of 5-star hotels with complete details. 
5 Star Hotels in Lahore
Below are 5-star hotels in Lahore with their contact info. We have sourced the data from official websites to bring authentic and up-to-date info.
Now we will explore each 5-star hotel, one by one.
1. PC Lahore
Indulge in a world of refined elegance at PC Hotel Lahore, where luxury and comfort seamlessly blend. Discover exceptional culinary delights, invigorating health club services, and a range of amenities that promise a comprehensive and unforgettable experience.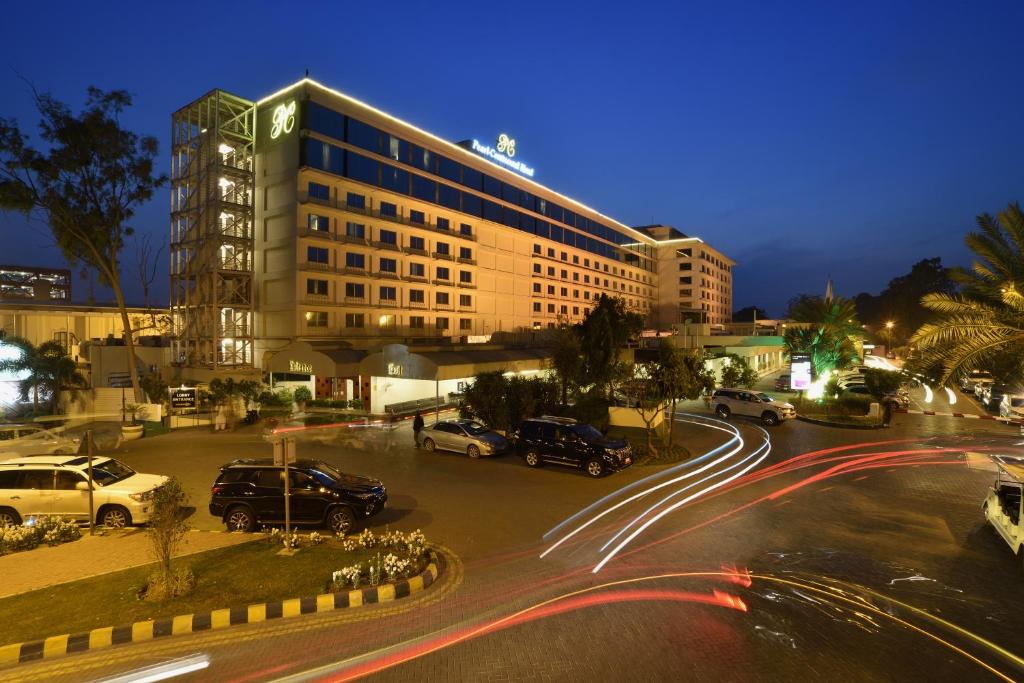 Explore the finest in hospitality as we cater to your every need, ensuring a stay that's truly extraordinary.
Location: Shahrah-e-Quaid-e-Azam, Lahore
Contact Number: (042) 111 505 505
Accommodation
Discover refined accommodations at PC Hotel Lahore, seamlessly blending elegance with comfort.
Experience coziness and neutral tones in the compact 322 sq ft Standard room. Choose from 1 King/Queen or Twin bed with city and pool views.
Immerse yourself in Lahore's heritage in the spacious 420 sq ft Deluxe room. Enjoy 1 King or Twin bed and views of the city, pool, atrium, and garden.
Indulge in chic contemporary décor in the Executive room's 420 sq ft space. Exclusive check-in, Executive Lounge access, and views of the city, pool, atrium, and garden await.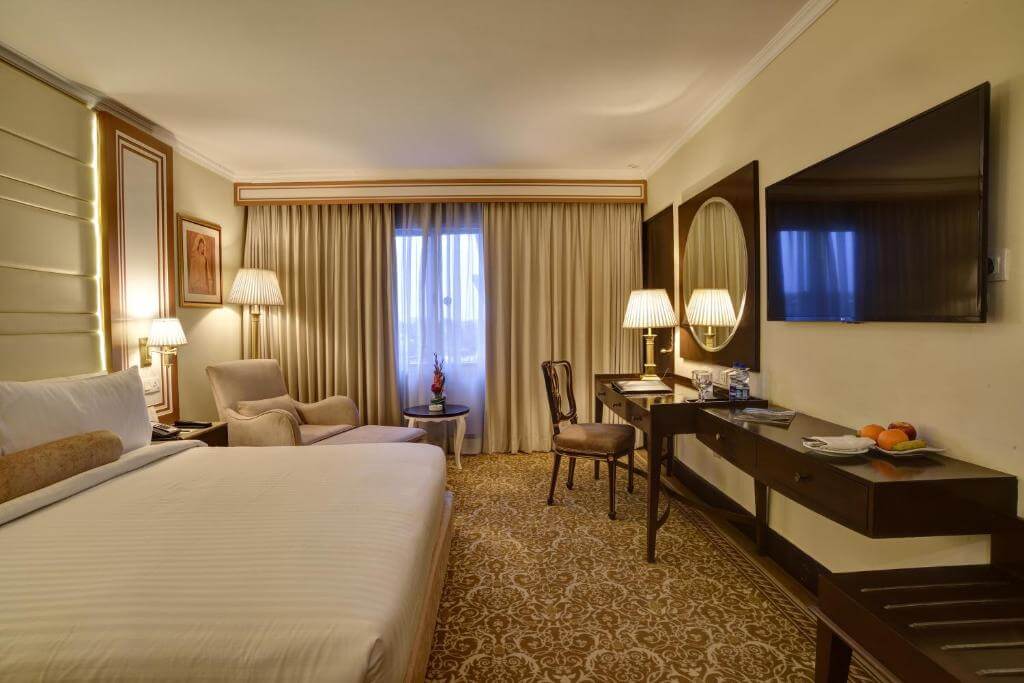 Elevate productivity in the 484 sq ft Business Suite, equipped with a dedicated workspace, high-speed internet, and city, pool, atrium, and garden views.
Admire city vistas in the 877 sq ft Deluxe Suite, offering comfort and space along with city, pool, atrium, and garden views.
Luxuriate in the elegant Presidential Suite's 1,162 sq ft expanse with a master bedroom featuring cityscape views.
Each room provides a unique perspective, ensuring an exceptional stay.
For Bookings & Reservation Visit PC Lahore
| | |
| --- | --- |
| Rooms | Beds |
| Standard | 1 King/Queen or Twin |
| Deluxe | 1 King/Twin |
| Executive | 1 King |
| Business suite | 1 King |
| Deluxe suite | 1 King |
| Presidential suite | 1 King |
Culinary Experience
Pearl-Continental Hotel Lahore features signature restaurants offering a diverse range of local and international cuisines. From buffet meals to à la carte options, they cater to various preferences.
The Nadia Cafe presents Pakistani and Continental dishes in a relaxed setting. Marco Polo offers all-day international dining, suitable for both business and leisure. Tai-Pan specializes in Canton and Shanghai-style Chinese cuisine, prepared using steaming, braising, baking, and frying techniques.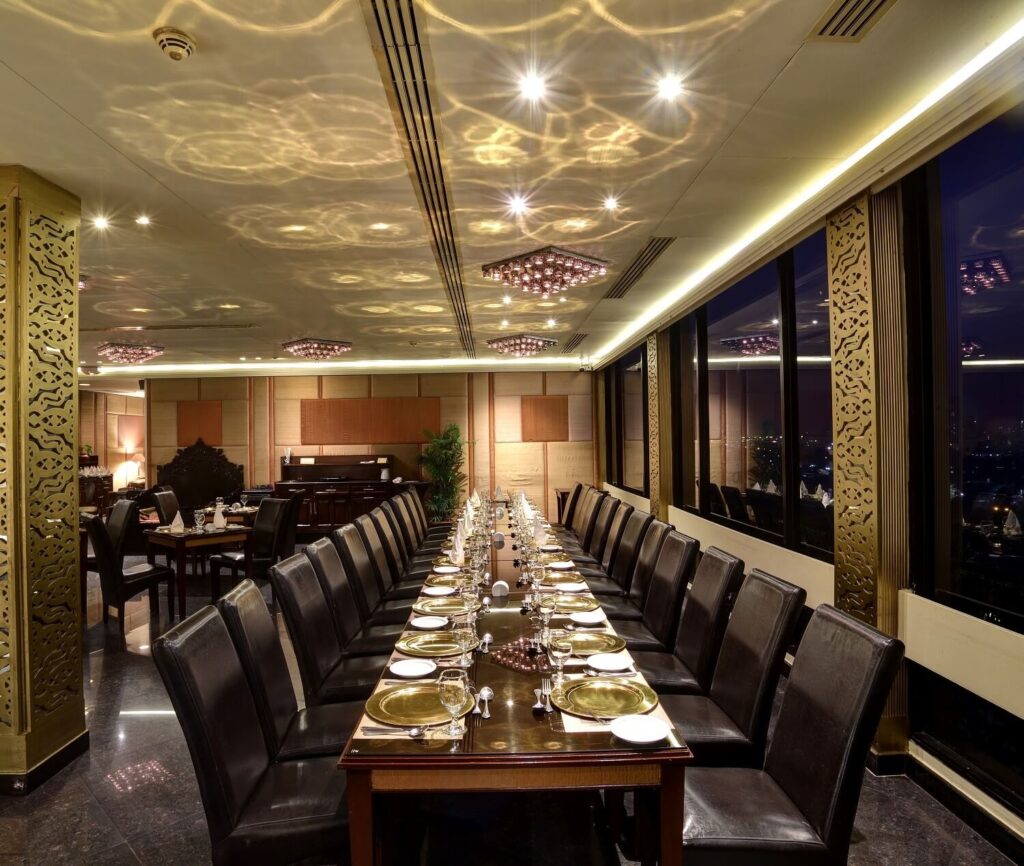 Sakura excels in Japanese delicacies with à la Carte menu and live teppanyaki counter.
Bukhara Restaurant brings the essence of Pakistani cuisine through tandoor-baked kebabs and live barbecues.
Covo serves traditional Italian cuisine, including pasta, steaks, and pizzas prepared by Italian chefs. Dumpukht offers authentic Mughlai dishes using original recipes and cooking methods. Caffe Latte provides a chic environment for international cuisine and beverages.
In-room dining offers 24/7 local and continental options, ideal for any mealtime.
Explore Restaurants and Cafes at PC Lahore
Ambiance & Services
The health club offers a range of massages from Thai to Deep Tissue, catering to various preferences. It provides diverse workout options, from intense cardiovascular exercises to restorative routines, ensuring a convenient fitness experience.
For business needs, they provide Meeting Rooms, Conference Rooms, and Banquet Halls equipped with Audio-Visual Equipment and Video Conferencing facilities. Additional amenities include high-speed Wi-Fi, flipcharts, multimedia, and color printing, and express capsule services.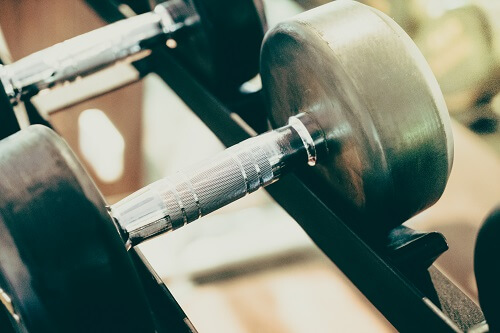 Their offerings extend to car rental, tour guides, swimming pool, shopping arcade, and spa services, ensuring a comprehensive and enjoyable stay.
2. Royal Swiss Hotel
Strategically located near Allama Iqbal International Airport and Lahore's city center, the Royal Swiss Lahore offers convenience for both business and leisure travelers.
The newly built 5-star hotel features 302 rooms and suites, merging exquisite dining options, spacious accommodations, and elegant facilities. Guests can enjoy diverse culinary experiences, relax in the Inspirations fitness center, or unwind by the outdoor inspirations swimming pool.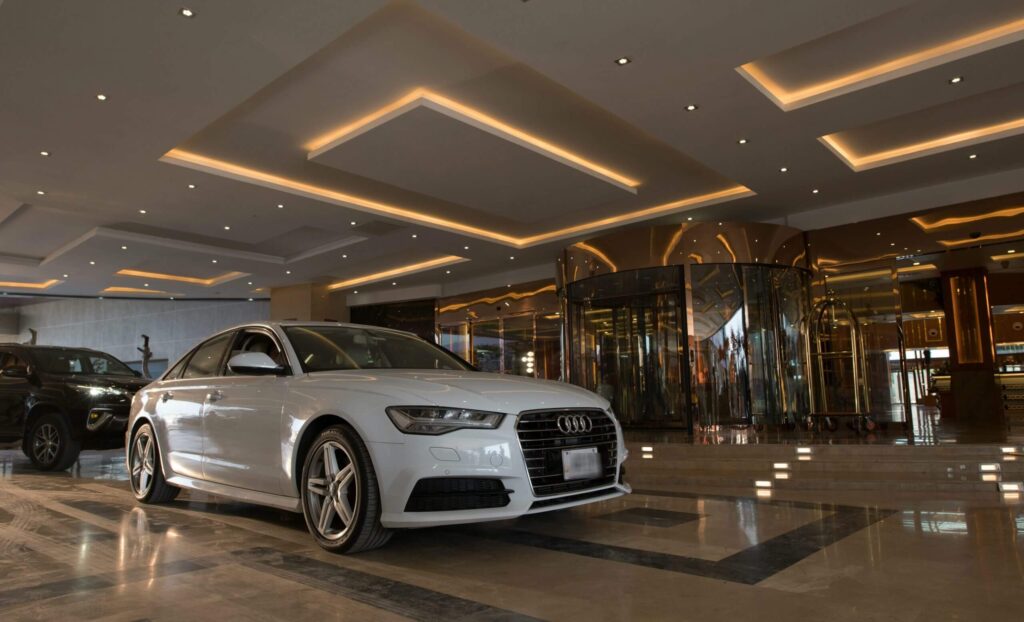 Indulge in relaxation at the Inspiration Spa, leaving you rejuvenated. Explore the hotel's lifestyle boutiques for premier Asian brands and stylish apparel, swimwear, footwear, and accessories for all.
Location: Lake City, Raiwind Road, Lahore, Pakistan
Contact Number: 0301 863 1380
Accommodation
Discover modern luxury at Royal Swiss Hotel's accommodations. Deluxe rooms feature contemporary décor and furnishings, along with a jacuzzi, standing shower, work desk, safety deposit box, iron, tea/coffee facilities, minibar, and cable TV.
The spacious Swiss-Select Rooms (67 sqm) offer a king bed. Executive Suites (92 sqm) boast a comfortable sitting area and include access to the Swiss-Select Lounge.
The Presidential Suite (181 sqm) offers the pinnacle of luxury, with 2 bedrooms, a living room, a kitchenette, and 2 bathrooms with jacuzzis.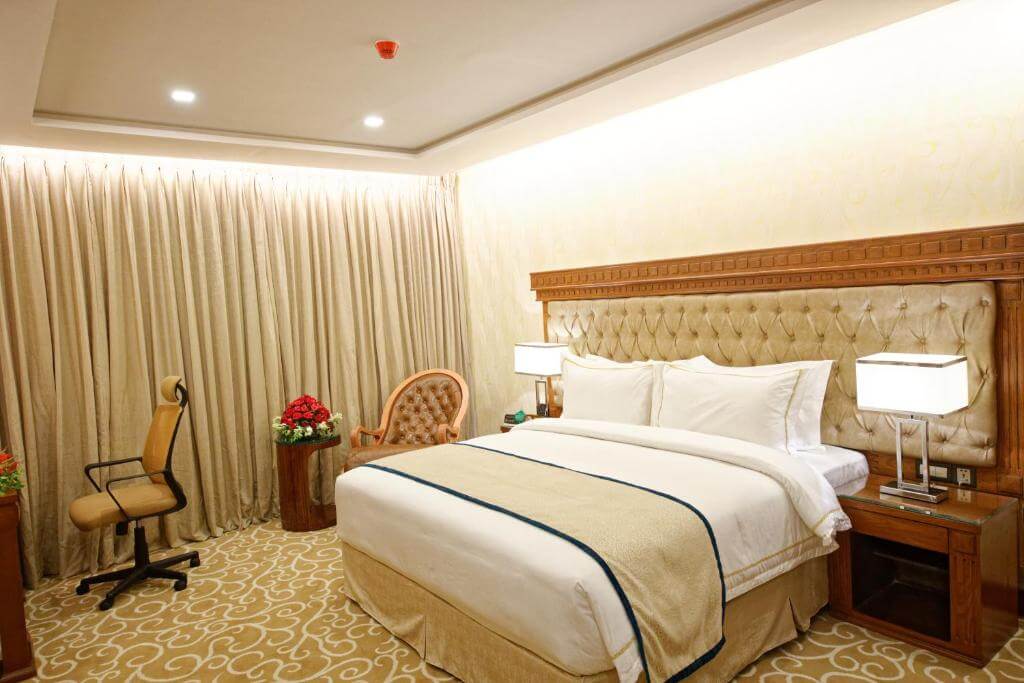 The guests in Executive Suites and the Presidential Suite enjoy Swiss-Select Lounge access. For a more elegant stay, Comfort Rooms come with contemporary touches, available in single, king, or twin bed options.
They feature a standing shower, work desk, safety deposit box, iron, tea/coffee facilities, minibar, and cable TV.
Book Your Room at the Royal Swiss Hotel
| | |
| --- | --- |
| Room | Beds |
| Deluxe room | King/Twin Beds |
| Swiss-Select Room | King Bed |
| Executive Suite | King Bed |
| Presidential Suite | 2 Bedrooms |
| Comfort Rooms | King/Twin Beds |
Culinary Experience
At Royal Swiss Hotel Lahore, dining is a delight. Swiss Café Leafs & Beans features delectable treats from cakes to sandwiches, while Swiss-Select Lounge offers VIP guests a complimentary continental breakfast and refreshments.
Savor modern twists on culinary classics at Arigato, the Pan-Asian restaurant. From tandoori to sushi, explore a diverse range of cuisines.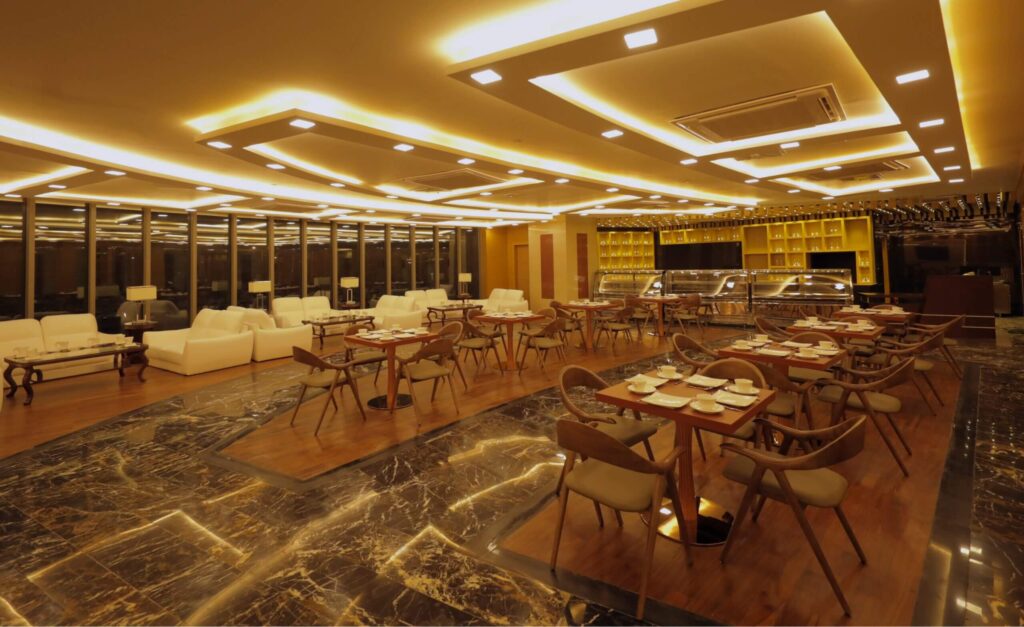 The MOODS Cigar Lounge offers an intimate setting for drinks and Cuban cigars. Parwaaz rooftop restaurant provides a glamorous culinary experience with tailored menus, while DastarKhwan serves traditional Pakistani cuisine in a lively atmosphere, complete with live cooking stations.
Experience gastronomic excellence with innovative presentations at Royal Swiss Rooftop's Parwaaz. From enticing flavors to captivating visuals, our dining venues cater to every palate.
Check out the restaurants & Cafes at Royal Swiss Hotel, Lahore
Ambiance & Services
Royal Swiss Hotel Lahore offers a range of exceptional facilities for the guest's enjoyment and relaxation.
Experience tranquility at the rooftop inspirations outdoor swimming pool, offering scenic views. The pool features sunbeds, conversational seating in alcoves, and bespoke pool chairs, providing quiet spots for relaxation.
Daily morning yoga sessions with a healthy breakfast are also available.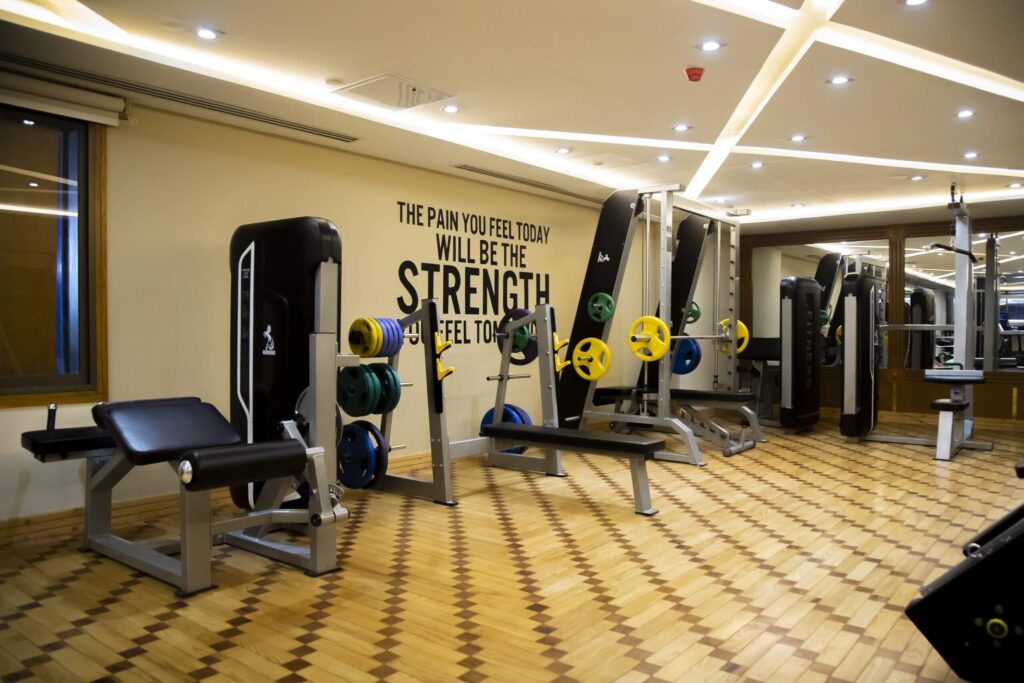 Achieve your fitness goals at the 24-hour gym, equipped with cutting-edge technology, including cardio machines and free weights. Personal training sessions with experienced instructors cater to individual fitness needs.
On the other hand, the world-class spa provides a rejuvenating experience, offering a peaceful atmosphere and expert treatments. Escape the city's hustle with holistic services and facilities.
For beauty treatments, you can opt for a state-of-the-art salon that offers haircare, styling, nail services, and skincare.
3. The Nishat Hotel
Experience refined luxury at The Nishat Hotel, Lahore, and discover unparalleled accommodation, relaxation, and dining experiences.
Elevate your stay at the King and Twin Rooms, or enjoy the royal treatment in the Presidential Suite.
Indulge in their in-room dining, or visit the cafes and restaurants to relish culinary delights. To rejuvenate yourself, you can visit their on-premise gym and infinity pool.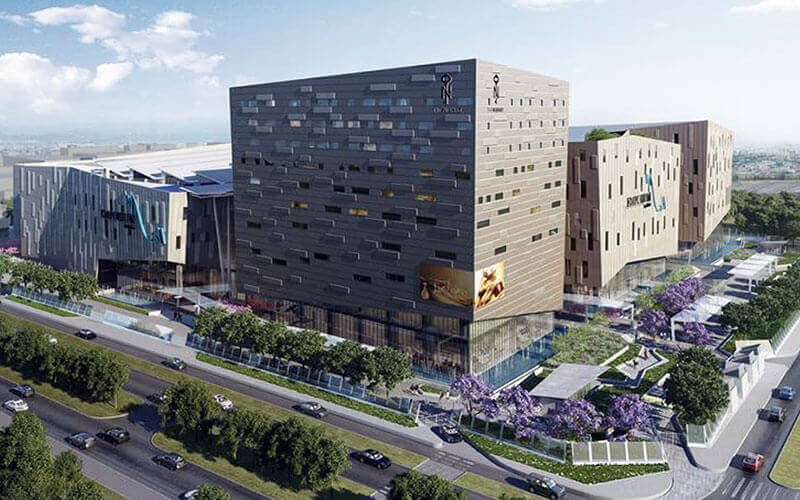 Location: Adjacent to Emporium Mall, Commercial Area, Phase 2, Johar Town, Lahore
Contact Number: 042 111 646 835
Accommodation
Embrace refined luxury at The Nishat Hotel, Lahore, where accommodations cater to those seeking both elegance and comfort.
Experience the serene retreat of the Deluxe King Room, ideal for two guests. Spanning 27 sq m, adorned in cool greys, and featuring low-lying beds, it's a perfect space for corporate relaxation.
Unwind in the Deluxe Twin Room, designed for two guests. Covering 27 sq m with twin beds, these ethereal rooms combine modern decor, plush bedding, and complimentary amenities for a sophisticated stay.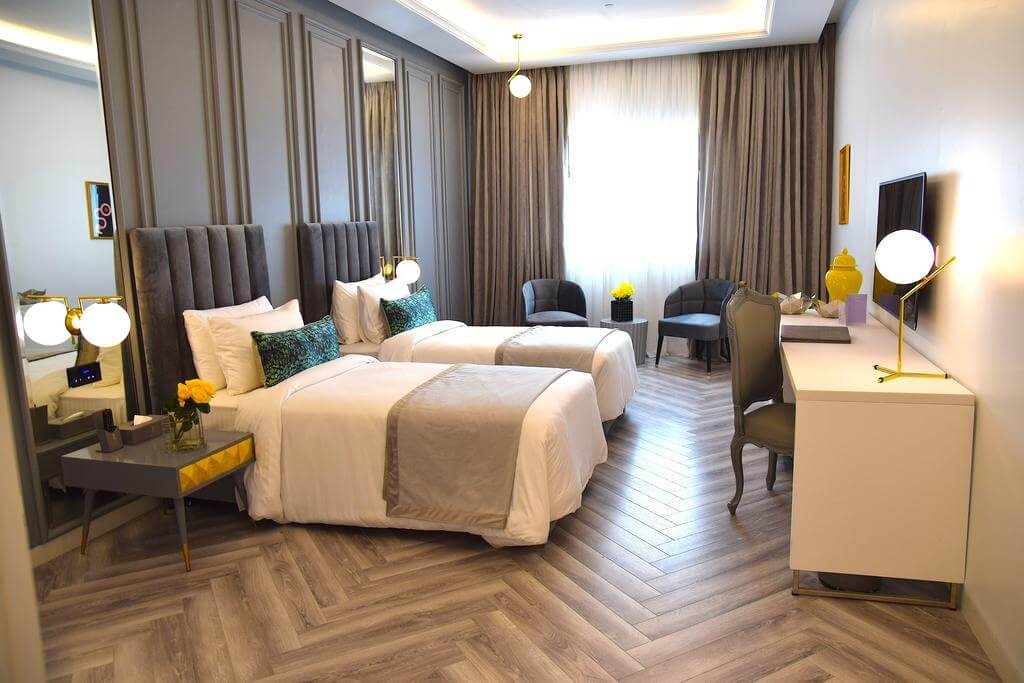 Opt for the Executive King Room, providing affordable luxury. With 32 sq m, it's tailor-made for business travelers, offering marble bathrooms, soft linens, and tranquil surroundings.
Enhance the stay with the spacious comfort of the Platinum King Room. Spanning 45 sq m and featuring a seating area, it's a haven for families in search of relaxation.
Indulge in opulence with the Royal Suite, boasting 61 sq m, or step into the lavish Presidential Suite, accommodating up to 6 guests. Encompassing 90 sq m, it offers a grand marble bathroom, personal butler service, and elegant furnishings.
Discover respite in the Executive Twin Room, featuring 32 sq m of ethereal space with twin beds, modern decor, and complimentary amenities—a perfect blend of relaxation and sophistication.
For Bookings & Reservations, visit Nishat Hotel Lahore.
| | |
| --- | --- |
| Rooms | Beds |
| Deluxe King Room | King Bed |
| Deluxe Twin | Twin Beds |
| Executive King Room | King Bed |
| Platinum King Room | King Bed |
| Royal Suite | King Bed |
| Presidential Suite | King Bed (3 rooms) |
| Executive Twin | Twin Beds |
Culinary Experience
Indulge in a truly exceptional in-room dining experience, offering an array of national and international cuisines expertly crafted by world-class chefs. Relish delectable flavors without leaving the comfort of your room, sharing laughter and conversations with loved ones while savoring every bite.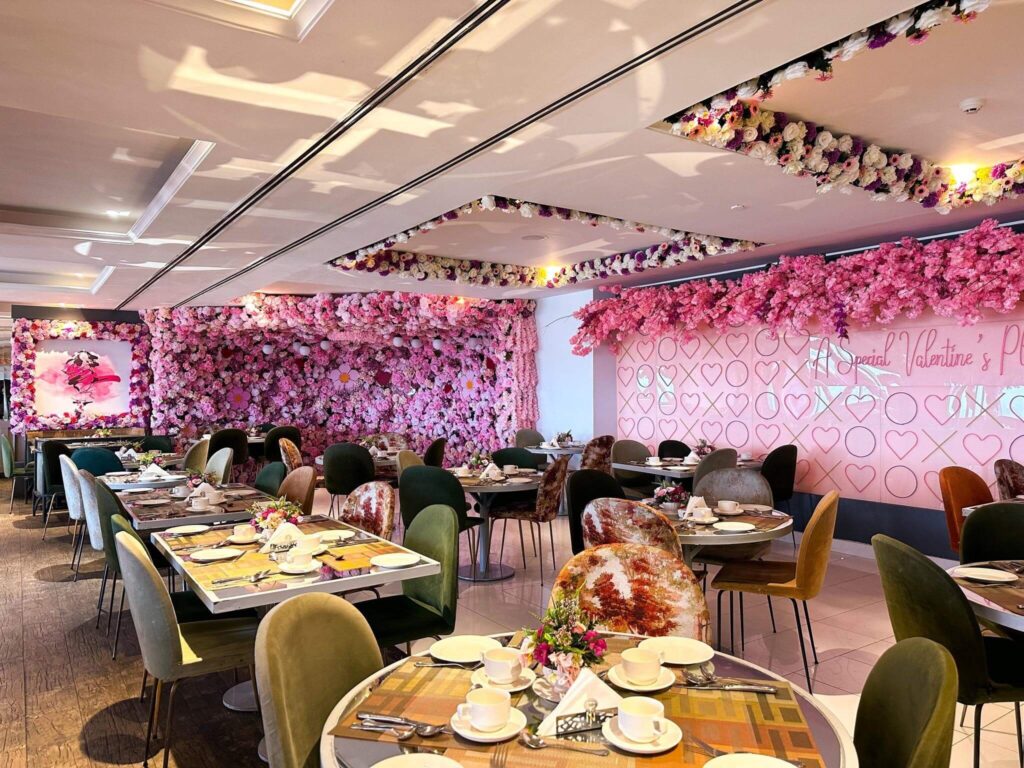 Discover Bistro Emporium, a hallmark eatery in Johar Town. Immerse yourself in modern renditions of global and traditional Asian cuisine.
Embark on an authentic Italian gastronomic adventure at La Cucina, an exquisite Italian restaurant. Revel in a selection of tantalizing Italian dishes expertly prepared with a touch of secret Italian ingredients. Immerse yourself in an affordable, unforgettable dining experience.
Explore Restaurants & Cafes at Nishat Hotel Lahore
Ambiance & Services
Experience personalized workouts at Nishat Hotel's top-notch gym. Enjoy an elite setup with state-of-the-art equipment, expert trainers, efficient ventilation, and luxurious amenities tailored to your fitness needs.
Unwind at the infinity indoor swimming pool, an oasis of relaxation for guests and visitors. After demanding work routines, immerse yourself in tranquility. The soothing waters provide respite, nurturing inner peace and rejuvenation.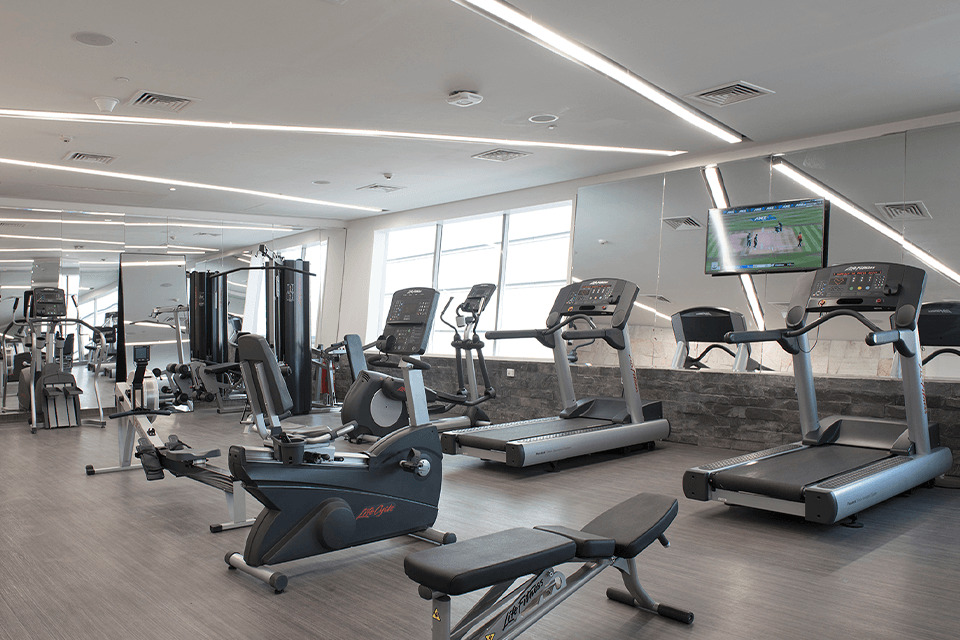 Nishat Banquets, including the OAK Room and Imperial Hall, are spacious event and wedding venues. Indoors or under open skies, the settings offer unparalleled grandeur.
On top of that, their seasoned catering teams ensure a personalized touch, from themes to cuisine, making every event extraordinary.
A Luxurious Stay in Lahore Starts Here!
So that was our list of 5-star hotels in Lahore with their complete info. We recommend you check out each of the above in detail before visiting to make the best choice.
Find out more info on hotels, cafes, restaurants, travel, news, and more on BlogPakistan.