Taking a relaxing day is equally important as a full concentration day. A fine day by the pool can boost your mood and relax your mind. Swimming is something that can be enjoyed by anyone regardless of them being expert swimmers. Beginners can enjoy themselves in the pool, splashing the water, or just being relaxed, while for professionals it is a form of channeling their passion and part of the sport.
13 Best Swimming Pools in Karachi
Below mentioned is the list of swimming pools in Karachi along with their timings.
Karachi Gymkhana
Avari Tower Karachi
City Sports Complex
DHA Sports Club
AKUH Sports Complex
DA Sunset Club
DHA Beach View Club
Pavilion End Club
Marriott Hotel Karachi
Movenpick Hotel
Paragon Swimming Pool
Regent Plaza Hotel Karachi
Dreamworld Resort
Let's discuss all these one by one.
Karachi Gymkhana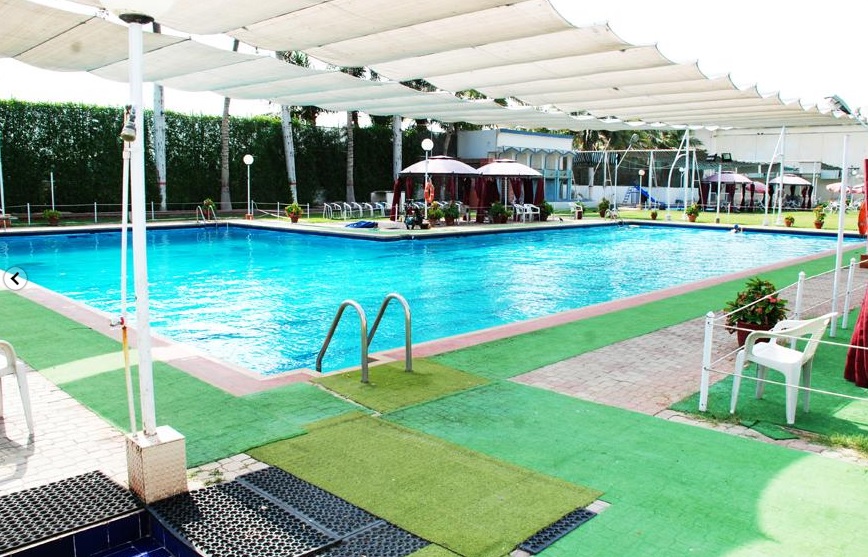 The swimming pool housed in Karachi Gymkhana covers an area of 25 meters. The heating system allows the swimmers for an experience beyond the restraints of season. They have one open swimming pool and one learner's pool. Separate swimming trainers for both males and females are present. There is also a snack bar from where swimmers can avail refreshment facilities at the poolside. Along with that, there is a separate covered pool for both toddlers and trainees, and lifeguards are present around the corner in case of an accident. Karachi Gymkhana ensures that the safety and cleaning of the swimming pools are given priority.
Timings: 6 am to midnight
Contact Number: (021) 35689186
Address: 4 Club Road, Civil Lines, Karachi.
Avari Tower Karachi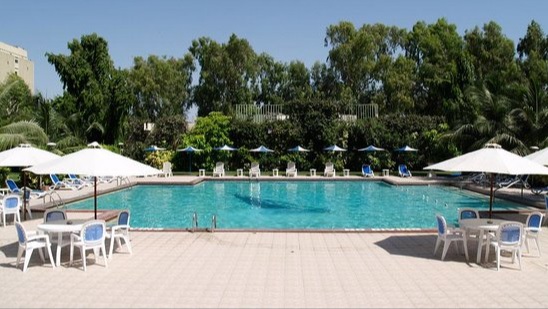 Avari Tower Karachi features an outdoor pool, spa, and fitness center. To keep our fitness routine intact, they have a spectacular temperature-controlled swimming place that comprises a professional length. Whether you wish to keep your fitness by swimming the long lengths or just enjoying some splashes, Avari Tower swimming pool is a go-to place for all. They also offer personalized swimming lessons throughout the year. Lastly, their pool is clean and exceptionally maintained.
Timings: 6 am to 10 pm
Contact Number: (021) 111282747
Address: Avari Towers Main Building, Fatima Jinnah Road, Karachi Cantonment.
City Sports Complex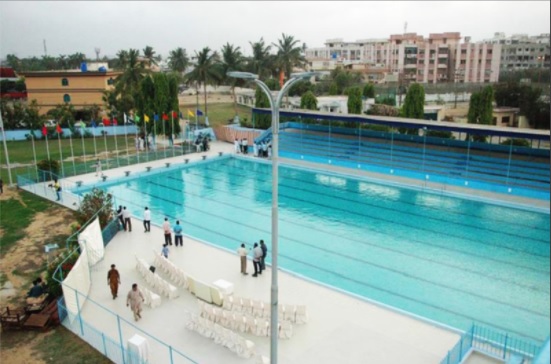 Previously known as the KMC Sports Complex, provides sporting facilities. The swimming pool at City Sports Complex is one of the well-maintained pools in Karachi. They offer facilities at a reasonable price for everyone to afford easily. It is also an easily accessible sports complex for its prime location. Their membership is available quite easily. For having reasonable prices, this place attracts a lot of people, especially in summers. They have a grand swimming pool for gents, ladies, and children. For ladies, swimming days are observed as Wednesdays and Saturdays.
Timings: 6 am to 9 am, 5 pm to 9 pm
Contact Number: (021) 34233906
Address: Kashmir Road, Muslimabad, Karachi.
DHA Sports Club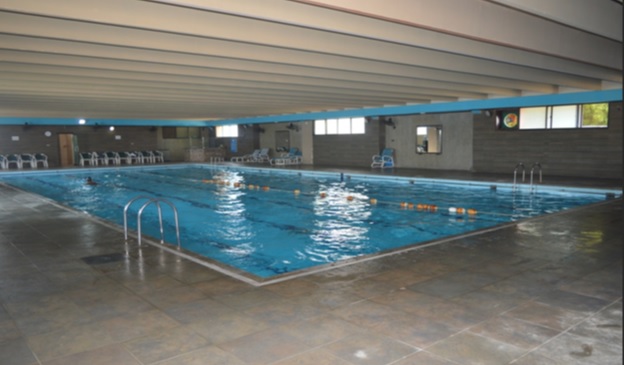 DHA Sports Club, also known as Moin Khan Academy, is an exciting sports arena in the metropolis city. It is named after cricketer Moin Khan and holds T20 cricket tournaments that can be seen through live telecast. Apart from providing sports facilities, various sports and entertainment-related events are also held here. The indoor swimming pool covers a length of 25 meters. The pool is quite an option for the professional training of swimmers and divers. They give special attention to the safety and hygiene of their club.
Timings: 10 am to 5 pm
Contact Number: (021) 35250506
Address: Khayaban-e-Shaheen, D.H.A. Phase 8 Zone B, Karachi.
AKUH Sports and Rehabilitation Centre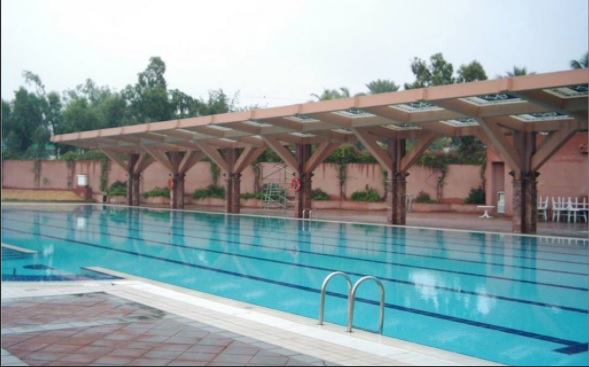 Agha Khan University Hospital offers various sports facilities, both indoor and outdoor. These facilities are of international standards. Their membership is open to all and students at AKUH can avail of these services anytime. The swimming pool is an ideal choice, especially for beginners and youngsters. The center is open seven days a week. They have an Olympic-sized swimming pool that is partially covered by a canopy. They have an excellent lighting arrangement for swimmers to enjoy during late hours. They also have a special policy of wearing swimming equipment.
Timings: 7 am to 10 pm
Contact Number: (021) 34861662
Address: Gulshan-e-Iqbal, Karachi.
DA Sunset Club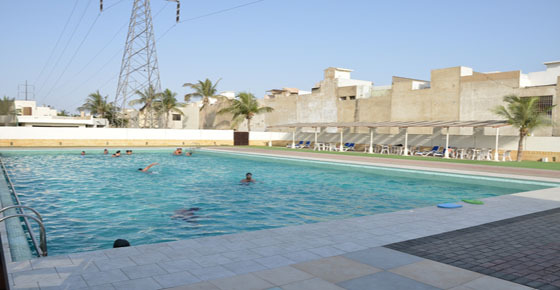 Sunset Club was initially established as a sports club with extensive sporting and dining facilities. Later it converted into a modern and exclusive club equipped with excellent facilities. They have two different pools separate for gents and ladies. The length of the pool covered is 25 meters. The ladies' pool is fully covered to maintain privacy. While the pool is open, there is a lifeguard available for any mishap. The pool is chemically treated to maintain hygiene. Their pool is functional in all seasons.
Timings: 9 am to 10 pm
Contact Number: (021) 35388123
Address: 7th Sunset Street, Phase 2 Extension, Defence Housing Authority, Karachi.
DHA Beach View Club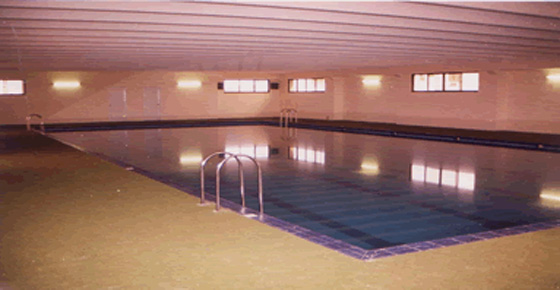 Beach View Club is lavishly equipped with extending luxurious facilities. The club can be availed by members of all ages. The swimming pool is 23 meters in length with appropriate filtration systems for cleaned water. Swimmers can take a dip regardless of the season. For beginners, they have a facility of trainers.
Timings: 10 am to 1 pm, 230 pm to 5 pm (Friday is observed as closed)
Contact Number: (021) 35850635
Address: Sea View Road, D.H.A Phase 6 Darakhshan Villas, Karachi.
Pavilion End Club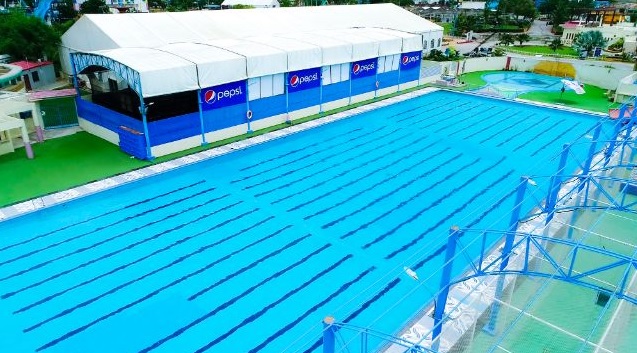 Pavilion End Club is a membership-based club offering complete sports, entertainment, and recreational club. They offer more than fifty facilities for all age groups. They have separate swimming pools for gents, ladies, and youngsters covered by a wall. The main pool is 50 meters in length. For kids, the place is full of enjoyment with waterslides. The membership is open for everyone who wishes to avail their luxurious services.
Timings: 10 am to 11 pm
Contact Number: 0321 8752107
Address: Gulshan-e-Iqbal Karachi.
Marriott Hotel Karachi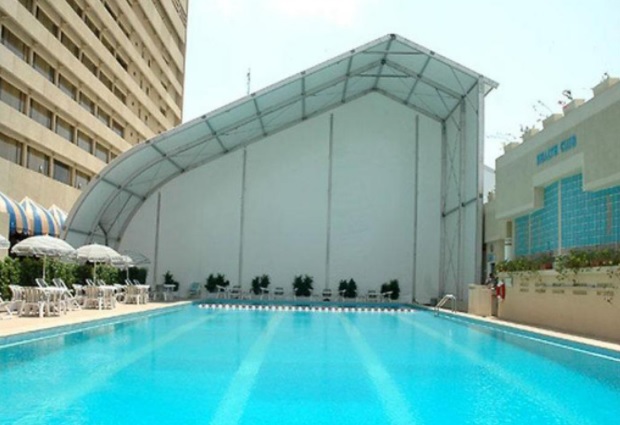 This hotel is also located in the heart of Karachi. Marriott has one of the best swimming pools in the city. They have a membership service available to offer a great swimming experience to its members. It is also a fun place for children to enjoy the dip. They also offer swimming classes as part of the summer program.
Timings: 6 am to 11 pm
Contact Number: (021) 35680111
Address: Abdullah Haroon Road, Civil Lines Karachi.
Movenpick Hotel Karachi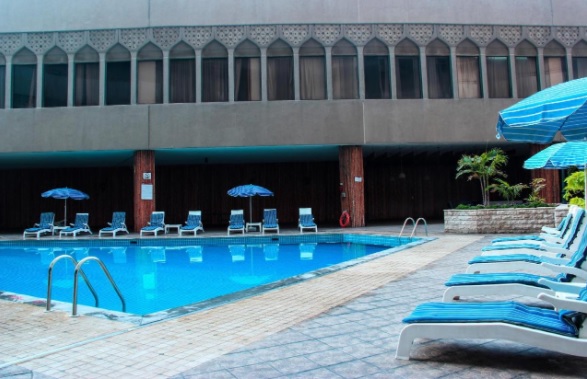 This hotel in Karachi is a 5-star destination for business, dining, and recreation. Located in the heart of the Karachi district, this is one of the most preferred hotels for a stay. They are the best when it comes to activity service. They offer a massive outdoor swimming pool that is temperature-controlled. It is a good place to enjoy your leisure time.
Timings: 6 am to 11 pm
Contact Number: (021) 35633333
Address: Club Road, Civil Lines, Karachi.
Paragon Karachi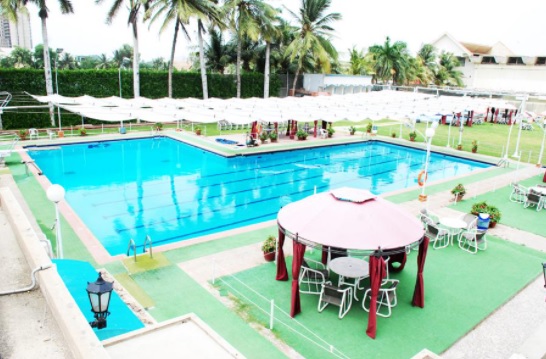 Paragon has a lavish swimming pool available among other facilities. They are trying their best to offer superior services under expert supervision. They offer the friendliest of the environments. Expert trainers are available for gents and ladies. They have separate pool timings for gents and ladies. The swimming pool is open 5 days a week.
Timings: 10 am to 4 pm (ladies), 4 pm to 10 pm (gents)
Regent Plaza Hotel Karachi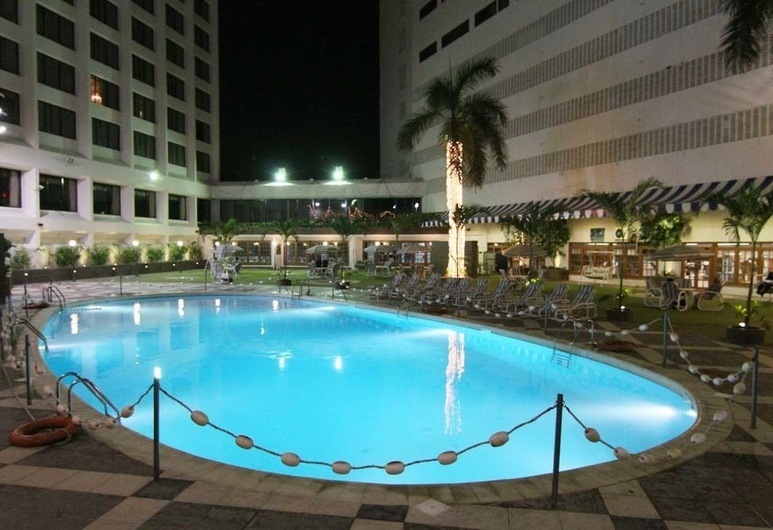 Regent Plaza is a 5-star hotel in Karachi offering exquisite services. They have a freshwater swimming pool available. The pool is outdoor and cleanliness is maintained. They have slides for kids that dip into the pool. They also offer special trainers and lifeguards available to ensure safety. If anyone wishes to get the training, they can avail of that service as well. One can enjoy snacks from a poolside bar. Along with that, you can arrange poolside events with this hotel.
Timings: 8 am to 9 pm
Contact Number: (021) 35657000
Address: Main Shahrah-e-Faisal, Karachi.
Dreamworld Resort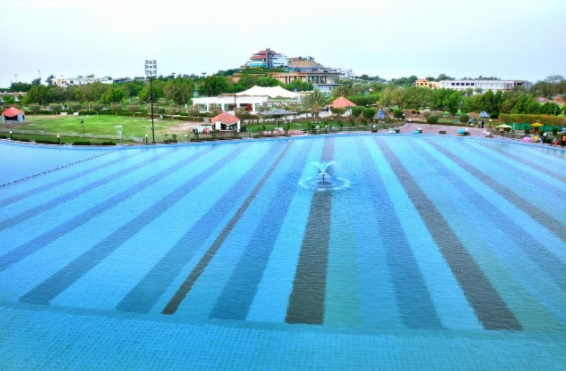 It is a family resort in Karachi offering a full range of entertainment for families. They have water amusement services. The fun lagoon has the biggest freshwater swimming pool. For kids, they have five different slides which open into a liver-shaped pool. They also offer other pool activities. For ladies, they have a special covered pool for them to enjoy these services privately.
Timings: 12 pm to 730 pm
Contact Number: (021) 38692000
Address: Gulshan-e-Maymar, Super Highway, Karachi.
Concluding Remarks
Karachi being the biggest city of Pakistan has various options available for its residents to avail swimming pool services all year round. Some of these have the best swimming pool options available with their own amazing benefits. Choose a swimming pool that best fits your budget and is present in your close vicinity.