Karachi, a metropolitan city in Pakistan, never sleeps and is famous for round-the-clock fun and entertainment for everyone. There is a range of indoor and outdoor rides and fun activities along with water sports. Karachi has the added advantage of having a beach where the elderly can enjoy the walk while children can play around.
List of Fun Places in Karachi
There are a lot of fun places in Karachi, allowing its citizens to have all sorts of entertainment available round the clock. Some of the widely visited places for entertainment purposes are:
Arena
Bahria Adventure Land
Bahria Dancing Fountains
Clifton Beach
Ocean Mall
Onederland
Safari Park
Charna Island
Sindbad Wonderland
Askari Park
Fun City
Chunky Monkey
Super Space
Do Darya
Pi Social
Jabees Funland
Karaoke at Base Rock Cafe
Hilal Park
1. Arena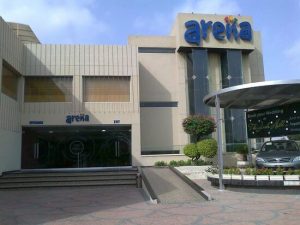 The Arena is a family recreational center in Karachi. It has created a fun place for all ages. You can enjoy different gaming activities in a fully air-conditioned and secure environment. Below is the list of indoor gaming facilities at Arena.
Bowling alley
One-shot
Ice deck
Pool mania
Power jump
Indoor cricket
Rodeo bull
X live games
Just kidding
The Arsenal gaming zone
Rock climbing
Kiddy rides
Gymnasium
Arena makes sure you enjoy massively at the friendly space. They also offer facilities to arrange your special days like birthdays and celebrations with them. While children enjoy the games indoors, elders can have a fun experience at bowling. The arena also has membership facilities available for interested parties. While everyone drains their energy playing, there is a facility in the cafe to freshen themselves up.
Location: Karsaz Faisal Cantonment, Karachi.
2. Bahria Adventure Land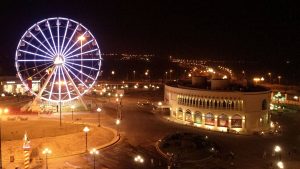 Bahria Adventure Land offers a unique and thrilling experience for the entire family. It unleashes a world of exhilarating adventures. This unique theme park of Pakistan is located in Bahria Town and has some thrilling rides coupled with restaurants for all the entertainment at one place. Some of the thrilling rides include:
Roller coaster
Power drop
Pirates of adventure
The claw
Cyclone Aladdin
Shark attack
Sindbad
All these rides have strict height restrictions to ensure the safety of all. In addition to the exciting rides, there are water attractions, a marching band, entertaining mascots, and the dino park.
Bahria adventure land is divided into zones. These are:
Adventure land zone
Dinoland zone
Indus valley zone
Animal kingdom zone
Kohkaf zone
Bahria express train
Location: Jinnah Avenue, Gadap Town, Karachi.
3. Bahria Dancing Fountains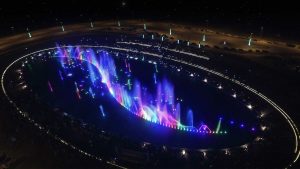 Located in Bahria Town, the stunning Bahria Dancing Fountains is the largest dancing fountain in South Asia. It is one of the biggest tourist attractions in Karachi. With Bahria Dancing Fountain, you can enjoy the mesmerizing choreography of synchronized fountains. It has over 350 dazzling LED lights and laser projections, 250 mountain hets, and 180-height jets. The fantastic show can be enjoyed every Sunday at 7:30 pm. Bahria Town offers free entry for families.
Location: Jinnah Avenue, Gadap Town, Karachi.
4. Clifton Beach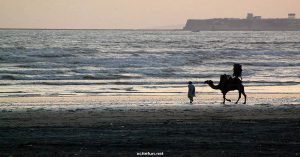 Clifton Beach has a range of Seaview activities and a mesmerizing sunset. Karachiites belonging to every social class visit the beach along with their families to have a hide-out after a hectic routine. Viewers can enjoy the magical sight of the sun deepening into the sea upon sunset. Some activities that can be enjoyed by all age groups include horse riding, camel riding, and buggy rounds. All in all, the sea offers a soothing feeling to walk past the shoreline barefoot.
Location: Clifton, Karachi.
5. Ocean Mall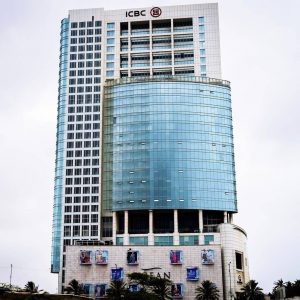 Bounce – Bounce is a jumpy trampoline park. Children can experience joy with high jumps. They allow 30 mins time on a single purchase. Inside is a jumping arena, a basketball area, and a foam pit. Fitness and fun coincide in Bounce, and children often feel hungry after that. Ocean Mall has a range of food options available to meet hunger needs.
Atlantis – Atlantis is an indoor theme park open at Ocean Mall. They offer exciting and attractive play rides for kids. Parents can enjoy their shopping experience carefree while leaving kids at Atlantis.
Battlestation – Battlestation offers competitive games and activities. You can experience the simulation of a real-life combat arena. Battlestation houses Lazer Tag, Lazer Maze, and Bazooka Ball to be enjoyed by children as well as adults.
Location: Main Khayaban-e-Iqbal, near 2 Talwar, Block 9 Clifton, Karachi.
6. Onederland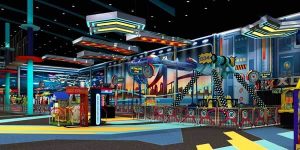 A one-stop family entertainment located at LuckyOne Mall. Onederland has various attractions catering to all age groups. It is also a wonderful place to plan and host celebrations to get the most out of this future of entertainment. It has advanced technological indoor games and rides. It is divided into two levels with a range of exciting and fun-filled activities.
Location: Lucky One Mall, Federal B Area, Block 21 Gulberg Town, Karachi.
7. Safari Park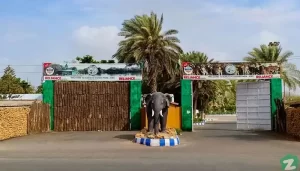 Safari Park is a family-only space funded by the public. It has a zoo, a small chairlift, as well as two different lakes. Along with that, there is an indoor amusement park that is privately funded. The amusement park comprises indoor rope climbing, a golf section, and paintball, along with other thrilling rides.
The amusement park inside the Safari Park is referred to as Go Aish. It consists of an outdoor thrill experience for people with an amazingly scenic view. The chairlift also operates, making its way over the lake to give a beautiful view of the lake and city.
Location: Main University Road, Gulshan-e-Iqbal, Karachi.
8. Charna Island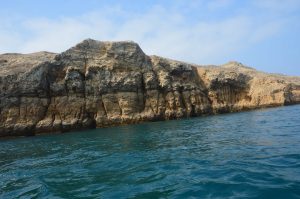 A small island in the Arabian Sea, located 6 – 7 km outside of Karachi. Charna refers to a gigantic rock in the middle of the sea. The main attractions of the Charna Island include water sports such as:
Scuba diving
Cliff diving
Jet skiing
Snorkeling
The island is also a place for a shooting range practiced by the Pakistan Navy. This part of the sea is rich with underwater species that attract many divers.
Location: Mubarak Goth, Kiamari Town, Karachi.
9. Sindbad Amusement Park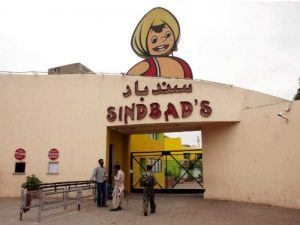 Sindbad Wonderland is one of the largest amusement parks accessible by the general public in Karachi. With a number of fun rides and water slides, the place offers all entertainment at an affordable price. Kids' play area, a food court, and an arcade are other amazing features of this place. Hence, if you are planning a family vacation to Karachi City, don't forget to add Sindbad Wonderland Amusement Park to your bucket list.
Location: Block 10, Gulshan-e-Iqbal, Karachi.
10. Askari Park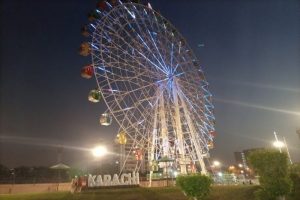 Askari Park is situated on University Road and catches the attraction towards itself by the presence of a large metallic Ferris wheel. This Ferris wheel is also referred to as 'Karachi Eye'. The park offers the best rides in Karachi and is considered one of the biggest amusement parks among others. It is a perfect place for family outings as it has an array of thrilling rides, arcade games, indoor attractions, and many more attractions for visitors.
Location: Main University Road, near Faizan-e-Madina, Karachi.
11. Fun City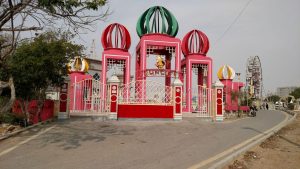 There is a Fun City that is part of Hill Park in Karachi. Hill Park is a recreational place situated on a hilltop. Hill Park comprises an artificial lake with ducks and swans taking a swim. Another main attraction of the park is Fun City. It is an amusement park with a lot of rides. There are indoor games, outdoor amusement rides, and arcade games to be enjoyed by everyone.
Location: PECHS, Karachi.
12. Chunky Monkey
Source: Dawn Images
Chunky Monkey is a mini amusement park for children housed inside a structure in the shape of a ship. It is located in DHA Karachi. There are two branches of Chunky Monkey, and both of them have a majority of rides and fun activities for children. The theme consists of vibrant colors, which is a main point of attraction for kids where they can let their inner child out and enjoy their hearts out.
Location: Khayaban-e-Sahil, Sea View Road, Phase 5 DHA, Karachi.
13. Super Space
It is a space-themed indoor amusement park in Karachi. The entire place is lit in neon colors giving it an extremely unique look. Super space has different VR games and recreational activities suitable for all ages. There activities include:
Dodgem cars
Haunted house
Kids play area
Adventure rides
Location: Ocean Towers, Block 9 Clifton, Karachi.
14. Do Darya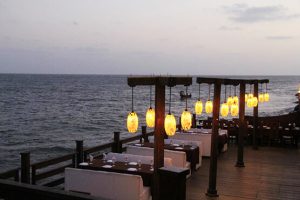 If you are both a foodie and an entertainment lover, Do Darya is definitely a place to go to. With the best food, location, and ambiance, the restaurant has everything to make your day fun, entertaining, and memorable. The best part? The views of the restaurant are open to the beautiful ocean waves with adorable birds flying on the top.
Location: Sea View Road, Phase 8, DHA
15. Pi Social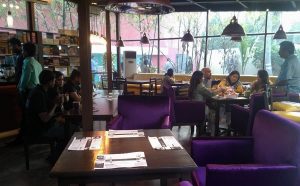 Pi-Social is the stuff of board game fans. As they enjoy a steaming cup of coffee, they can choose from more than a hundred games. This café is perfect for a leisurely evening out with loved ones or friends. Pick a game, organize a team, or engage in a competition with the bartender to win a free drink. You can access the board games without any restrictions and receive a free beverage from their unique menu with just one entry ticket.
Location: F-79 Block 5 Clifton, Karachi.
16. Jabees Funland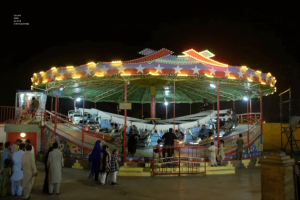 Image Source: The Karachi Walla
The Jabees Funland is a wonderful place to visit. Open entry is a terrific managerial strategy. There are many entertaining toys and games available. I advise parents to go to Funland with their kids. It's a great and affordable spot for kids' enjoyment.
Location: Block 3 Clifton, Karachi.
17. Karaoke at Base Rock Cafe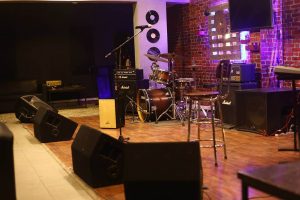 One of the few rock music and karaoke venues in Karachi is open to fans. Base Rock, which lies underground, is one of the oldest and greatest locations for open mic nights, concerts, and recording music because of its acoustic benefits. There are also beverages and snacks available. Stay for the musical performances that will occasionally amaze the audience and attend the karaoke.
Location: Ittehad Commercial Area, Phase 6 DHA, Karachi.
18. Hilal Park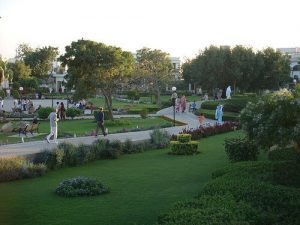 One of the best places to go in Karachi, this park is enormous, well-planned, and filled with lovely flowers and landscapes. Around 440 meters make up the walkway. Some of the children's slides and swings are present for them to enjoy. It's a wonderful, orderly, tiled walking path. It's a great spot to relax and unwind.
Location: Phase 6 DHA, Karachi.
Concluding Remarks
Entertainment is something that holds the attention and interest of many, be it children or adults. It is a great idea to seek pleasure and delight by visiting the fun places close to you.
Also Read:
Places to Visit in Lahore
Places to Visit in Islamabad
Places to Visit in Peshawar