Brush, Detangle, Style, & Define your hair.
Many people experience tangles and knots on a regular basis, especially those with long, thick, dry, or curly hair. In addition to being ugly, inconvenient, and painful to remove if the knots deepen, tangles can also weaken and damage hair when brushed through.
The best technique to handle tangles in your hair is using a dedicated detangling comb or brush. We have compiled 8 different types of detangling brushes and combs to ease hair care for you.
8 Types of Detangling Brushes and Combs
Your first step in clearing snarls is to make an investment in the right tools. Here are some helpful detangling brushes and combs that have been recommended by stylists so you can get the job done with little discomfort or crying. These soft brushes easily remove tangles from both thick and thin hair.
Type # 1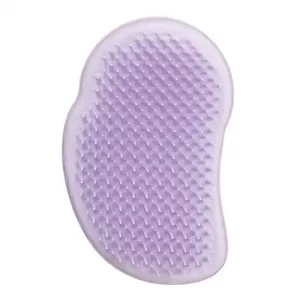 Using a professional detangling hairbrush, you can swiftly and effectively remove knots from your hair, leaving it smooth and free of breakage.
This brush gets rid of tangles and knots immediately and reduces breaking, damage, and splitting that is frequently brought on by pulling and pushing on the hair shaft. It's a super-smooth operator that starts working as soon as the hair is lathered and rinsed, which is why hairdressers adore it and use it in salons.
How to use it:
To untangle hair, just glide through wet or dry hair.
Apply conditioners and treatments evenly throughout the hair, then massage your scalp to promote circulation.
Style your hair.
Type # 2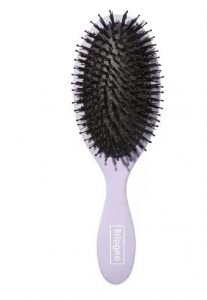 A boar bristle paddle brush that offers performance without sacrificing quality. For a smooth, healthy-looking finish, this lightweight brush softly detangles straight, wavy, curly, or coiled hair. Perfectly built, it has multi-layered bristles to untangle every strand, gentle ballpoint tips to massage the scalp gently, and a strong handle to manage all hair types.
How to use it:
Run this brush throughout your wet or dry hair, starting from roots to ends.
Type # 3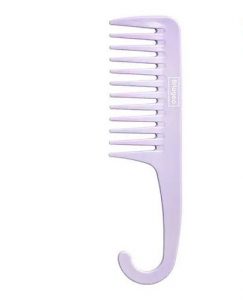 A wide-tooth comb made to disentangle hair with the least amount of snagging. This wide-tooth comb is perfect for evenly dispersing your preferred hair mask or conditioner throughout your strands because it is made to detangle hair while avoiding snagging. The comb's sturdy body, extra-wide teeth to improve slide, and hook for convenient in-shower storage are some of its key features. It is useful for both wet and dry hair types.
How to use it:
Run through your hair while applying conditioner.
Type # 4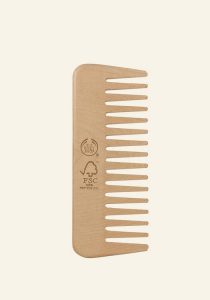 Use a wide-tooth comb to effortlessly detangle damp or dry hair. The ideal method for easily dispersing product through your hair. It is suitable for use on wet and dry hair types.
How to use it:
Distribute treatments and conditioners from root to tip, or gently untangle damp hair tangles.
Hair should be combed as often as necessary from root to tip.
Type # 5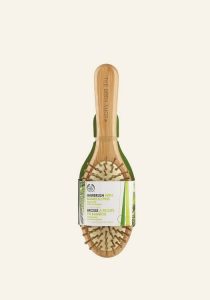 Use the Bamboo Pin Hairbrush to smooth and detangle your hair while also enhancing its general condition. Your hair's natural oils will be spread if you brush it frequently for lustrous, healthy hair. It is ideal for massaging the scalp, detangles and groom hair. Perfect for all hair types.
How to use it:
Brush your dry hair thoroughly and style as desired.
Type # 6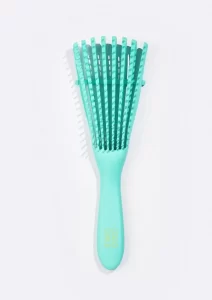 This detangling brush is made to style curly and wavy hair with the least amount of breakage and most volume. Its adaptable design makes it the ideal brush for hair that is curly or wavy. The brush head's individual bristles make it simple to untangle hair that is curly, wavy, coily, or kinky.
When brushing, the individual bristles disperse pressure, reducing pulling and breakage. It includes eight rows of independent bristles on removable supports. Using the detachable bracket, the bristle spacing can be changed. The non-slip rubber grip is made to provide the most control possible while styling.
How to use it:
Best when combined with a conditioner in the shower.
Brushing should be done from the ends up to the roots.
Use it with or without the product.
To get the greatest benefits, use it on wet hair.
Type # 7
Nylon bristle brushes are a synthetic material that effectively detangles thick hair and eliminates static. Some brushes mix nylon and boars' hair bristles to minimize static and detangle hair while also obtaining the boars' head bristles' health advantages and natural shine.
How to use it:
Detangle longer lengths with a nylon bristle brush starting from roots to ends.
Type # 8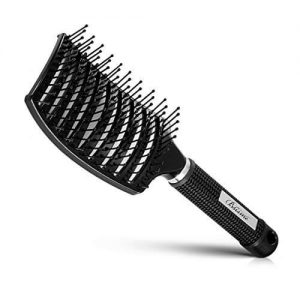 The ergonomic nature of curved brushes makes them suitable for use on human heads. The majority are lightweight plastic products with vents, making them a wonderful option for travel, the gym, or any other situation when you need your hair to dry rapidly.
How to use it:
Curved brushes are suitable for all hair types.
Work your way from roots to ends.
Do Detangling Brushes and Combs Actually Work?
Detangling brushes are designed specifically to reduce damage while you remove knots and tangles. They may have less breakage than a typical hair brush because of the way they are made.
What To Look For In a Detangling Brush
Bristles: Choose a brush with flexible, widely spread bristles to ensure that it helps with tangles. These assert to provide the strand more space to untangle and separate.
Material: Choose a brush with nylon or plastic bristles if you intend to use it on wet hair. It won't fill you with anxiety about damaging the brush in the process, but it will still assist in unraveling all of your difficult knots.
Design: Pick a brush that feels good in your hand because combing out knots can take a while. A comfortable handle or an ergonomic design are also excellent choices.
Detangle, Style, & Volumize!