Ghousia is one of the most popular biryani hubs in Karachi, which was recently awarded the Brand of the Year award in 2022 for its supreme taste.
Famous for its Nalli Biryani, they serve fresh rice, tender meat, and soft nalli, making for a heavenly and filling meal.
The place has been visited by many famous personalities, including RHS, Village Food Secrets, Irfan Junejo, Saqib Mobeen, etc. 
Ghousia Nalli Biryani Karachi – Complete Review
Below we will discuss the following in detail:
Ghousia Biryani Menu
Below is the complete menu available at Ghousia Nalli Biryani: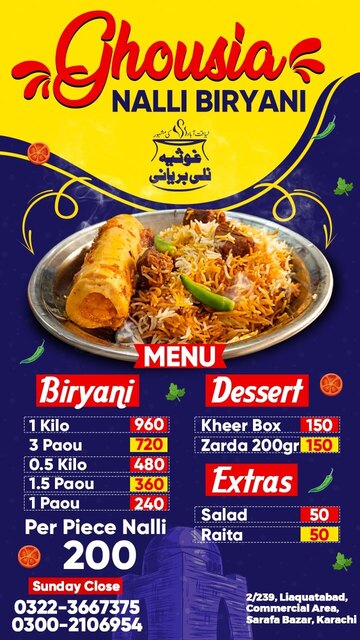 Ghousia Biryani Customer Reviews
Ghousia Nalli Biryani in Karachi has mostly received positive feedback on Google, with 4.2 stars after 7k+ reviews.
Many appreciate the restaurant's OG Nalli Biryani, a flavorful combination that appeals to beef enthusiasts. They praise the well-balanced spices that enhance the overall taste.
The soft nalli, paired with tender meat and their perfect mix of spicy rice, make it a treat!
The biryani delivers a delicious experience for some, and the friendly staff adds a positive note to their visit.
However, Ghousia Nalli Biryani does face some challenges. Pricing is a common concern, with some diners finding it on the higher side, considering portion size and quality.
Overall, we see people appreciating and enjoying the biryani, making the place a promising hub for everyone to visit.
Ghousia Biryani Ambiance & Services
The place is rushy and crowded due to its popularity. That makes it hard to find a spot and eat in peace.
Yet, the staff is very cooperative and makes sure to attend to each customer timely. Also, you will face issues with parking; therefore, you can consider takeaway and home delivery.
That's a Wrap on Ghousia Nalli Biryani!
So that's it for our review of Ghousia Nalli Biryani in Karachi. For more restaurant reviews, food news, fun facts, and food deals, check out BlogPakistan.