Pakistan is a country with rich resources and breathtaking natural sites no one can overlook. The country itself has a lot of wonderful places for tourist attractions leaving little attention to foreign countries. Pakistan has equally beautiful places to visit for an awesome honeymoon in terms of affordability and comfort. It is not always necessary to look for honeymoon destinations outside of the country. You can easily find stunning honeymoon destinations in Pakistan.
Honeymoon Destinations in Pakistan
Take a look at the top 12 honeymoon destinations in Pakistan. All the places are quite affordable and make your honeymoon memorable.
Swat Valley
Hunza Valley
Skardu Valley
Fairy Meadows
Chitral Valley
Neelum Valley
Naran & Kaghan Valleys
Shogran
Kumrat Valley
Murree
South of Pakistan
Mabali Island
Swat Valley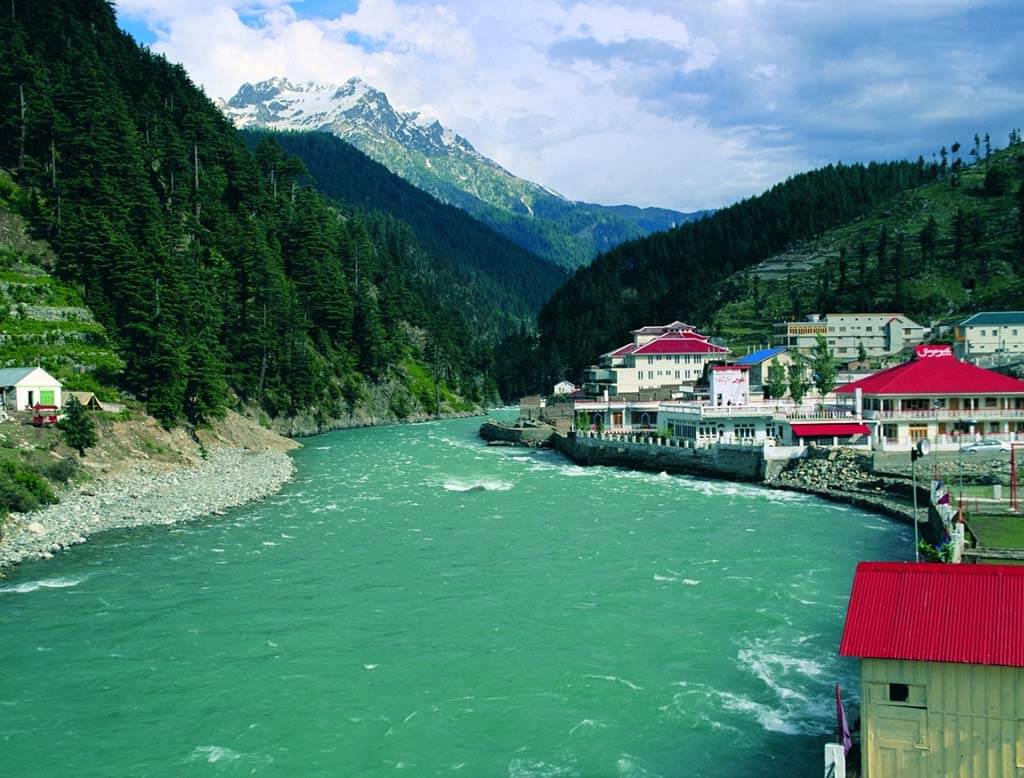 Swat Valley is the most-visited place by couples. The most attractive thing about this valley is the lakes. The mesmerizing lakes not only add to the scenic beauty but also make it a popular destination for tourists. The locals will be seen fishing, the tourists on the other hand are seen busy hiking, water sports, and relaxing while admiring its beauty.
Swat Valley is also referred to as the Mini Switzerland of Pakistan. It is located in the Malakand Division of KPK. It is located at an elevation of 980 m above sea level and has a cool and wet climate. The valley is centered on the Swat River, has high valleys and alpine meadows. The top 10 places to visit in Swat are:
Kalam Valley
Kumrat Valley
Madyan
Bahrain
Marghazar
Saidu Sharif
Mahodand Lake
Malam Jabba
Fizaghat
Kundol Lake
Malam Jabba is an exclusive ski resort in Pakistan and is declared as the Skier's paradise. To book yourself an extravagant hotel at Swat Valley, check out Hotels in Swat Valley. For your stay in Malam Jabba to get the most out of skiing and zip-lining, check out Hotels in Malam Jabba.
Hunza Valley
Hunza Valley is another popular honeymoon destination in Gilgit Baltistan. It is the jewel of Pakistan for its natural beauty. The place is surrounded by natural bounties, sky-high mountains, and lush green valleys. Hunza has some of the best hotels and restaurants with a variety of cuisines.
Honeymoon in Hunza is the most talked-about area where a large number of tourists visit each year. Hunza has all the modern and extravagant hoteling and recreational facilities for entertainment. Hunza has an excellent literacy rate and the residents are polite, generous, and hospitable. All this further adds to the memorable time you spend there with your better half. The worth-seeing natural bounties in Hunza Valley are:
Altit Fort
Baltit Fort
Rakaposhi View
Karimabad
Khunjerab Top
Attabad Lake
Eagle's Nest
Hussaini Hanging Bridge
Sost Border
Rush Lake
Borith Lake
Golmit
Hispar Glacier
Biafo Glacier
Batura Glacier
Passu Glacier
There are two possible ways for reaching this place, one through an airplane to either Gilgit City of Skardu or via road. There are two routes to Hunza Valley; one from Besham Mansehra and the other from Naran and Babusar Top. For making a reservation at one of the luxurious hotels, check out Hotels in Hunza Valley.
Skardu Valley
Skardu Valley lies in the far North of Pakistan. The valley is surrounded by mighty mountain ranges. These are Karakoram, Himalayas, and the Hindu Kush mountain ranges. Skardu District is famous for mountaineering globally, it hosts the second-highest mountain, the K2.
Skardu Valley is situated at an elevation of 2,500 meters above sea level. The tourist season is from April to October and there is observed an influx of newlyweds for their honeymoon break. The beauty of Skardu Valley is at its peak in the spring season, you can enjoy the stunning views of Apricot and Cherry Blossom. Autumn has its own wonders, it displays the colorful fall season. The most attractive tourist attraction of the place are:
Deosai National Park
Upper Kachura Lake
Manthoka Waterfall
Satpara Lake
Katpana Desert
K2 Museum
Kharphocho Fort
Sheosar Lake
While at Skardu, you can witness the snow-capped peaks, stunning meadows, lush green fields, and deserts. If you are thinking of buying something from the place as a souvenir, locally made crafts are a good option. You can also plan your visit for Skardu and Hunza Valley in the same travel as the distance between these two valleys is 292 km by road. To have a hassle-free booking of hotels, check out Hotels in Skardu Valley.
Fairy Meadows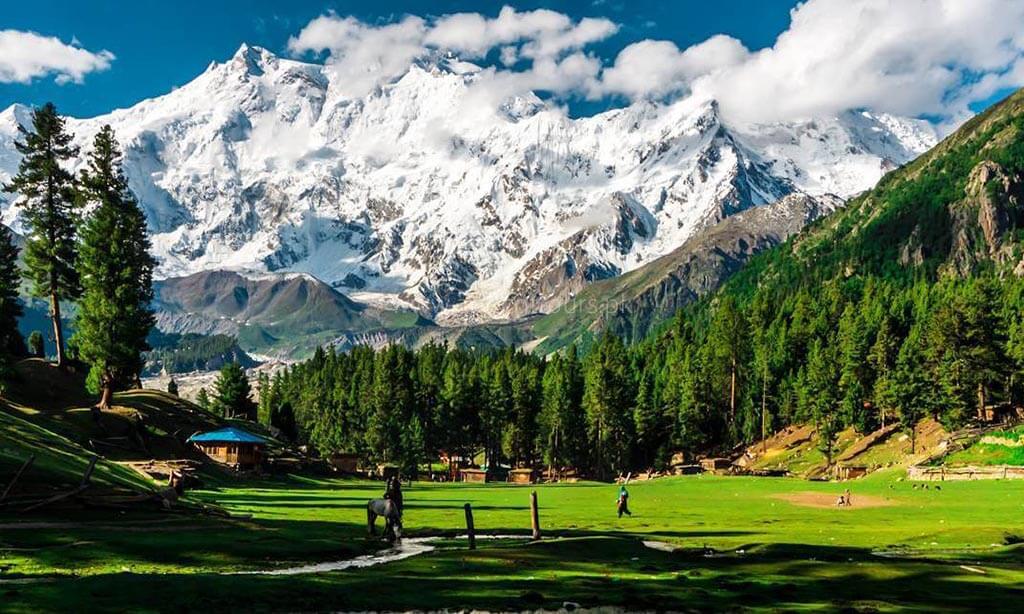 Another wonder of Pakistan is the Fairy Meadows and the mighty killer mountain, Nanga Parbat. If you are up for an adventurous honeymoon, do pay a visit to the Fairy Meadows and Nanga Parbat base camp.
Fairy Meadows was named by Germans, and locally it is referred to as Joot. It is surrounded by a thick alpine forest and has an altitude of about 3,300 meters above sea level. It is also a launching point for climbers who summit the Nanga Parbat. The natural wonder is approachable by a 15 km long jeep and trekkable ride starting from Raikot Bridge to Tato Village. The jeep ride is very dangerous and one should think twice before making plans. From there onwards, it is 5 km till fairy meadows and takes approximately 3 – 4 hours on foot.
The place is equally safe for females as it is for males. The locals are very welcoming and friendly. The views along the trail are stunning and the closest reveal of the Nanga Parbat is far more impressive. You can enjoy the clear night sky and the bright snow-capped Nanga Parbat from Fairy meadows. Be sure to be packed with winter clothes as the nights are super cold even in summers. Choose a perfect spot at the top and enjoy the views of Nanga Parbat.
Chitral Valley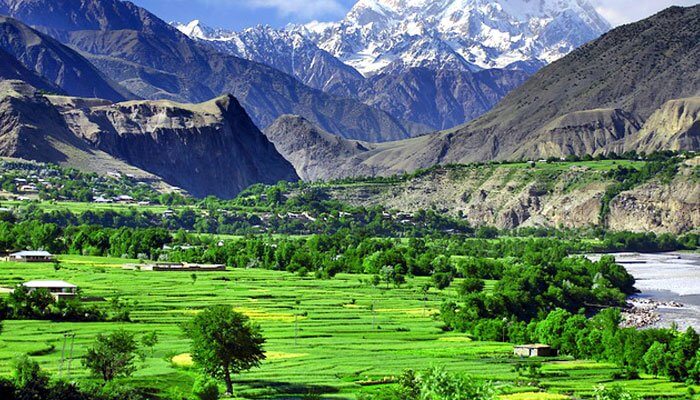 The spectacular Chitral Valley located in Khyber Pakhtunkhwa is another highly recommended honeymoon destination for newlyweds. Previously, the Valley did not get much attention due to lack of infrastructure, but presently the Lowari Tunnel has been built that has made the commute to the valley quite easy for the tourists. Chitral is situated at approximately 4,900 feet above sea level. It is surrounded by the majestic Tirich Mir and the Hindu Kush ranges. The valley has all the luxuries and comfort one desires for making their honeymoon trip memorable.
Chitral Valley comprises culturally rich Kalash Valley including Bumburet, Rumbur, and Biru. These valleys have attracted the attention of massive crowds over the past years. The culture and traditions of the residents are centuries old and still intact. Other places that get tourists attention are:
Chitral Museum of Archaeology and Ethnology
Chitral Fort
Old Royal Fort in Mastuj
Chitral Gol National Park
Chitral Polo Ground
There are many budgeted hotels and rest houses in Chitral Valley. Surround yourself with the tall mountains and delicacies of the local food. Visiting this place in December has an added advantage, there is an annual festival celebrated in Kalash Valley hosting many traditional festivities. You can either go to the place by road or by airplane. If you think you can reach the place after a long ride without getting any travel sickness, a road trip is a good option. Otherwise, you can visit by airplane overlooking tall mountain ranges and spectacular views.
Neelum Valley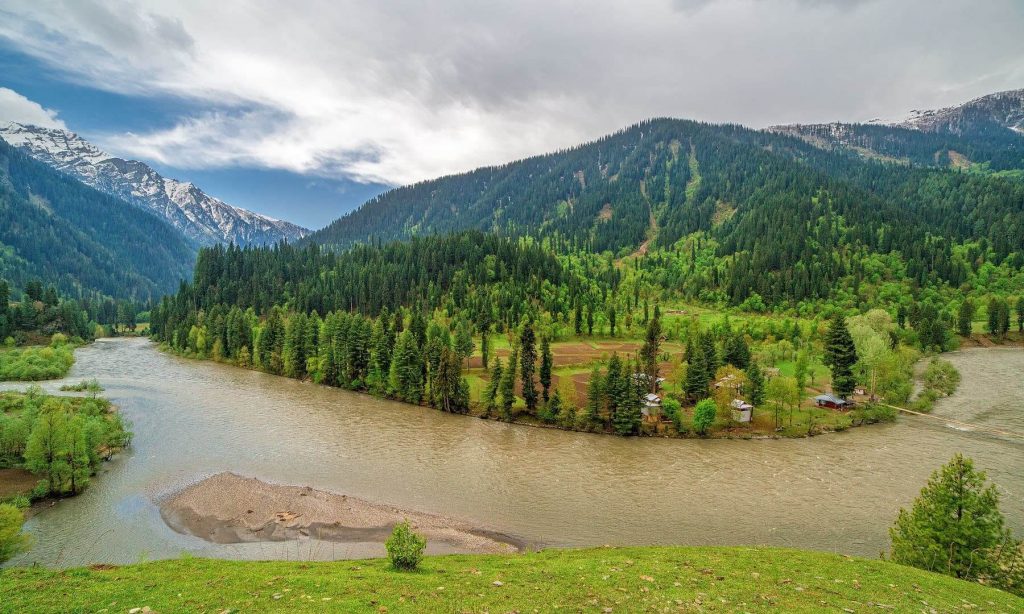 Pakistan's Blue Gem, the Neelum Valley, is on top among the most beautiful valleys of Azad Kashmir. It has many brooks, forests, lush green mountains, freshwater streams, and rivers. The waterfalls make the place more heavenly. Not to forget, these were the worst-hit areas of Pakistan during the 2005 earthquake.
The road to Neelum Valley has 2 parts. The road condition from Athmuqam to Muzaffarabad is good but after that, you will require a 4×4 jeep to reach Neelum Valley. That's where the real adventure to the journey begins. The tourist spots in the Neelum Valley are:
Dhani Noseri Waterfalls
Hydro-Electric Power Project Point
Kutton Jagran Valley
Kutton Colony
Kutton Waterfall
Keran, Upper and Lower
Upper Neelum
Baboon Valley
Ratti Gali
Sharda Neelum Valley
Kel/Arrang Kel
Chitta Katha lake
Taobat
There are many Hotels in Neelum Valley that you can book for a comfortable stay. The humbleness of the locals has the tourists coming back to this place. You can never get most of it, the water streams on your way, make you want to make multiple stops on the go.
Naran & Kaghan Valleys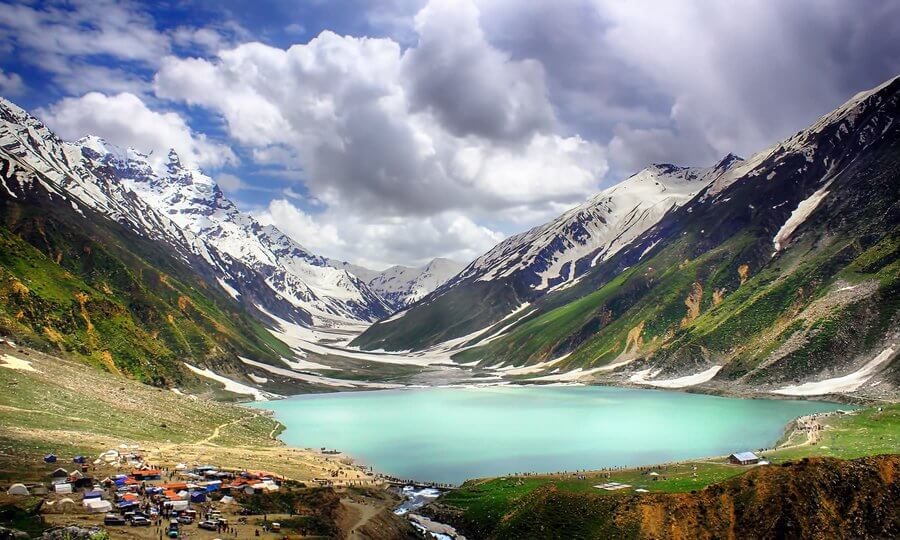 Naran and Kaghan are famous tourist destinations and make a good destination for couples for their honeymoon. These two are different valleys but very close to each other. The total distance to Naran from Islamabad is approximately 240 km. Each year, thousands of tourists visit this place for their vacations and the place observes a shortage of hotel rooms.
Couples who visit this place enjoy and explore the serenity of the Naran & Kaghan Valley. It has the most pleasing weather and is a gateway to Gilgit through Babusar Top. Naran Bazar is crowded in summer. It is located approximately 65 km from the freezing Babusar Top. Major tourist attractions of Naran & Kaghan Valley are:
Lulusar Lake
Dudipatsar Lake
Pyala Lake
Babusar Top
Kaghan
Saif ul Malook Lake
Book yourself a luxurious and affordable Hotels in Naran with all the amenities for a relaxed stay.
Shogran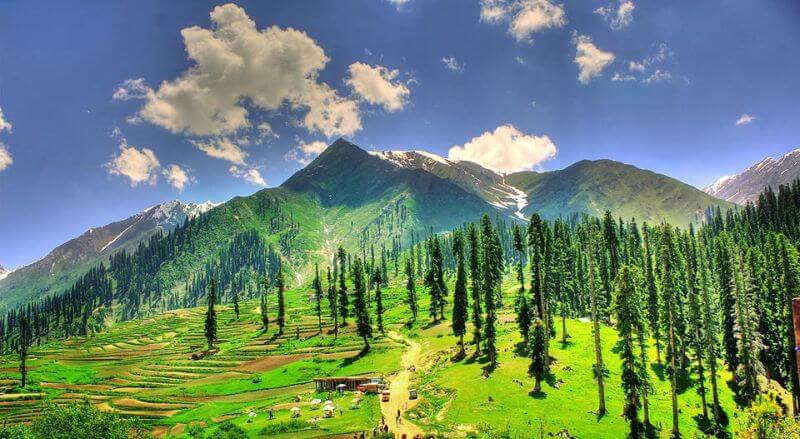 Shogran is located in Kaghan Valley. It is a hill station on the lush green plateau. It is situated at an elevation of 2,362 m above sea level. The distance to Shogran from Balakot is approximately 34 km.
As it is a hill station, the suitable weather to visit the place is in summers. The place receives considerable rainfall in the winters. It has thick pine forests and panoramic views. There are many budgeted and luxury Hotels in Shogran.
When you visit Shogran, Siri Paye Meadows is never to be missed. It is a green landscape covered with snow-covered peaks and clouds. The road conditions are not very good and are visited by jeep.
Kumrat Valley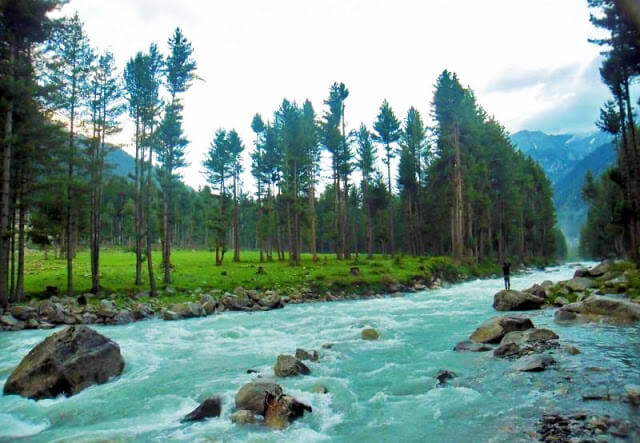 If you intend the few days of your honeymoon in the natural environment and away from the hustle and bustle of city life, Kumrat Valley is another best choice. You will face some difficulties reaching the destination, but this on-road struggle will be nothing in front of its beauty. This valley is even more beautiful than it seems in the pictures. There are many lush green fields and forests in Kumrat valley.
Staying options at Kumrat Valley are not at the high-end but still maintain a well standard for the newlyweds. You can stay at hotels, glamping, or camps. The distance from Islamabad to Kumrat valley is approximately 384 Km that is covered in 11 hours. You can enjoy trout fish fresh from the Panjkora River, a jeep ride, a walk in the forest, and hiking. The sound of the river flowing and the aroma of the forest give you a goodnight's sleep. The other major attractions at Kumrat Valley are:
Katora Lake
Jahaz Banda
Kala Chashma
Kumrat Waterfall
Pajartan
Dojanga
Tobot Dub
Murree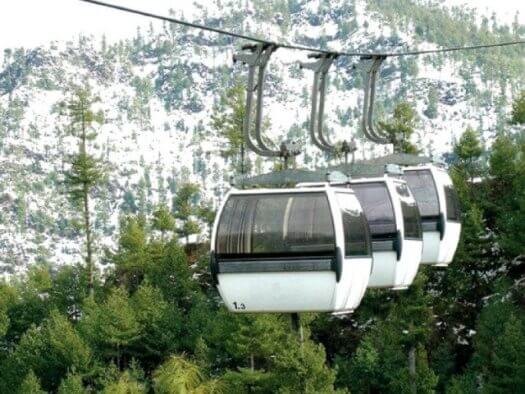 Murree is another great honeymoon destination in Pakistan. It is the king of tourism and welcomes guests throughout the year. It is just a 45 minutes drive from Islamabad, making it easily reachable by all.
When planning a high-end honeymoon for yourself, Pearl Continental Bhurban is a great choice to stay and enjoy the luxuries of the 5-star hotel in the mountains. As Murree receives a great influx of tourists throughout the year, it is advisable to book your stay at PC Bhurban well beforehand. Other than that, there are various staying options offering great hospitality and other services. Enjoy the famous and greatest chairlift experience at Patriata. The chairlift gives a wonderful panoramic view of the Murree Hills. The major attractions nearby Murree include:
Mall Road
Chinar Golf Club
Patriata
Kashmir Point
Nathiagali
Ayubia
South of Pakistan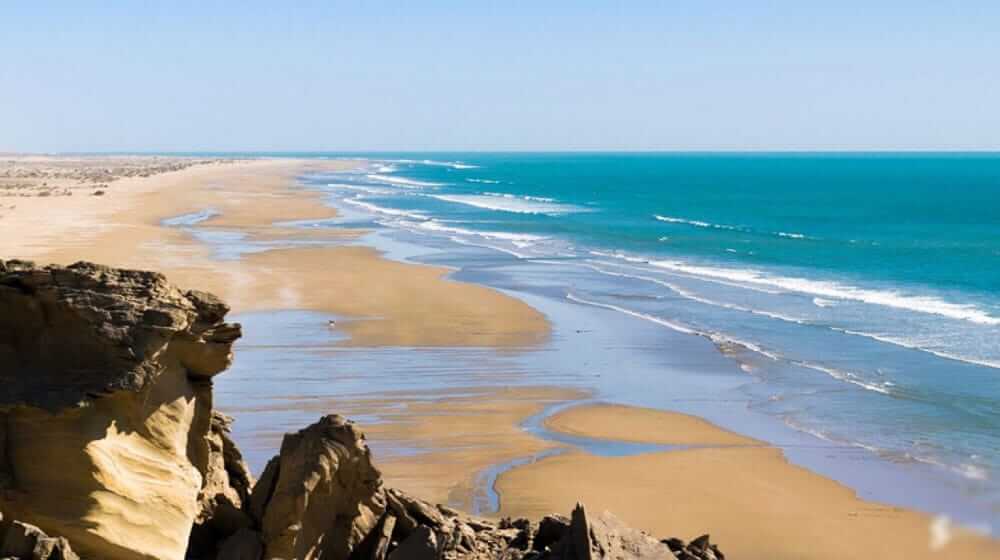 If you are interested in visiting the South of Pakistan, there are various places that are not to be missed. There are various camping options at the beaches and water sports to enjoy. The major attractions are:
Kund Malir Beach (Princess of Hope)
Gorakh Hill Station
Gwadar Via Makran Coastal Highway
Ormara beach
Churna Island
Gwadar Beach
Gwadar Beach is a relatively unexplored and peaceful place for the newlyweds. There are various luxurious beach resorts which are a good option for stay. They are sure to offer great accommodation along with spa treatments. These resort hotels are located in a prime location in Gwadar.
Mabali Island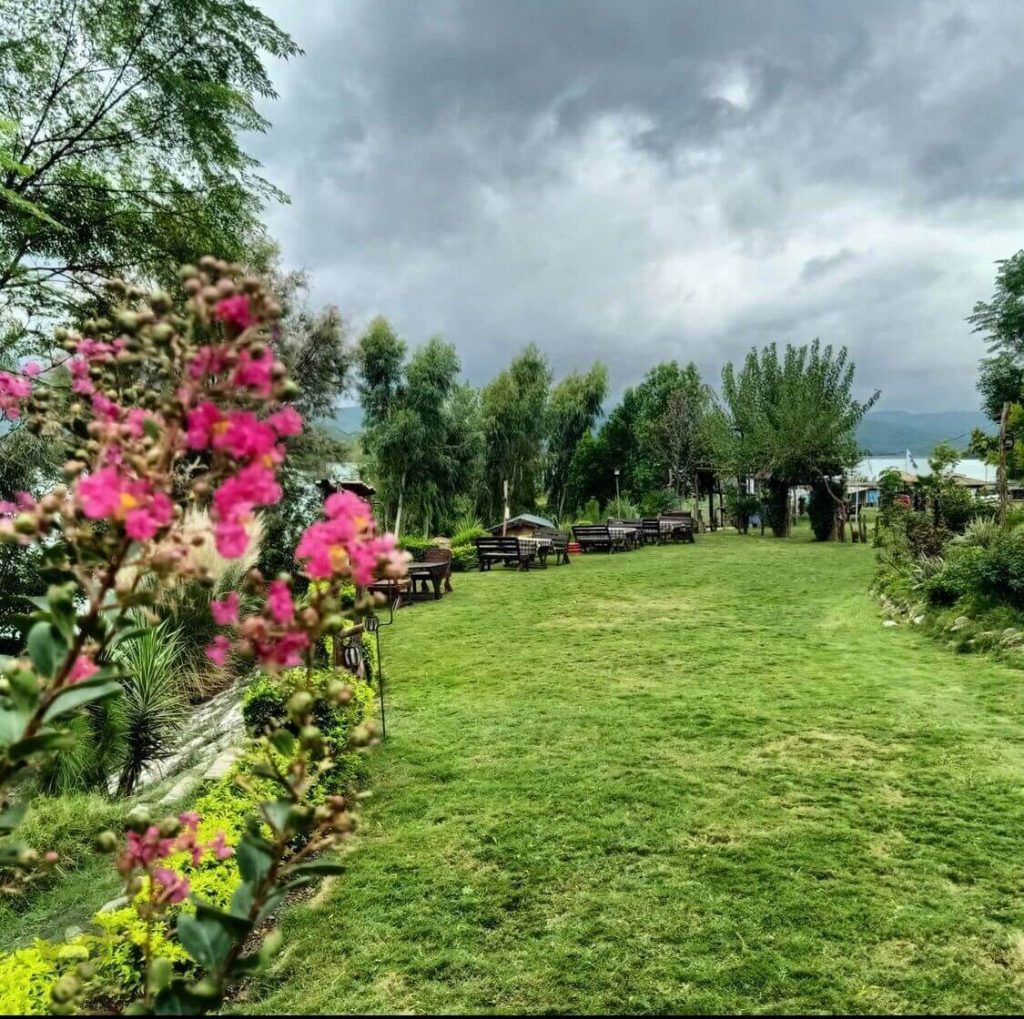 Mabali Island is nothing less than a hidden paradise situated at the Khanpur Dam. It is a family-run resort that provides exclusive water sports, activities, and luxurious huts and caravans alongside the lake.
Mabali Island has earned a great reputation since it became operational in 2017. Hospitality has always been an aptitude and the crew is trained for water sports. It is a great nature-based stay experience for a newlywed couple to enjoy and have a relaxing time.
They offer special honeymoon packages for 1 night to 3 nights stay ranging from PKR 17,200 to PKR 49,200. Enjoy the bonfire night, lakeside candle dinner, a walk alongside the lake, and many more. If you want to experience some adventure, there are numerous fantastic activities which include:
Jet Ski
Boat Ride
Wake Tubing
Tarzan Jump
Lake Swimming with Life Jackets
Kayaking
Pedal Boats
Zipline Adventure
Shooting
Archery
Hiking
Trekking
Beach Volleyball
For further queries and booking, contact them at:
We hope it is considerably easier now for you to decide which tourist destination to opt for your honeymoon trip. All the places mentioned have their own attractions and peculiarities that are superior to each other.
Pack your bags now and visit these heavenly places.