TikTok is a Chinese video-sharing app that has been trending for quite some time now. This is a great platform for users to showcase their talent in the choice of niche to the world in such a short time. This app has given birth to many rising stars and they are now getting global recognition. TikTok has become so famous that it has now become a proper income source for many talented creators.
Unfortunately, TikTok had no means of withdrawing money directly. Creators could only earn money by partnering with a third-party brand or by monetizing self-content. This article will spotlight ways to withdraw money from TikTok in Pakistan.
Important News
TikTok announced a $200 million Creator Fund for its esteemed users on 22 June 2021. This is the biggest news to the aspiring and enthusiastic TikTok users who adopted it as a means for livelihood. But it was revealed that this huge contribution is only for U.S content creators. The eligibility criteria involve having more than 18 years of age. Along with that, the users must be innovative in their content, have a specific number of followers, and meet all TikTok Community Guidelines.
How to Withdraw Money from TikTok in Pakistan
There are three available methods using which you can withdraw money from tiktok:
Paypal
JazzCash and EasyPaisa
Mobile Top-Up
Details for each method are discussed below.
1. How to Withdraw Money from TikTok through Paypal
Pakistani TikTok users having a valid Paypal account can withdraw money from TikTok. We do know that Paypal is not functional for Pakistan. Those having access to a US address can create their own Paypal account and use it despite living in Pakistan.
Let's proceed with the step-by-step guide on how to withdraw money from TikTok through Paypal. The actions are as under.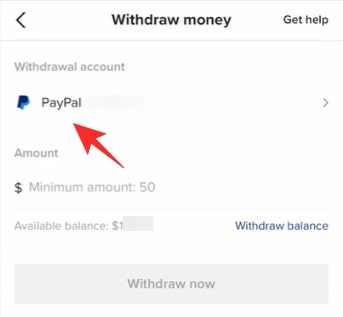 On the TikTok app, go to the "Me" section.
Open Settings.
Go to Wallet.
Go to the section "My Income".
Click on the "Withdraw" button.
Enter your correct PayPal card details.
Confirm the transaction.
The transfer of funds to PayPal is carried out within fifteen working days from the date of application. Withdrawing money to a bank card afterward can take at least 1 more day.
Conditions:
In order to withdraw money from TikTok wallet, the following conditions must be fulfilled:
Collect at least $100 on the account.
A maximum of $1000 can be withdrawn in a single day.
Link the TikTok account to PayPal. This can only be done during the first withdrawal of money.
2. How to Withdraw Money from TikTok through JazzCash and EasyPaisa
TikTok users not having the availability of a Paypal account can also withdraw money from TikTok through JazzCash and EasyPaisa. This is the latest feature of the app for Pakistanis. Follow these steps for an easy understanding: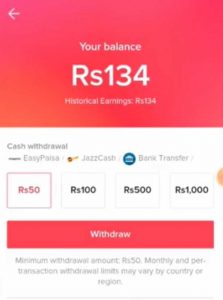 Open the TikTok application.
Go to the "Me" section, TikTok Wallet will appear and balance will be shown.
In the "Cash Withdrawal" section, choose the amount to withdraw.
Select "Withdraw".
Select "Add a New Withdrawal Method".
Choose from JazzCash or EasyPaisa. Enter the required details to verify the account and select "Confirm".
Then select "Withdraw to Confirm".
The minimum withdrawal allowed is Rs. 50. The funds will be transferred to the account in 1 business day.
3. How to Withdraw Money from TikTok through Mobile Top-Up
Another option to withdraw money from TikTok is through Mobile Top-Up. The minimum amount of money allowed for withdrawal is Rs. 20. The steps are as under: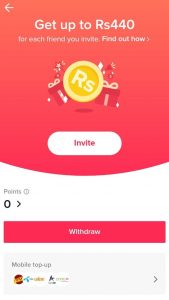 Open the TikTok application.
Go to the TikTok bonus section in the upper left corner.
Select the "Mobile Top-Up" option.
Enter the phone number and choose the phone network.
In the "Top-Up Plan Amount" option, select the amount to transfer.
Select Confirm.
TikTok Wallet
Tik Tok has its own internal currency in the form of coins and diamonds which are displayed in the wallet section. The creators of the videos receive this money with the help of other users, and not from the platform itself.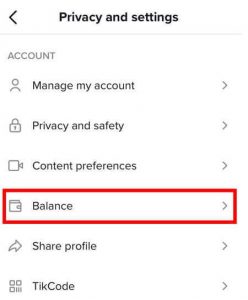 To access the "TikTok Wallet":
Open the TikTok application.
Go to the "Me" section.
Go to the "Privacy and Settings" section in the upper right corner.
Click on the "Balance" subsection. Your balance will be displayed.
How to Earn Money Through TikTok
Some easy and useful ways to earn money are listed below:
Sign up reward
Referral code
Invite friends
Share activity
Upload innovative videos
Add relevant hashtags
Watch videos
Link TikTok account to other social platforms
Cross-promotion
Sponsorships
E-commerce business or product selling
Final Comments
We have tried our best to deliver all the money withdrawal methods from TikTok available in Pakistan. Make money out of unique content posting on TikTok and gain popularity.