When it comes to makeup, there's nothing better than discovering new tricks and hacks. "I want to know everything—and I want to know it immediately!" is most likely your life's slogan.
All of our favorite beauty tips and tricks are here for your benefit (and perhaps even your delight!). If you're looking for ways to make your lip color last all day or how to create fuller eyebrows, we've compiled a list of some of the best make-up tips and tricks. You can benefit from these tips, regardless of whether you're a novice or a pro.
20 Makeup Hacks You Need to Know
It doesn't have to be difficult or time-consuming to look your best with your makeup on. You'll never have to feel self-conscious in front of the mirror again thanks to these helpful makeup hacks. Many of us rely on makeup tricks to achieve our desired results. There are times when we seek advice from others and times when we devise our own solutions. Here are 20 time, energy, and money-saving makeup hacks.
LIP MAKEUP HACKS
If you want to extend your lip color, here are a few tricks. Start taking notes!
Makeup Hack # 1: Exfoliate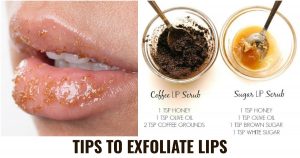 If you're going to apply a dark or pigmented lip color, be sure to remove any dead skin cells from the surface of your lips first to ensure a smooth application. Apply a hydrating lip balm after using a lip scrape to smooth things out.
Makeup hack # 2: Use an Invisible Lip Liner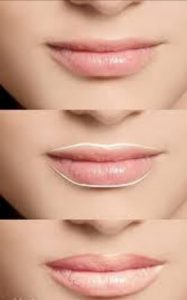 Apply an invisible wax liner to your lips before applying your lipstick. These lip liners are meant to hold on to the color and prevent it from fading or smudging off. The first step is to fill in any fine lines on the outside of your lips with the liner. Then, using a lip liner in the same color as your lipstick, fill in the remainder of your lips.
Makeup Hack # 3: Set your Lipstick with a Translucent Powder
Using a tissue and a translucent powder might extend the wear time of your lip color. Using a lip pencil that matches your lipstick, draw and color your lips. In order to get more accurate application and better pigmentation, apply one coat of lipstick with a brush. Use a tissue to gently remove any remaining lipstick. Two more times with the lipstick and tissue. Afterwards, hold the tissue to your lips and apply translucent powder with a powder brush through the tissue to finalize the look.
Makeup Hack # 4: Prime your Lips with a Concealer
Concealer and foundation are excellent primers for lipstick. If you want to apply concealer or foundation to your lips, all you need is a wet makeup blender. With the lip brush, add a second coat of your preferred lip color. When applying lipstick, avoid swiping it over the concealer because this can make the color appear flat or muted.
Makeup Hack # 5: Use the Finger Technique
Use this trick from the world of makeup to keep your lipstick on your lips and away from your pearly whites. You may easily remove your pointer finger from your mouth by putting it in and pouting your lips around it like a fish. All the extra lip color will be removed from the inside of your lips and won't be able to transfer to your teeth with this technique.
Makeup Hack # 6: Broken Lipstick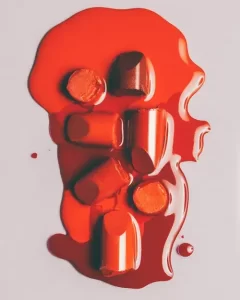 The most typical blunder we face is this. However, don't toss your lipstick away. Remove any remaining lipstick and combine it with hot coconut oil in a small container. After that, it transforms into lip gloss and is ready to be used right away.
FACE MAKEUP HACKS
The base you set for your makeup look is extremely important. So, you'll need some face makeup hacks to get you started.
Makeup Hack # 7: Clean your Makeup Blender Using Lotions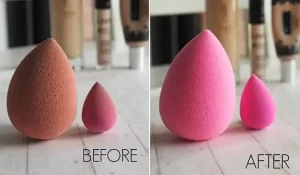 Because you don't want anything getting in the way of a flawless finish—or for bacteria or germs to get transferred from the sponge to your skin—using a clean makeup blender is a necessity. It's best to use a gentle cleansing solution and massage lotions on a makeup sponge to remove any remaining makeup residue. Be cautious not to scrub the sponge (gentleness is crucial!) as this could cause it to break.
Makeup Hack # 8: Tap the Sponge on your Skin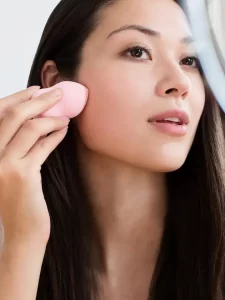 The blender can be used to get an airbrushed effect by tapping it on your skin. "Stippling" is the name given to this procedure. Stippling is a technique in which you use a sponge to apply and blend makeup at the same time by gently tapping the sponge on your skin.
Makeup Hack # 9: Get a Dewy-looking Skin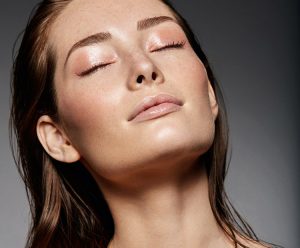 Dewy skin can be achieved with just one simple action. Apply a sheer foundation or concealer mixed with a moisturizing skin oil or moisturizer on your face using a makeup sponge. This will give you a natural-looking glow with a no-makeup look.
Makeup Hack # 10: Don't Skip Setting Spray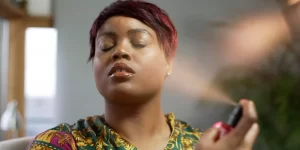 Think again if you think setting spray is a waste of time. Makeup will last all day with just a few spritzes, no matter what the weather brings. Spritz your face in an X & T motion after you've applied your makeup.
Makeup Hack # 11: Apply your Bronzer in a "3-shape"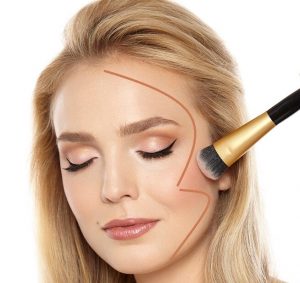 No time for contouring? There's no need to worry. You'll want to grab a bronzer of your choosing and apply it in a three-shape along both sides of your face. Starting at the top of your forehead, work your way down to your cheekbones and jawline using a light swab of bronzer, if you're not sure how to do it. If you hit those points, you'll be on a path that resembles the number three in appearance!
Makeup Hack # 12: Color-correcting Concealer can Work Wonders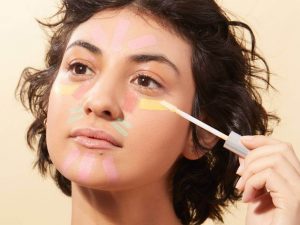 Among professional makeup artists, color-correctors are a well-known tactic for concealing problems like uneven skin tone, discolorations and sun spots, under-eye bags, and blemishes. Colors like peach and yellow can be used to cover up dark circles, green can be used to cover up redness, and purple can lighten up dullness.
Makeup Hack # 13: Test Foundation and Concealer on your Neck rather than Face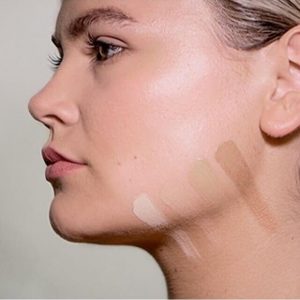 Every one of us has been there trying to figure out the correct foundation or concealer shade while standing in a pharmacy or beauty supply shop. It's a time – consuming effort, and even after swatching a plethora of colors, you may not find the right match. It's possible that you're having issues because you're experimenting with facial cosmetics on your face. It may seem contradictory, but swatching your foundation on your neck instead of your cheeks or forehead, which might be affected by acne or too much sun, is the best strategy. The reason for this is that it's more accurate to your skin tone!
Makeup Hack # 14: Wash your Brushes with a Gentle Face Wash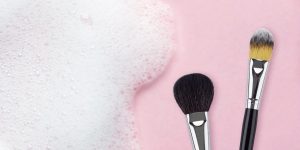 If your makeup brushes aren't clean, they're not going to do you any good. Brushes can be cleaned using a light facial cleanser in the absence of a brush cleaner. Don't forget to wash your brushes, too, in addition to using the correct cleaning product. Brushes with bacteria, oil, and old make-up can trigger outbreaks and rashes, as well as being unpleasant. Brushes should be cleaned once a week.
EYEBROW MAKEUP HACKS
The brow is making a comeback, and this time it's bolder than ever. True, the days of pencil thin eyebrows are long gone. Get on board with this new beauty trend!
Makeup Hack # 15: Brow Gel for Fuller-looking Brows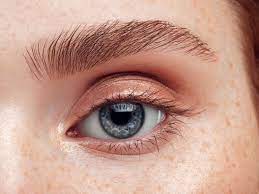 You can fake full brows with a brow gel. Use a longwear brow gel that comes with a brush and spoolie for easy application.
Makeup Hack # 16: Go One Shade Lighter for Brows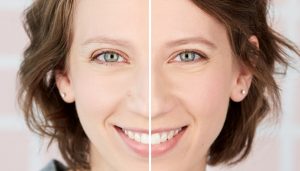 Filling in your eyebrows with a shade that's too dark can seem artificial and unbalanced. Instead, use an eyebrow pencil or powder that is one or two shades lighter than your natural eyebrow color. Even if your brows are drawn on, it will seem much more natural this way, so don't be afraid to try it.
EYE MAKEUP HACKS
Achieve makeup mastery by improving your eyeshadow and eyeliner application.
Makeup Hack # 17: Always Start with Primer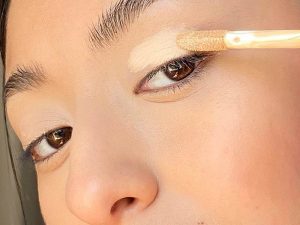 Keep your eye makeup from smearing all over your face by following these simple steps. Use an eyeshadow primer before applying your eye shadow and liner, and you'll get a more even application and a more stable base. If you are out of eyeshadow primer, use a concealer.
Makeup Hack # 18: Apply Under-eye Concealer in a Triangle Shape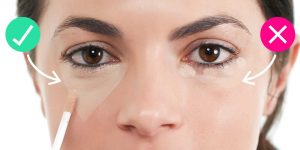 Dark circles? Puffiness? General discoloration? There are few places on your face as delicate as the under-eye area, which makes it one of the most difficult places to treat and conceal. Use a triangular shape to apply your under-eye concealer under each eye. Making this little tweak to how you apply your concealer can make all the difference in lightening your under-eye region for a dark circle-free makeup appearance.
Makeup Hack # 19: Use Lip Balm When Out of Primer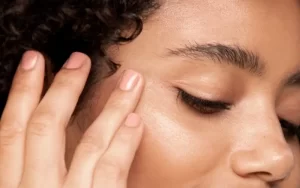 What if you run out of primer right before a party? The eyes can be fooled. You may extend the life of your glittering eye shadow by applying a clear lip balm to the eyelids. Let's use this makeup hack to our advantage and get creative with our goods.
Makeup Hack # 20: Voluminous Eyelashes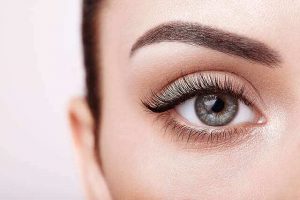 Sprinkle some baby powder or loose powder on your lashes before the mascara has completely dried. You'll be amazed at the transformation of your lashes when you apply a second coat of mascara in a few seconds. Falsies exist in the market, but they take a lot of time to put on, as well as a lot of effort to remove. As a result, this is the only way we know of to boost the volume of eyelashes.
All of these pointers will come in handy if you're enjoying cosmetics and makeup but are short on time. Please give them a shot and post back to us on your results.