Highlights:
Netflix announced the "Profile transfer" feature
It lets people transfer their data to a new account
The step encourages people to get their own memberships
Netflix on 17th October announced the "Profile transfer" feature which lets people who are using a shared account, to transfer their data to their new account when they get a new membership. 
People can keep Personalized Recommendations, My List, Viewing History, Saved Games, and other settings. 
Email notifications have been sent, starting from the 17th of October to inform the entire Netflix community.
The feature was much requested by users and now can be availed by everyone.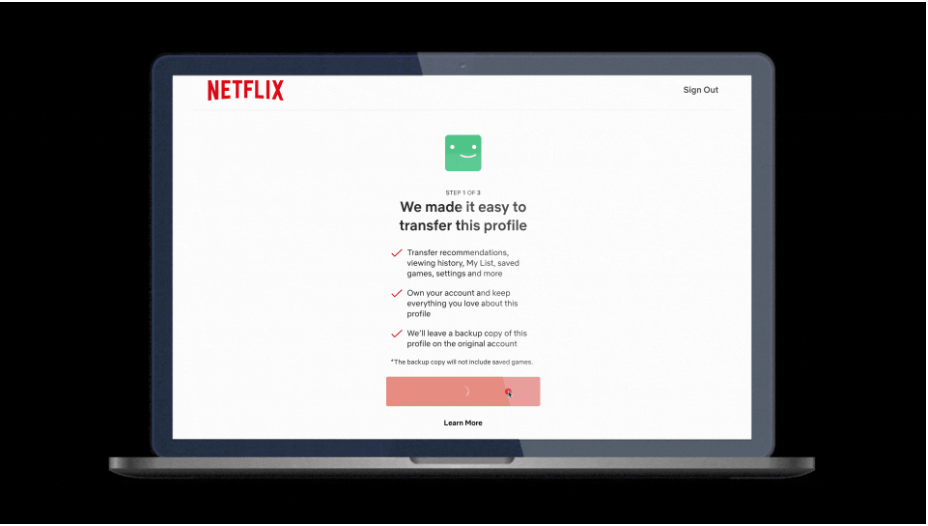 How to Transfer a Profile On Netflix
Check your email for profile transfer notification
Go to the "Transfer Profile" option on your profile icon. In the dropdown menu on the homepage
Follow given instructions
Note: If needed, you can turn off "Profile Transfer" at any time
Minimizing Netflix Account Sharing
As account sharing is quite common on Netflix, the platform has taken the step of "Profile Transfer" to encourage people to get their own membership.
Netflix Gaining 2.4 Million Subscribers
Netflix was losing subscribers but has taken measures to explore new revenue streams.
Netflix stated on 18th October that it gained more than 2.4 million subscribers in the 3rd quarter of the year. 
One of the measures was the "Profile Transfer" feature that they recently introduced to raise the subscriber count.
Netflix has taken this step and hopes to recover its loss while offering convenience to its users.
Netflix to Introduce Lower-Priced Service with Ads
Netflix currently has 223 million subscribers worldwide, and to attract even more customers it will soon introduce a lower-priced service with Ads. 
Netflix will be introducing advertising from Nov. 3, and the advertising-supported tier will show subscribers 4-5 minutes of ads per hour as they watch various content.