Founded in 2015, PSL (Pakistan Super League) is a professional tournament played between 6 teams. These teams represent major regions of the country with some national and some international players in each team.
PSL 2022 will be the 7th season of the tournament with the last year's champions, Multan Sultans, opening the event with Karachi Kings on 27th January at the first match.
Like every year, PSL fans are eagerly waiting for the 2022 tournament and are excited to see their favorite teams and players on screen. PSL 2022 matches will take place from January to February in the National Stadium Karachi and Gaddafi Stadium Lahore.
PSL 2022 Schedule
The timings, venue, dates, and team details for PSL 2022 are as follow: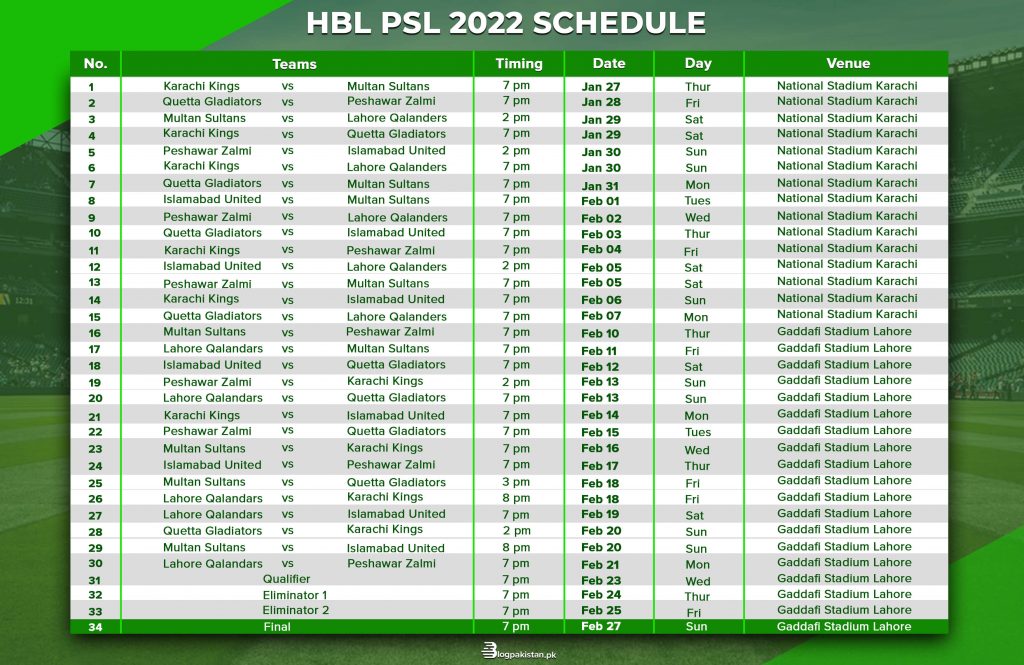 No.
Teams
Timing
Date
Day
Venue
1
Karachi Kings vs. Multan Sultans
7 pm
27th Jan
Thur
National Stadium Karachi
2
Quetta Gladiators vs. Peshawar Zalmi
7 pm
28th Jan
Fri
National Stadium Karachi
3
4
Multan Sultans vs. Lahore Qalanders
Karachi Kings vs. Quetta Gladiators
2 pm
7 pm
29th Jan
Sat
National Stadium Karachi
5
6
Peshawar Zalmi vs. Islamabad United
Karachi Kings vs. Lahore Qalanders
2 pm
7 pm
30th Jan
Sun
National Stadium Karachi
7
Quetta Gladiators vs. Multan Sultans
7 pm
31st Jan
Mon
National Stadium Karachi
8
Islamabad United vs. Multan Sultans
7 pm
1st Feb
Tues
National Stadium Karachi
9
Peshawar Zalmi vs. Lahore Qalanders
7 pm
2nd Feb
Wed
National Stadium Karachi
10
Quetta Gladiators vs. Islamabad United
7 pm
3rd Feb
Thur
National Stadium Karachi
11
Karachi Kings vs. Peshawar Zalmi
7 pm
4th Feb
Fri
National Stadium Karachi
12
13
Islamabad United vs. Lahore Qalanders
Peshawar Zalmi vs. Multan Sultans
2 pm
7 pm
5th Feb
Sat
National Stadium Karachi
14
Karachi Kings vs. Islamabad United
7 pm
6th Feb
Sun
National Stadium Karachi
15
Quetta Gladiators vs. Lahore Qalanders
7 pm
7th Feb
Mon
National Stadium Karachi
16
Multan Sultans vs. Peshawar Zalmi
7 pm
10th Feb
Thur
Gaddafi Stadium Lahore
17
Lahore Qalandars vs. Multan Sultans
7 pm
11th Feb
Fri
Gaddafi Stadium Lahore
18
Islamabad United vs. Quetta Gladiators
7 pm
12th Feb
Sat
Gaddafi Stadium Lahore
19
20
Peshawar Zalmi vs. Karachi Kings
Lahore Qalandars vs. Quetta Gladiators
2 pm
7 pm
13th Feb
Sun
Gaddafi Stadium Lahore
21
Karachi Kings vs. Islamabad United
7 pm
14th Feb
Mon
Gaddafi Stadium Lahore
22
Peshawar Zalmi vs. Quetta Gladiators
7 pm
15th Feb
Tues
Gaddafi Stadium Lahore
23
Multan Sultans vs. Karachi Kings
7 pm
16th Feb
Wed
Gaddafi Stadium Lahore
24
Islamabad United vs. Peshawar Zalmi
7 pm
17th Feb
Thur
Gaddafi Stadium Lahore
25
26
Multan Sultans vs. Quetta Gladiators
Lahore Qalandars vs. Karachi Kings
3 pm
8 pm
18th Feb
Fri
Gaddafi Stadium Lahore
27
Lahore Qalandars vs. Islamabad United
7 pm
19th Feb
Sat
Gaddafi Stadium Lahore
28
29
Quetta Gladiators vs. Karachi Kings
Multan Sultans vs. Islamabad United
2 pm
8 pm
20th Feb
Sun
Gaddafi Stadium Lahore
30
Lahore Qalandars vs. Peshawar Zalmi
7 pm
21st Feb
Mon
Gaddafi Stadium Lahore
31
Qualifier
7 pm
23rd Feb
Wed
Gaddafi Stadium Lahore
32
Eliminator 1
7 pm
24th Feb
Thur
Gaddafi Stadium Lahore
33
Eliminator 2
7 pm
25th Feb
Fri
Gaddafi Stadium Lahore
34
Final
7 pm
27th Feb
Sun
Gaddafi Stadium Lahore