On a busy day or weeknight, you've got to thank the genius who invented this beloved pasta. Pasta is one of the most versatile meals one can make. All you need to do is boil it in a pot of water, simmer a good sauce and there you are with a pot full to feed a team. It is a complete meal prepared in minutes, 30 minutes to be the least. But you can make it even better with some add-ons and variable ingredients. From one-pot recipes to slower cooker ones it is a minute prep meal anyone can make. Pasta acts as a perfect stand by dish when you have to ready the dinner table in 20 minutes. Pasta topped the global survey to be one of the world's most favorite foods.
Here are some quick and easy pasta recipes that we think you should try!
Spaghetti Bolognese with olives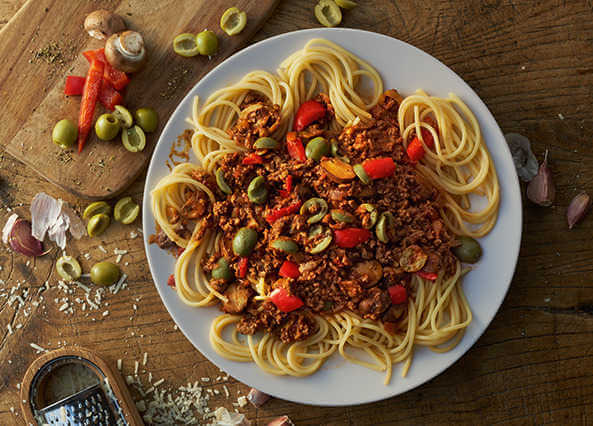 Ingredients
1 tbsp vegetable oil
1 large onion, chopped
500g 5% fat beef mince
2 cloves garlic, crushed
1 red pepper, deseeded and chopped
150g baby button chestnut mushrooms, sliced
70g pitted green olives, halved
400g tin chopped tomatoes
500ml beef stock, made with 1 beef stock cube
1 tbsp double concentrated tomato purée
1 tbsp dried oregano
350g spaghetti
20g parmesan
Method
Heat the oil in a large heavy-based pan over low to medium heat. Cook the onion for 5 minutes until softened, then turn the heat up and add the minced beef. Continue to cook until browned, then add the crushed garlic. Cook for a couple of minutes, but do not allow the garlic to brown.
Add the pepper and mushrooms and cook for a further 5 minutes until they begin to soften. Add the olives, tinned tomatoes, 300ml of the beef stock, tomato purée, and dried oregano and bring to a simmer. Allow simmering for 40 minutes, topping up with more stock if it starts to dry out until the sauce has thickened. Season with black pepper.
Cook the pasta according to the packet instructions and serve with the bolognese. Sprinkle with grated parmesan to serve.
Parmesan Garlic Pasta
INGREDIENTS:
8 ounces spaghetti
10 tablespoons unsalted butter
3 cloves garlic, minced
1 teaspoon crushed red pepper flakes, optional
1/2 cup freshly grated Parmesan cheese
Kosher salt and freshly ground black pepper, to taste
2 tablespoons chopped fresh parsley leaves
Method
In a large pot of boiling salted water, cook pasta according to package instructions; drain well.
In a medium saucepan, combine butter, garlic, and red pepper flakes over medium heat until the butter has melted. Cook, whisking constantly until the foam subsides and the butter begins to turn a golden brown, about 4-5 minutes, skimming foam as necessary.
Remove from heat. Stir in pasta and Parmesan until well combined, about 2 minutes; season with salt and pepper, to taste.
Serve immediately, garnished with parsley, if desired.
Sausage Pasta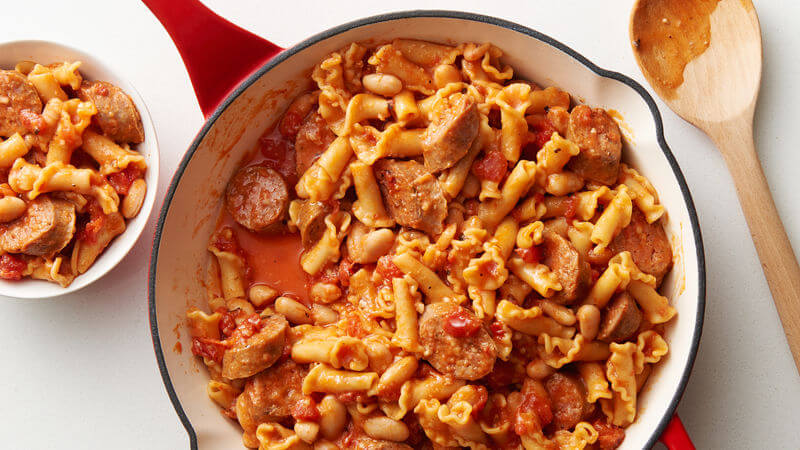 Ingredients
1 tbsp olive oil
a packet of 8 pork sausages (the best your budget will allow), cut into chunky pieces
1 large onion, chopped
2 garlic cloves, crushed
1 tsp chili powder
400g can chopped tomatoes
300g short pasta such as fusilli or farfalle (just over half a 500g bag)
Method
Put a large pan of water on to boil.
Heat 1 tbsp olive oil in a large frying pan and fry chunky pieces of 8 pork sausages on fairly high heat until they are golden brown all over.
Now turn the heat down and add 1 large chopped onion and 2 crushed garlic cloves, cooking them until they have softened.
Stir in 1 tsp chili powder and 400g chopped tomatoes with the sausages, bring the sauce to the boil then turn the heat down and let it bubble for about 10 minutes while you cook the pasta.
Drop 300g pasta into the pan of boiling water and cook according to the pack instructions.
Drain the pasta, then tip it into the frying pan with the sausage sauce, mixing well to coat. Dish up immediately with crusty bread.
Sweet Italian Sausage With Penne Pasta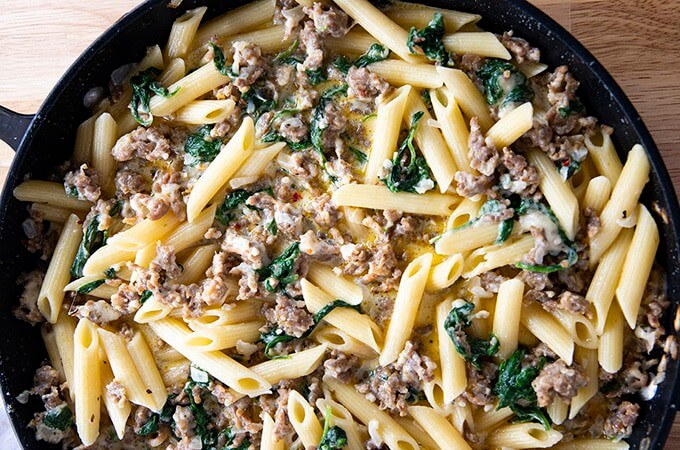 INGREDIENTS
1lb penne pasta
1lb broccoli floret (I use frozen)
8ounces Italian sausage, cut in bite-size chunks (sweet & mild)
2tablespoons garlic, minced (you can use less if you want)
2tablespoons olive oil
2tablespoons butter
1⁄2cup grated pecorino romano cheese
Method
Boil the water and cook the penne according to package directions. DO NOT ever add oil to the water! It will make your sauce slide off the pasta water.
Meanwhile, heat the oil (medium-high heat) in a large skillet and saute the broccoli, sausage, and garlic until tender and starting to brown, about 15 to 20 minutes.
Toss the butter, hot pasta, sausage mixture, and romano cheese together and serve. Pass the grated cheese at the table.
Simple Chicken Parmesan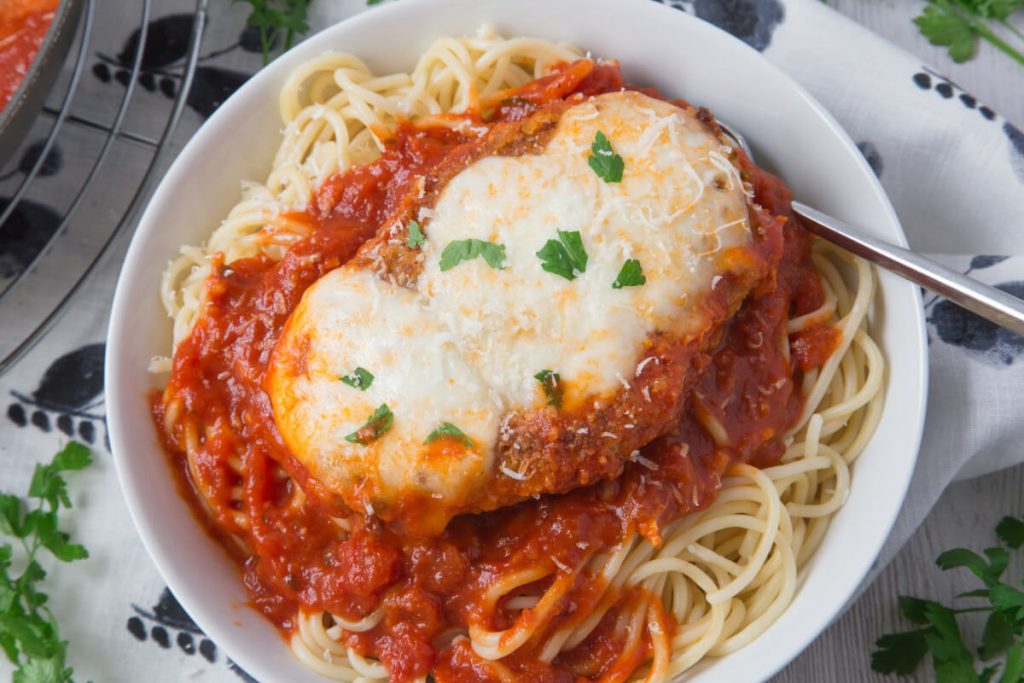 INGREDIENTS
2 medium garlic cloves, peeled and crushed
2 tablespoons extra-virgin olive oil
1 (28 ounces) can crushed tomatoes (quality varies dramatically; I prefer Redpack, Progresso, and Muir Glen brands)
½ teaspoon dried basil
¼ teaspoon dried oregano
¼ teaspoon sugar
Salt and freshly ground pepper, to taste
2 large boneless, skinless chicken breasts (6 to 8 ounces each), halved crosswise
1 large egg
½ cup dry bread crumbs
8 ounces spaghetti or linguine
¼ cup extra-virgin olive oil
½ cup grated part-skim mozzarella cheese
¼ cup grated Parmesan cheese, plus extra for passing at the table
Method
In a large saucepan, heat garlic and 2 Tbs. oil over medium-high heat until garlic starts to sizzle. Stir in tomatoes, basil, oregano, sugar, a pinch of salt and a few grinds of pepper. Bring to a simmer; simmer until sauce thickens a bit and flavors meld, 10 to 12 minutes. Cover and keep warm. (Remember, this makes twice the amount of sauce you need, so put aside half for another meal.)
Put chicken pieces between two sheets of plastic wrap and pound, using your fists or a heavy pan, until the cutlets are about 1/4-inch thick.
Bring 2 quarts of salted water to a boil in a large soup kettle.
In a pie pan, beat egg until well-blended. In another pie pan, mix bread crumbs and more black pepper. Preheat broiler.
Working one cutlet at a time, dip both sides of each in beaten egg, then in bread crumbs. Put cutlets on a wire rack set over a cookie sheet (this step helps breading stay put).
Heat remaining 1/4 cup oil over medium-high heat in a 12-inch skillet. When oil starts to shimmer, add cutlets and saute until golden brown on each side, about 5 minutes total. Wash and dry the wire rack and return to cookie sheet. As the cutlets saute, cook pasta in boiling water according to package directions.
Transfer cutlets to clean wire rack over a cookie sheet. Top each with a portion of the cheeses. Broil cutlets, 4 to 5 inches from the heat source, until cheese melts and is spotty brown.
Drain pasta. Put a cutlet and a portion of pasta on each of the 4 plates. Spoon 2 or 3 tablespoons of sauce over part of each cutlet, then sauce the pasta as desired. Serve with extra Parmesan.