Pictures of an underage bride draped in a gorgeous wedding ensemble, laden in heavy jewelry, pulling a cart-load of dowry with her groom sitting on top have been making rounds on social media. The photo reads, "Deny dowry" with a video of the same captioned, "It's time to put a stop to this overburdening tradition!"
The vision first made its way to the Bridal Couture Week (BCW) runway as part of an exhibit by Ali Xeeshan. The designer, via his latest collection, Numaish, raised awareness against the relentless custom.
He had been dropping hints of his now viral collection on social media for days. His exhibit was in collaboration with the UN Women's Jahez Khori Band Karo campaign. Celebrities had previously been part of the same campaign to raise awareness about the issue.
Now, images of Xeeshan's collection are making waves on Twitter because of their truck-load of reality checks.
But while many lauded or argued about the display, a few also questioned how a designer like Xeeshan, could voice the plight of the underprivileged when his ensembles go beyond their affordability.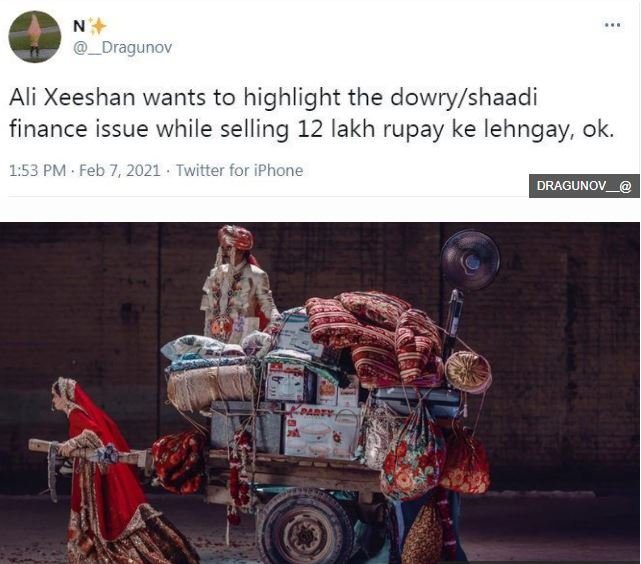 To tackle the same arguments, in a conversation with BBC, Xeeshan's chief marketing officer Hafsa Babar remarked, "Purchasing an expensive wedding ensemble is your own choice. There is no harm in buying one if you can afford it. And when we talk about Ali Xeeshan, then you need to acknowledge that everything he designs is to cater to the demands of a particular market. Every outfit is handmade, and it takes a lot of time and hard work to make even one such outfit. He does not compromise on the quality of the material used either."
She went on to explain how producing high-quality, expensive ensembles did not mean one could no longer raise voice against oppressive traditions. Hafsa also pointed out how many of their clients even wished to invest more into their wedding outfits but could not because of the money they had to spend on dowry.