BBQ is one of those meals which you can safely place at the table and people of all ages would love it. From spicy Bihari Kababs to buttery Malai Boti, if you visit the right place, you will have a time of your life.
To help you find the right BBQ spot, we are here with 7 picks for the best BBQ platters in Islamabad.
Best BBQ Platters in Islamabad
Below are 7 popular places offering the best BBQ platters in Islamabad. We have added the location, contact details, and BBQ platters offered by each venue.
Now let's explore each restaurant and its BBQ platters.
BBQ tonight is undoubtedly the best venue for BBQ in town, and the best part is its atmosphere and ambiance which make it ideal for families.
From delicious BBQ platters to Chicken Karahi, Puri, Prawn Masala, Chops, and Sweet dishes ,the place is one to visit in Islamabad.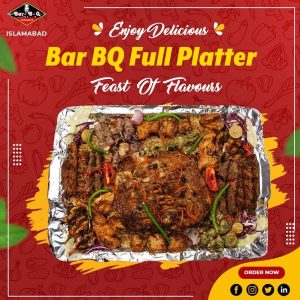 BBQ Platters
Their BBQ platters are loaded with their signature BBQ items like Malai Boti, Seekh kabab, etc. freshly served with veggies.
BBQ platter full : PKR 16200
BBQ platter half: PKR 8900
Location: Sohrab Plaza, Fazl-e-Haq Road, Embassy Rd, Blue Area, Islamabad
Contact Number: 0333 8724883
Famous for its mouth-watering BBQ, the BBQ Bazaar is the ideal place for spicy food and meaty delights. They offer BBQ platters along with BBQ deals that are budget-friendly. .
You can also get Karahi, Sweet Dishes, Biryani, Pulao, Salads, and Soups at BBQ Bazaar.
BBQ Platters
The BBQ platters are a burst of flavor with Chicken Boti, Seekh Kabab, Chops, Chapli Kabab, Fish Tikka, and much more to surprise you!
BBQ Premium platter: PKR 4395
BBQ Special platter: PKR 3395
BBQ Student Platter: PKR 1995
Location: Bhittai Rd, F-7 Markaz, Islamabad
Contact Number: (051) 8356440
Monal is the star restaurant in Islamabad which is known for its taste and scenic views. From continental to Chinese and from Pakistani to BBQ, the restaurant has it all.
If you are going out for some BBQ, then try out their BBQ platters and deals for 2 and 4-persons.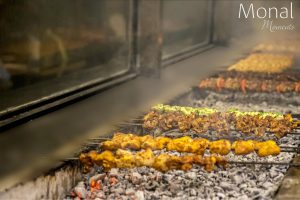 BBQ Platters:
Monal offers multiple deals, mix grill platters and large BBQ platters some of which are listed below:
Shahi Platter Full: PKR 6195
Shahi Platter Half: PKR 3165
Namkeen Mix Grill Full: PKR 6745
Namkeen Mix Grill Half: PKR 3475
The Shahi platters offer Fish, Chicken Boti, Batair, Reshmi Kabab, Seekh Kabab, etc. to name a few.
Location: Pir Sohawa Rd, Margalla hills, Islamabad.
Contact Number: (051) 2898066
Famous for their unique Mandi, BBQ, Kunafa, and Hummus, Bait Al Arab Mandi offers a unique taste of Arabic cuisine.
Their mandi is rich in taste and their ambiance is one of a kind with a comfortable sitting arrangement reflecting the Arab culture.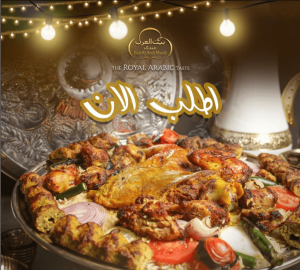 BBQ Platters:
Apart from a range of Mandi platters, below are the BBQ platters to enjoy at Bait Al Arab:
Mix BBQ Platter: PKR 2990
Mandi Rice with Mix BBQ Full: PKR 2690
Mandi Rice with Mix BBQ Half: PKR 1390
Mandi Rice with Mix BBQ Quarter: PKR 690
Location: 2nd Floor, 6-B Bhittai Rd, F-7 Markaz, Islamabad
Contact Number: 0315 4128888
Khyber Dodai offers the authentic taste of Peshawar offering delicious BBQ, Sohbat, Rabab, and Karahi. When you visit the place you will find cabins that reflect the Peshawari culture and are very comfortable.
The ambiance and atmosphere are worth the cost and the venue is a must-visit.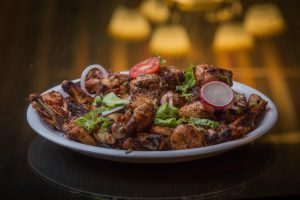 BBQ Platters:
Apart from multiple BBQ options, the restaurant has a special BBQ platter offering Lamb Chops, Batair, Chicken Boti, Malai Boti, Chapli Kabab, etc.
Khyber Dodai Special BBQ Platter: PKR 4650 (4 people)
Location: F-6 Markaz, SuperMarket, School Rd, Islamabad
Contact Number: 0303 0066660
Tandoori is one of those places where you can find the best BBQ and Pakistani food along with great ambiance.
The sitting arrangement, the vibe is very peaceful and the variety is sufficient to entertain everyone.
BBQ Platters:
Their BBQ platter includes items like ribs, fish, rice, seekh kebab, Gola kabab, chicken tikka, etc.
Location: G-8 Markaz, Jasmine Plaza, Islamabad
Contact Number: (051) 2260832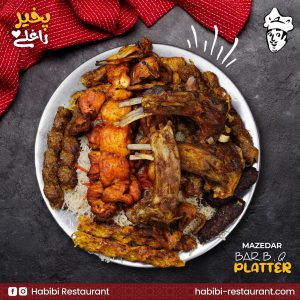 Habibi is a pocket-friendly family restaurant in Islamabad with branches in F-8, I-8, and PWD. They serve desi, BBQ, Soups, Roast, Taka Tak, Desserts, and much more.
The quality, ambiance, and variety are commendable and it's a nice place for a memorable gathering.
BBQ Platters:
The special platters offered by Habibi include Malai Tikka, Seekh Kabab, Kabuli Palao, Ribs, Chicken Boti, Batair, etc.
Habibi Special BBQ Platter Full: PKR 5700
Habibi Special BBQ Platter Half: PKR 3600
Location: Johar Road, near Silk Bank، Ayub Market، F 8 Markaz, Islamabad.
Contact Number: (051) 2854747
Grab the Best BBQ Platters Today!
In this article, we talked about 7 places that have the best BBQ platters in Islamabad. We discussed classy places like Monal and Tandori and some low-key ones like Habibi.
We went through Dodai Khyber with the best Peshawari style BBQ and Bait Ul Arab Mandi offering the rich Arab taste.
We also discussed BBQ tonight and BBQ Bazaar, which specializes in BBQ and are known for great taste and high-quality BBQ items.
All of the above places are popular and well-known so do try them out and let us know about your experience in the comments.