People gather at Cheezious Rawalpindi, an all-day fast food restaurant, to catch up over a selection of pizzas, pastas, burgers, sandwiches, and other fast food items. For desi food lovers, they have got behari kabab rolls and other such items as well. We guarantee that once you try their food, you are gonna return for more! Continue reading to learn all the details you need to know about this amazing eatery.
Cheezious Restaurant in Rawalpindi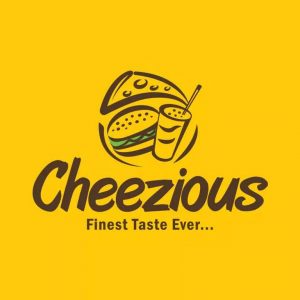 Branches & Contact Info
With five distinct branches scattered over the city, Rawalpindi locals can enjoy their wonderful food whenever and from anywhere they want. All their food items taste the best and are always freshly prepared. For inquiries, reservations, and other information, you can contact the restaurant via their instagram or facebook pages or phone numbers:
Contact information of all cheezious branches in Rawalpindi are provided below:
| | | |
| --- | --- | --- |
| Sr.No | Cheezious Branches in Rawalpindi | Contact Number |
| 1 | Baharia Town Phase 7 | 0331 1000500 |
| 2 | Adyala Road, Rawalpindi | 051 5561245 |
| 3 | Adamjee Road, Saddar, Rawalpindi | 051 8488818 |
| 4 | Chaklala, Scheme 3, Rawalpindi | 051 8778854 |
| 5 | Commercial Market, Rawalpindi | 051 8446699 |
Opening Hours
Cheezious operating hours may change based on the branch you select—-however, in general, most branches will be open for a reduced time on Fridays. Listed below are the opening hours of cheezious rawalpindi commercial market branch:
| | |
| --- | --- |
| Friday | 2 pm – 3 am |
| Saturday – Thursday | 11 am – 3 am |
Online Reservation at Cheezious
Booking your table prior to arriving at Cheezious Rawalpindi is strongly recommended. And luckily, you can do this in a number of ways. The two ideal methods are as follows:
Contacting the restaurant on the provided phone numbers
Reaching out to their social media team
Cheezious Menu
When it comes to fast food, Chefs at cheezious rawalpindi leave no stone unturned in offering the very best to locals and tourists. They provide a wide variety of cheesy and delectable fast food options on their menu, including your favorite flavor-bursting pizza and pasta. In addition to that, you also get a wide assortment of delectable burgers on their divine menu. Don't miss their crunchy chicken pasta especially.
View & Download the Complete Menu of Cheezious Rawalpindi Below:
Service Options:
Dine-in
Takeaway
Kerbside pickup
No-contact delivery
Cheezious Story
Cheezious was founded with the primary goal of offering the greatest fast food at reasonable prices. And ever since it opened, a significant consumer base has surrounded it. While its menu is focused mostly on the fast food options that millennials enjoy the most, it also offers a touch of desi food—creating an amazing combination. Whether you're in the mood for mouthwatering fast food or tasty, traditional desi items, come to this restaurant!
Cheezious Ambiance
The interiors of cheezious rawalpindi is just as delightful as the food – with stylish, sleek design elements everywhere. At night, the vibe further amplifies with bright white lighting, which helps to revitalize the space and establish an absolute sense of laid-back elegance. Also amazing are their deals. There is a bundle of wonderful offers that you can easily take advantage of. So, even if you're a student with only a few dollars to spare, get ready to eat the tastiest food in a peaceful setting at Cheezious Rawalpindi.
Must-try dishes
Pizzas, sandwiches, platters, pasta, burgers, nuggets, rolls, hot wings, fries, and fried chicken are all available at this restaurant. And whether you prefer to eat in, have food delivered to you, or take it out, all of these edibles are up to the mark, delicious, and ideal. The dishes are loved and adored by everyone. The absolutely superb décor and soft lighting further complement your dining experience at the eatery.
Among their must-try items are:
Crown crust pizza
Crunchy chicken pasta
Ratings of Cheezious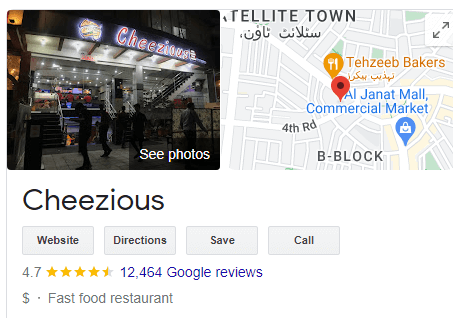 On Google, Cheezious Rawalpindi has a 4.7-star rating based on the reviews of 12,457 Google users. Its exceptional, soothing atmosphere, as well as the quality of the food, are highly lauded. The team will provide you with the highest level of individualized service to ensure that all of your needs and desires are met.
HAPPY EATING!