Afghan jewelry is one of the most important assets of their culture. Afghani women always finish their look with the amazing designs of the metallic traditional Afghan jewelry. They pass this familial asset to their generations and keep it in trend as a precious and noble part of their customs.
It includes various types of jewelry that Afghani women wear on daily basis. In addition to that, Afghanis wear their traditional jewelry at their weddings and other events. This trend dates to the invasion of Mongols and other rulers in the area. These dynasties kept on modifying and introducing these trends that today define the Afghan culture, as a whole.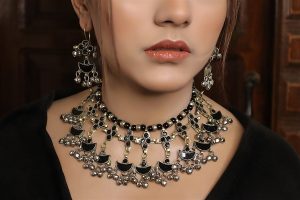 The Specialty of the Afghan Jewelry
Afghanistan is one of the two countries in the world with Lapis mines and it is popular for the lapis lazuli work. One of the most important features of the Afghan jewelry is its pretty elements. They comprise hand-painted motifs, cutwork, and enamel work. There are some exquisite tribal components that are added to the jewelry as their representation.
The women of Afghanistan not only wear this jewelry for fashion and adornment, but it is also used for symbolism. For instance, the lapis lazuli is thought to have healing powers. Agate symbolizes protection and bringing good luck. Similarly, sterling silver indicates modesty.
The Afghan jewelry is made precious by the addition of pretty stones in it. Precious and semi-precious stones are engraved in high-quality metal.
Afghan Jewelry in Pakistan
It would be so true to say that Afghan refugees brought the Afghan culture when they migrated to Pakistan as a consequence of the Russian Invasion. Though some went back after the war they left profound effects on the Pashtuns in Khyber Pakhtunkhwa and Baluchistan.
Besides food, clothing, traditional music and dances, the Afghan traditional jewelry also succeeded to find its way among the Pashtuns. The Kochi clothing and jewelry are still famous in Pakistan, especially among women in KPK. Previously, the jewelry and clothing were sold inside specific shops in Peshawar only because Afghan traders would visit and sell their ornaments. But now this jewelry is being sold in other parts of the city too.
Due to the natural attraction and quality, it is in demand not only in Afghanistan but in other parts of the world as well. People love the aesthetic finish of ornamental jewelry pieces. Afghan jewelry in Pakistan has become a popular trend. It is being introduced in Pakistan and fortunately, people are loving it.
Keeping In view the demands of people and their interest in traditional Afghan jewelry, Zewar khan takes the pleasure to introduce a huge catalogue of these amazing jewelry pieces for you. So that you don't have to go to Peshawar to get your jewelry. You can just explore the collection of Zewar Khan by sitting at your home order your pieces online. You have a sumptuous number of designs to choose from Zewar Khan. The collection is based on:
Vintage Rings
You have a wide variety of antique Afghan rings. These rings are decorated with beautiful Afghan motifs. Colorful stones are engraved in them. These are made with semi-precious pearls, stones, and old Afghan pieces. Some of the most popular rings in the collection are
Bohemian Afghan ring
Bow and pearl ring
Teen phool Afghani ring
Jhumar ring
Lapis Afghan gold rings
Gold star rings
Coin rings
Emerald rings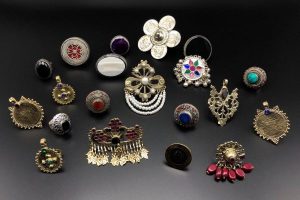 Choker Necklaces
Shop your hearts out at the amazing collection of necklaces at Zewar khan. These necklaces are deconstructed from the original Afghan jewelry. You can get the adjustable necklines to fit your sizes. Also, you have a wide variety of oversized choker necklaces. Among the top sellers are:
Bow and pearl choker
Lapis Afghan gold choker
Ruby Pearl necklace
Boho chokers
Cultured Freshwater grey pearl choker
Afghan Classic choker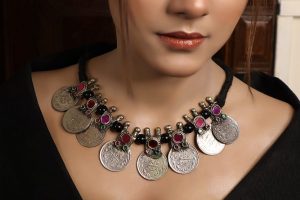 Mala
Since ancient times Mala has been considered a noble accessory. It has always been topped in the trends, no matter what type of jewelry comes in fashion. Antique Afghan styles mala is distinguished for its pretty Afghan motifs. These are perfect to wear at formal as well as informal functions. Here are the most popular Malas that we are displaying for you:
Ruby-emerald-pearl mala
Bohemian Long Mala
Tribal synthetic turquoise stone necklace
Viking Mala
Tribal carnelian stone mala
Hair Accessories
Apart from the other accessories we also offer pretty hair clips and other hair accessories that come from Afghan traditions. Unlike the usual hair accessories, they add a decent look to your hair and make you look more fashionable and classier in choice.
Antique Earrings
You can match your chokers and rings with the earring sets in Zewar khan earring category. We have assembled a huge variety of Afghan earrings, jhumke and studs for you. Get yours now!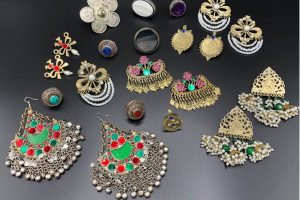 Traditional Matha Patti
Afghan Matha Patti is worn at weddings, especially by the bride and her mates. In Pakistan, it is used as an adornment at parties and other events as well as in addition, to weddings. Zewar khan has displayed three types of headpieces that includes the traditional caps with Matha Patti on them. Moreover, plain teekas and matha pattis are also a part of this collection.
Quality of our Traditional Afghan Jewelry
The metal is rust-free. The quality of metal makes it free of corrosion as well. It is polished neatly to prevent it from oxidizing and tarnishing. Moreover, the glitter and luster of metal will not fade away with time. Zewar Khan strives to bring the best accessories for you because your satisfaction is our priority.
Shop Now!
If you too are a fan of Kuchi jewelry and are crazy to add it to your jewelry collection, here you go. Catch up on your favorite Kuchi jewelry. Because the more unique you look, the more beautiful you become. Place your order to get your vintage earrings or the extraordinary Matha Patti caps and a lot more.