All the desi food lovers we have got an amazing place for you to enjoy all your delicious desi menu. Chilman is located in G-9 Markaz of Islamabad that gives you all the variety of Pakistani cuisine under one roof. It has everything starting from desi starters, snacks to a whole desi meal. Chilman has a fine parking area which means you don't have to worry about the parking space of your vehicle.
Chilman Restaurant Islamabad
The ambiance of Chilman is very peaceful and quiet, you will see the touch of Pakistani decor at this restaurant. With such scrumpalicious food, it's difficult to decide what to order and what to leave for the next time; therefore, to help you with this confusion Chilman is offering Hi-tea, Lunch Buffet, and Dinner Buffet. You can enjoy everything from the menu at such a low price; moreover, the Hi-tea, lunch buffet, and dinner buffet are also facilitating the timing issue. You can join the buffet at any time that is convenient for you and that will be according to your set schedules. 
Contact Number:
If you want any information regarding the menu, timing, or reservation please call on:
051-2284646
Address:
If you want to visit the place then check their complete address:
Ramada Plaza, Next to Tehzeeb Bakers, Mangla Road, G-9 Markaz Islamabad.
Chilman's Hi- tea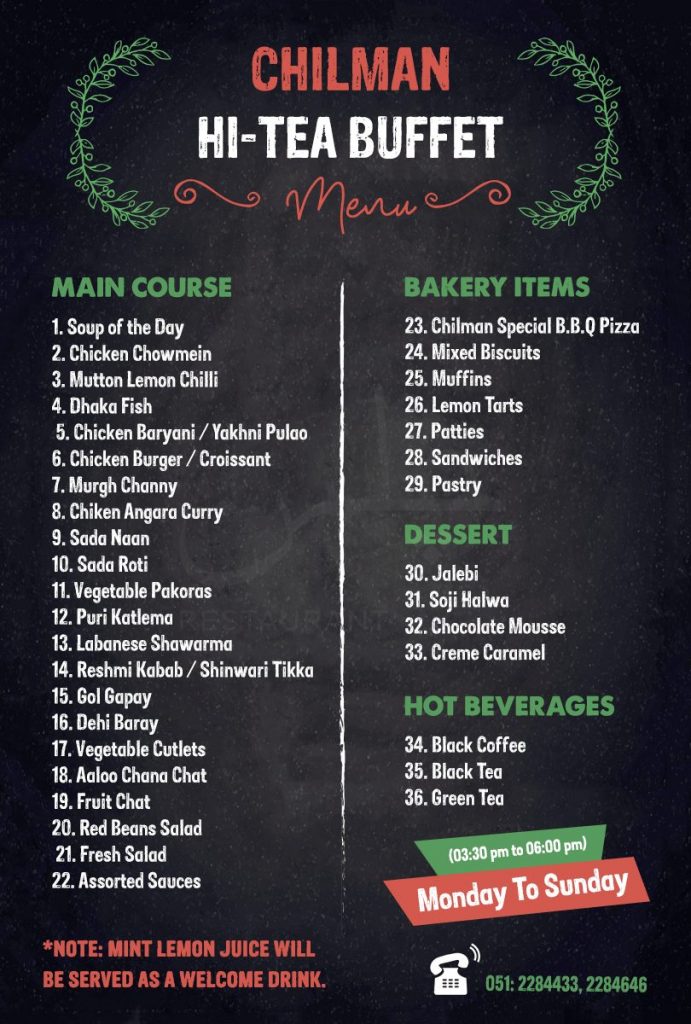 The Hi-tea at Chilman's starts at 3:30 pm and it ends at 6:00 pm, which is plenty of time to taste everything from the menu. The Hi-Tea menu includes the main course, bakery items, desserts, and hot beverages. They also serve their best Mint and Lemon juice as a welcome drink for the guests of Hi-Tea. You can enjoy all the delicious food for just PKR 1650 plus some tax.
Chilman's Lunch Buffet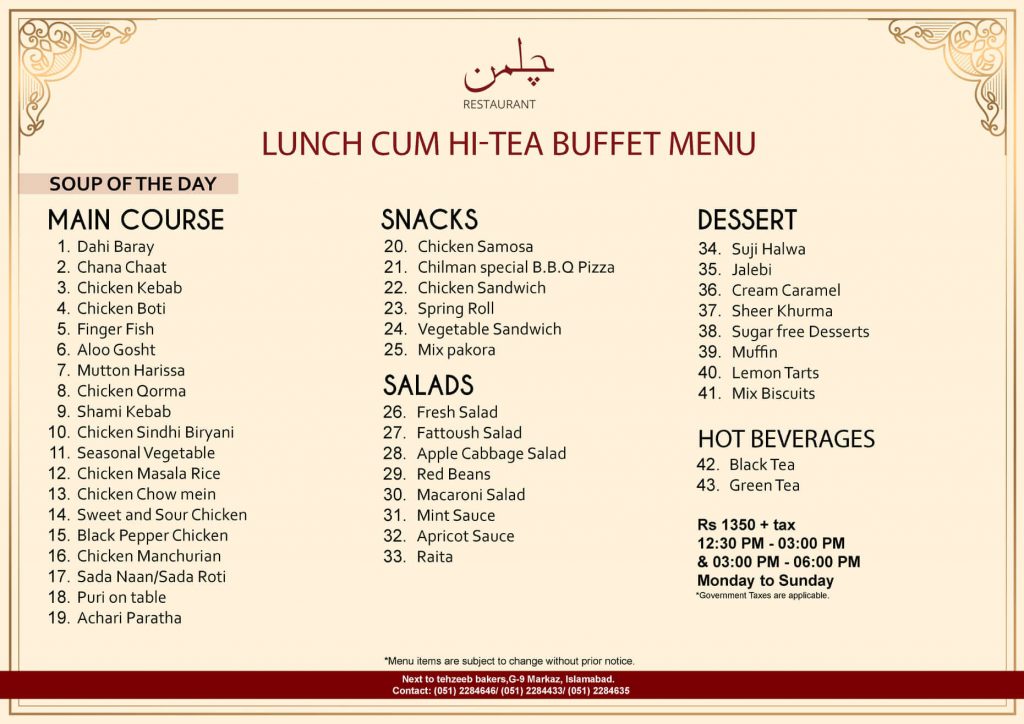 The lunch buffet at Chilman starts at 12:30 pm and ends at 3:00 pm from Monday to Friday. Take a break from your office and enjoy amazing food at Chilman with your friends and colleagues. The menu includes the main course, bread, salad, dessert, and hot beverages as Pakistani cuisine is incomplete without tea. However, if you want to order any soft drink, it will cost separately. You can get almost 27 dishes for PKR 1650 including some tax.
Chilman's Dinner Buffet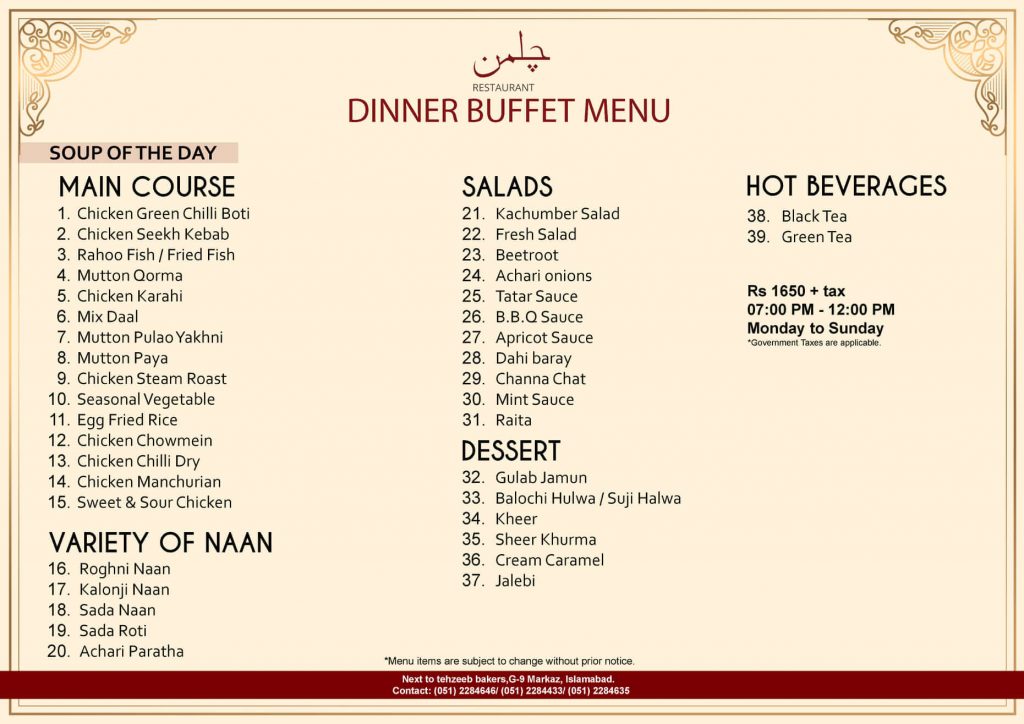 The dinner buffet starts at 7:00 pm and ends at 11:00 pm and the per person charge of the dinner buffet at Chilman is PKR 1850 excluding the tax. You are going to get the main course, a variety of naans, salad, desserts, side and hot beverages in the dinner buffet. A total of 35 dishes will be served in the dinner buffet and you might not be able to taste everything at once. However, the delicious food will make you want to visit Chilman again and again.
Chilman's Menu
At Chilman Restaurant you can get a variety of options and choices to satisfy your cravings. The regular menu of Chilman includes so many things from Haleem to Biryani to Mutton Kebab and a lot more. Fried rice, chicken chow mein, and other Chinese cuisine are also on the menu. If you are not a fan of Pakistani Cuisine but you love the ambiance of Chilman you can still enjoy the food. The dessert also varies from Jalebi to Chocolate Mousse cake which means you can get the taste of desi and western desserts too. Chilman is not limited to Pakistani cuisine; you can get a large number of varieties there.
Let's Eat Out Today
If you are living in Islamabad, cancel all your plans and eat out at Chilman today. You will have the best meal of your life with such an amazing ambiance that you might never have seen and felt before.