Amna Mustabeen Baig joins the well-known Swedish hypercar brand Koenigsegg, marking a momentous occasion for Pakistan. Koenigsegg manufactures some of the world's most technologically advanced sports cars.
Amna has two degrees from UK, one in supply chain management and one in business administration. She also masters three languages: English, Swedish, and Urdu.
The young girl has guided Pakistani youth on numerous occasions to empower themselves by choosing such a rare field. She is without a doubt a true patriot and a gem.
In her professional career, she has also previously worked for two other well-known automotive businesses, Volvo Trucks and Scania. She aims to promote gender equality and to empower all girls and women. 
However, Baig is not the only one making Pakistan proud by excelling in the automotive sector. Farrukh Kamran was also once hired as a designer in the same company. He had been assigned the responsibility of making automobiles more stable, swift, and overall better in terms of performance.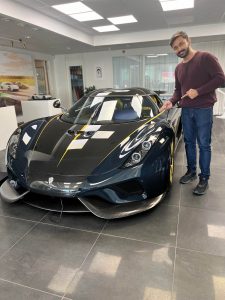 In addition to that, Sajjad Khan, a NED Alumnus from Karachi, has recently joined Porsche AG. He formerly served as Mercedes-Chief Benz's Technology Officer.
Normally, the automotive industry is dominated by men, but Baig has made it equally suited for women via her hard work and skills. 
She aspires to break down gender stereotypes and enhance women's status and respect in the automotive industry.
Amna's addition to the Koenigsegg is being loved by everyone across Pakistan and beyond. She has received a lot of praise and attention, just like the other gentlemen in the same field.