Every human being is unique and different from one another. Therefore, we all have different choices and tastes in fashion. Fashion is more about what suits you and your personality and what doesn't. A haircut plays a major role in designing your personality because it can either make you look good and stand out from the crowd or it can dim your charm in an instant. No matter how good your outfit looks or how expensive your shoes are, if you do not have a good hairstyle along with a haircut nothing can make you look pretty. Therefore, your first and foremost priority should be getting a good haircut; however, you can not try every trendy haircut as they might not get along with your face shape. Do you know everyone has a different face shape and most of us are unaware of the face shape we possess? For our haircut to look flattering we must know which haircut will compliment the face shape we have.
HairCut Guide for Females According to the Face Shapes
We are presenting a haircut guide considering the various face shapes. Let's look at the haircut guide:
Face Shapes
HairCut Guide
Oval Face Shape
Long Layers
Fringes
Bob with Layers
Round Face Shape
Short Shaggy Layers
Lob Haircut
Messy and Choppy Bob
Square Face Shape
Side Swept Bangs
Tapered Pixie
Layers
Diamond Face Shape
Short Bob Along with Middle Partition
Eye Skimming Bangs with long Pixie
Cascading Waves
Heart Face Shape
Long Piecey Bangs
Blunt Bangs
Wisp with long Hair
Triangle Face Shape
Heavy Fringes
Chin Grazing Bob
Long Layers
Oblong Face Shape
Curtain Bangs with Bob
Angled Bob
Super Short Bob
Oval Face Shape
It is one of the most proportionate face shapes and because of this any hairstyle or haircut will suit you. The oval face shape is longer and their jaws are narrower than their cheekbone. Congratulations, if you have an oval face shape because then you can flatter everyone with many amazing Hairstyles such as:
Long Layers
The long layers are easy to manage and it can frame your face nicely on both sides. Long layers can help you in flattering those nice cheekbones.
Fringes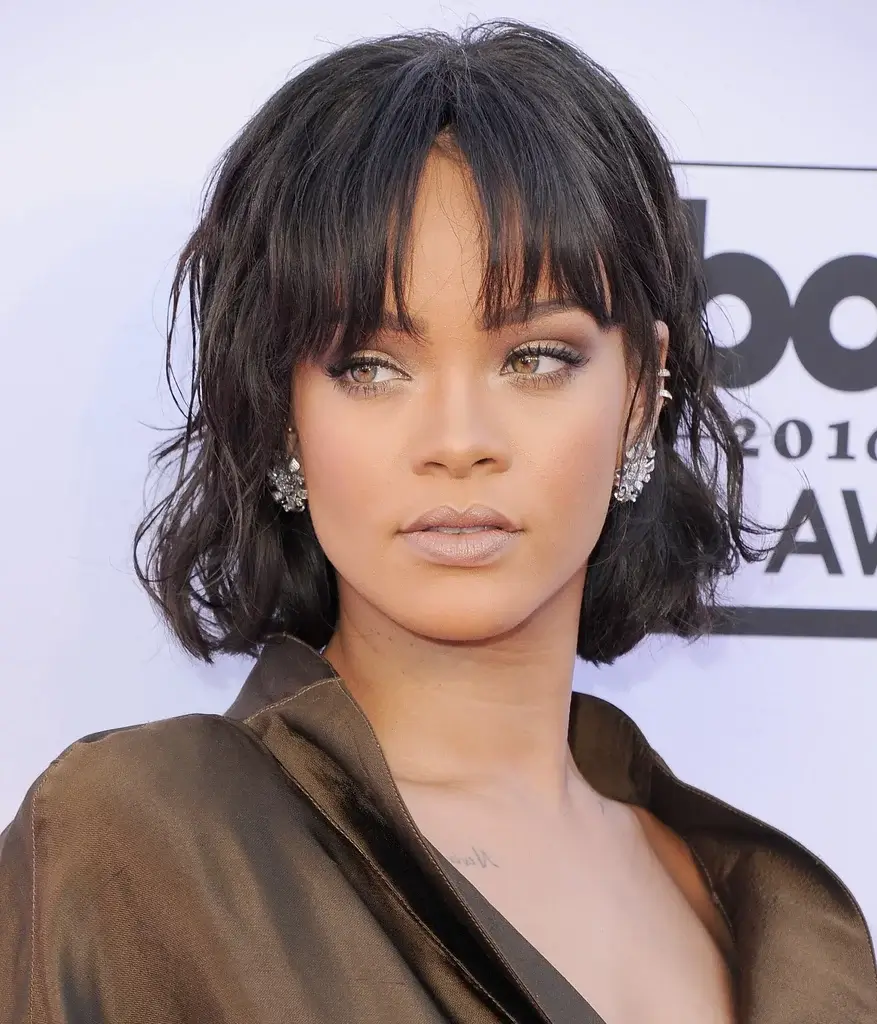 If you have a longer forehead, fringes are your go-to haircut. The blunt bangs can never go out of fashion; however, you should always take care of the length and texture of the bangs and do it accordingly.
Bob with Layers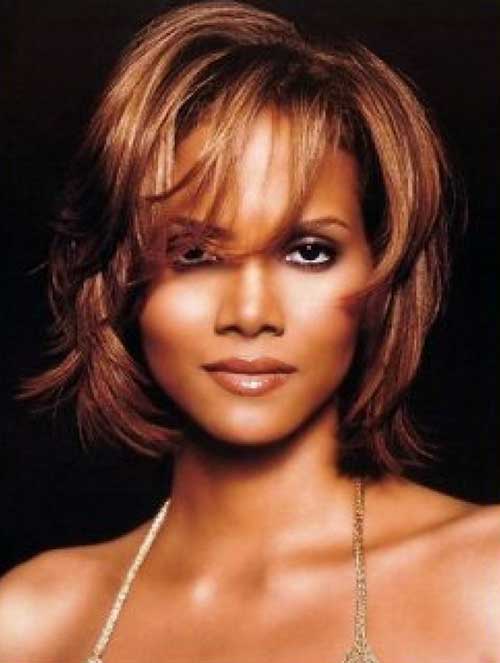 You can also get a trendy Bob with layers and it will look damn good with your face shape. The bobs are easy to manage and you will have a good hairstyle just by adding some beachy curls to it.
Round Face Shape
A wide hairline and fullness below the cheekbones define the round face form. Longer hair lengthens the face, which is ideal for these facial shapes. Short layers might exaggerate the roundness of the face, whilst long layers are the most flattering for this face type. A round face can benefit from side-swept bangs to enhance length.
Short Shaggy Layers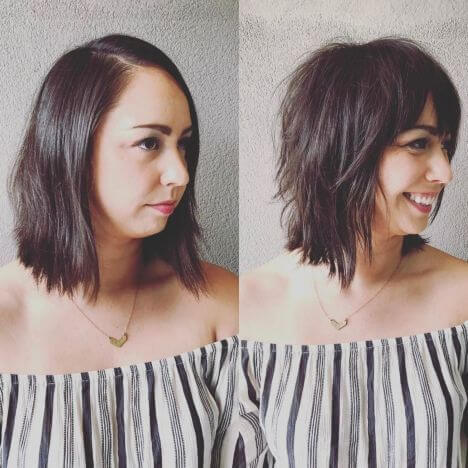 A short shaggy haircut will be very ideal for round face shapes because it will balance out all the curves of your face. It will transform your flat and lifeless hair into attractive shags. Moreover, if you want to slim down your round face and deemphasize your chin, shag might work perfectly for you.
Lob HairCut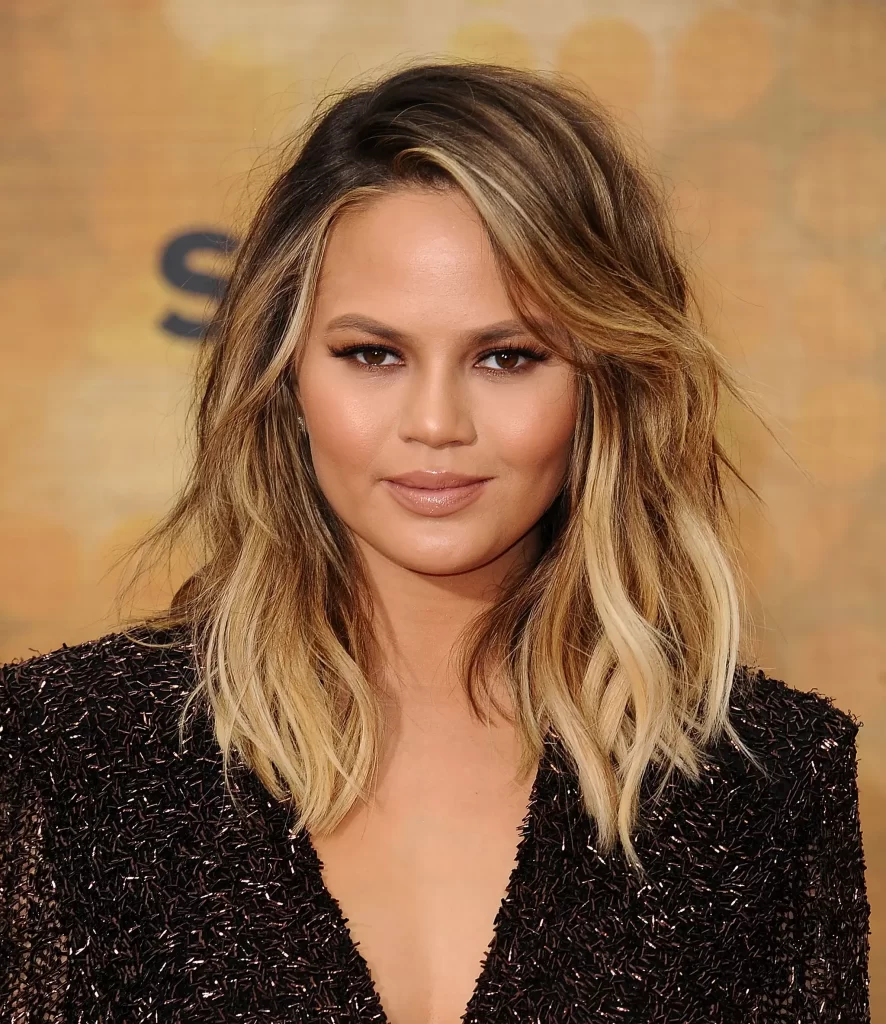 Lob haircuts styled with wavy texture can work wonders for your round face. It can give both volume to your hair and neatness to the curve of your face. Curtain bangs with lobs are an excellent technique to narrow down a round face.
Messy and Choppy Bob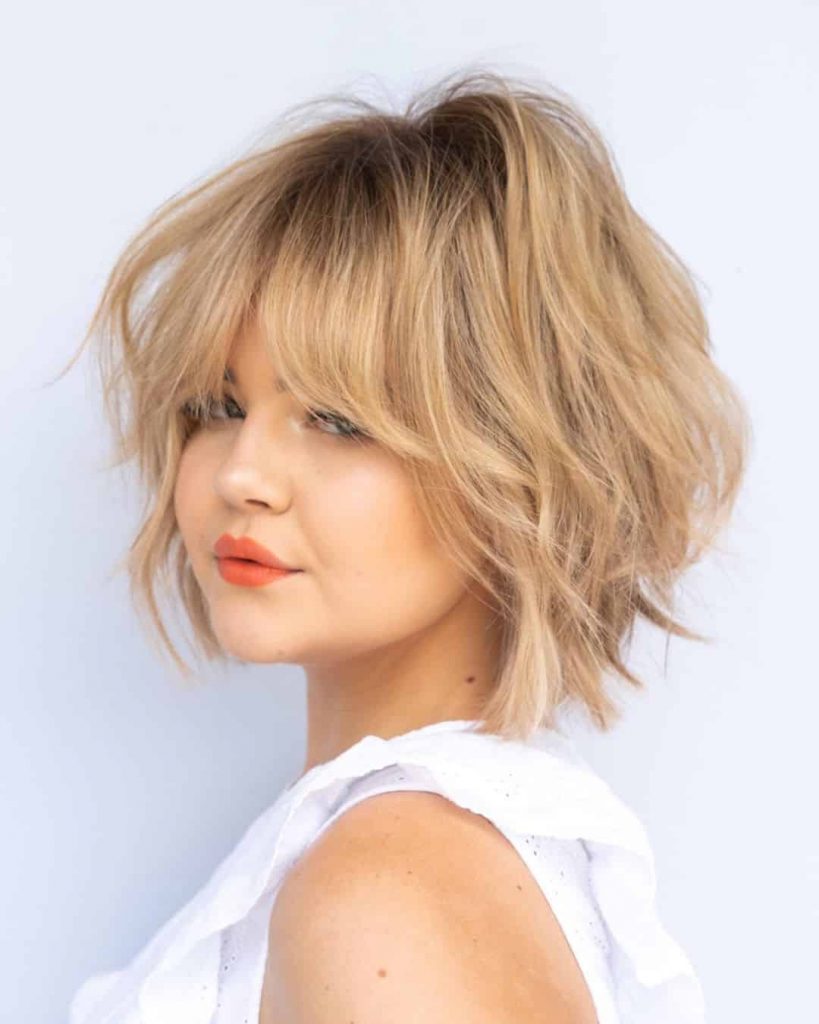 Create a choppy bob with textured layers for a beachy vibe. It's a classic haircut that's ideal for folks with thin hair as it gives volume to your hair. A comb-over with a deep side part that elongates and slims down your face is a terrific alternative if you want attractive short hair for a chubby face. It's romantic, easygoing, and charming!
Square Face Shape
A wide hairline and jawline describe the square face form. Height on top and narrowness on the sides are required for a square-shaped face. The square facial shape is balanced with deep side parts, texture, and soft bangs. Their more sharp and muscular jawline compliments their longer length. Straight lines should be avoided on this facial shape.
Side Swept Bangs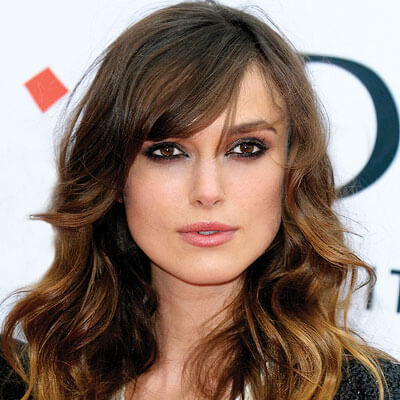 Long side sweeping bang that doesn't start too deep on the side for someone with a square face will look perfect. The long nature of a side-swept bang softens the overall look without dragging the face horizontally like other bang kinds such as straight across or blunt bangs would.
Tapered Pixie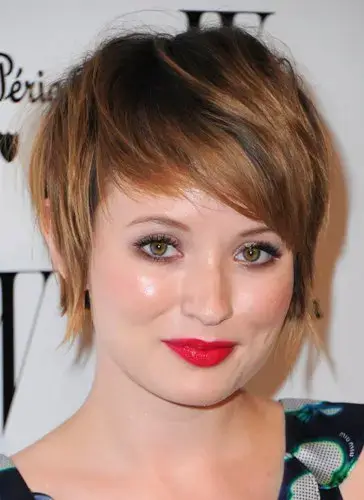 Have you always wanted to try a pixie haircut but feared that it wouldn't look good on you? Here's proof that a cropped haircut may be flattering. To frame your face, keep the overall length shorter in the back and a few inches (four to five) longer in the front and along the sides.
Layers
The best haircuts for square faces reduce a square-shaped face's sharp jawline. These hairstyles aren't difficult to accomplish. With a little tinkering with the length, layers, and face-framing strands, you can achieve the perfect asymmetry.
Diamond Face Shape
One of the most desirable face shapes among women is the diamond. People with diamond face shapes have a narrow forehead and small chin area as well as broad cheekbones. Hairstyles with smaller sides and fullness at the chin work well with this facial shape. This face shape looks fantastic with a bob. Straight bangs can be added to this facial shape to shorten it. Tuck your hair behind your ears to bring attention to your high cheekbones.
Short Bob along with Middle Partition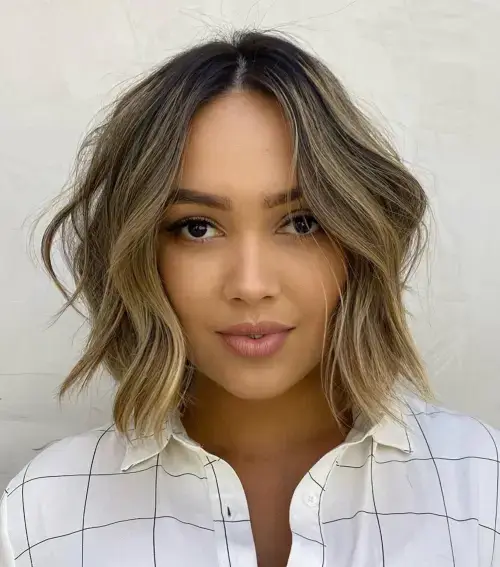 A chin-length bob is one of the best haircuts for diamond-shaped faces because strands that terminate around the chin will make your face appear bigger. To obtain that clever bend framing the face, blow-dry the front layers of your short bob like curtain bangs.
Eye Skimming Bangs with Long Pixie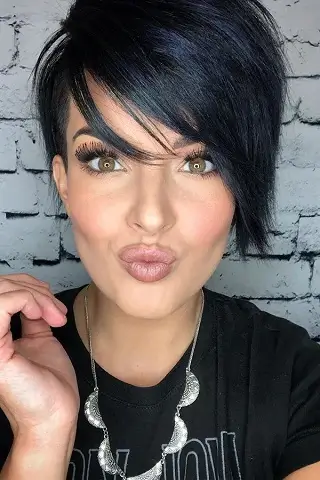 The haircut softens the diamond-shaped face's narrow forehead and emphasises the larger cheekbones. To make such a beautiful shape in thick straight hair, the hairdresser has been a true expert.
Cascading Waves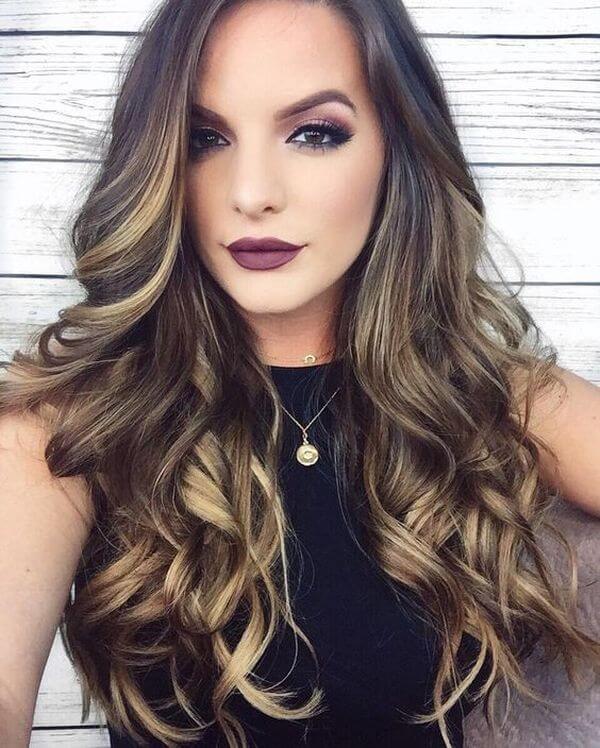 Avoid gaining too much volume near your face if you have exceptionally thick hair. Get some layers in your long hairdo and curl it into a gentle body wave. This butterfly cut is extremely eye-catching.
Heart Face Shape
Heart face shapes are kind of similar to round face shapes but the foreheads in heart face shapes are quite wider. The addition of side-swept bangs to this style helps to hide the forehead's breadth. Maintaining a broader style around the jaw adds weight to the narrower chin. Your cheekbones and forehead are the biggest sections of your face, while your jawline is narrow in this shape.
Long Piecey Bangs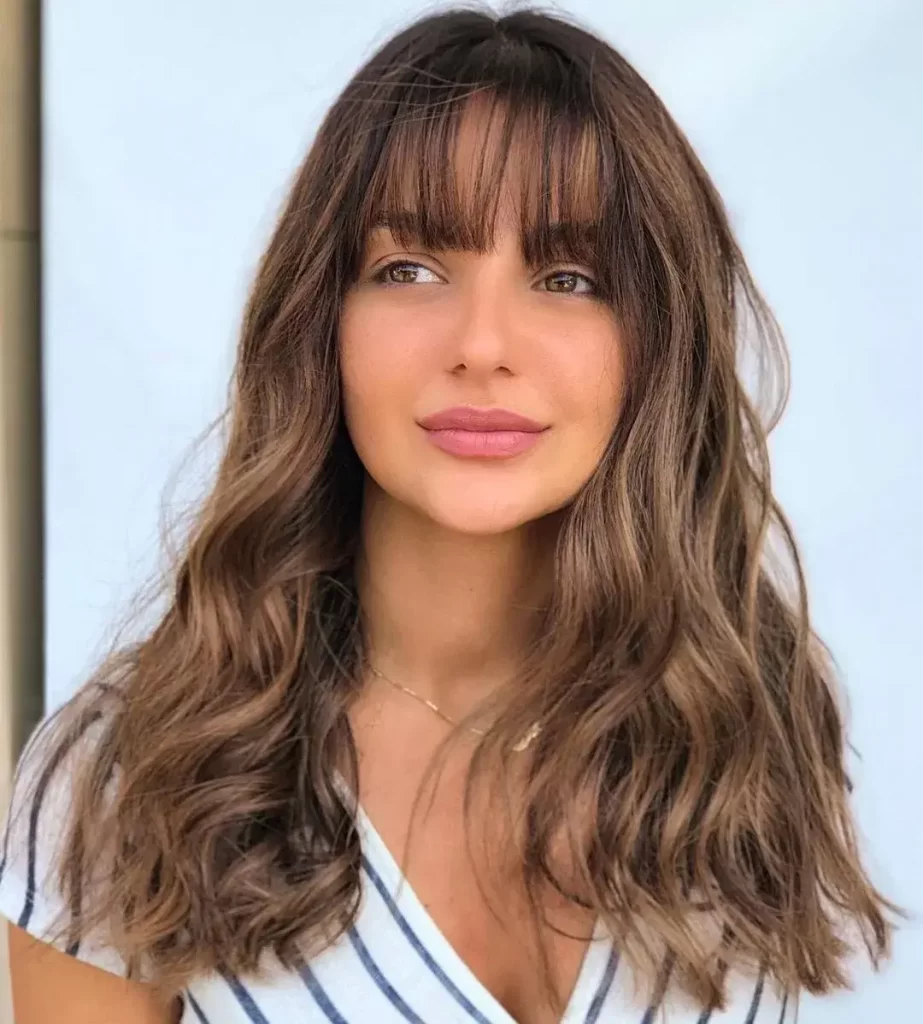 Soft, side-swept bangs pull attention away from a chin that is too prominent. Request your stylist to cut bangs vertically rather than straight across the face, stopping between the eyelids and brows. Also, make sure not to cut your bangs too short because it won't give you a good look.
Blunt Bangs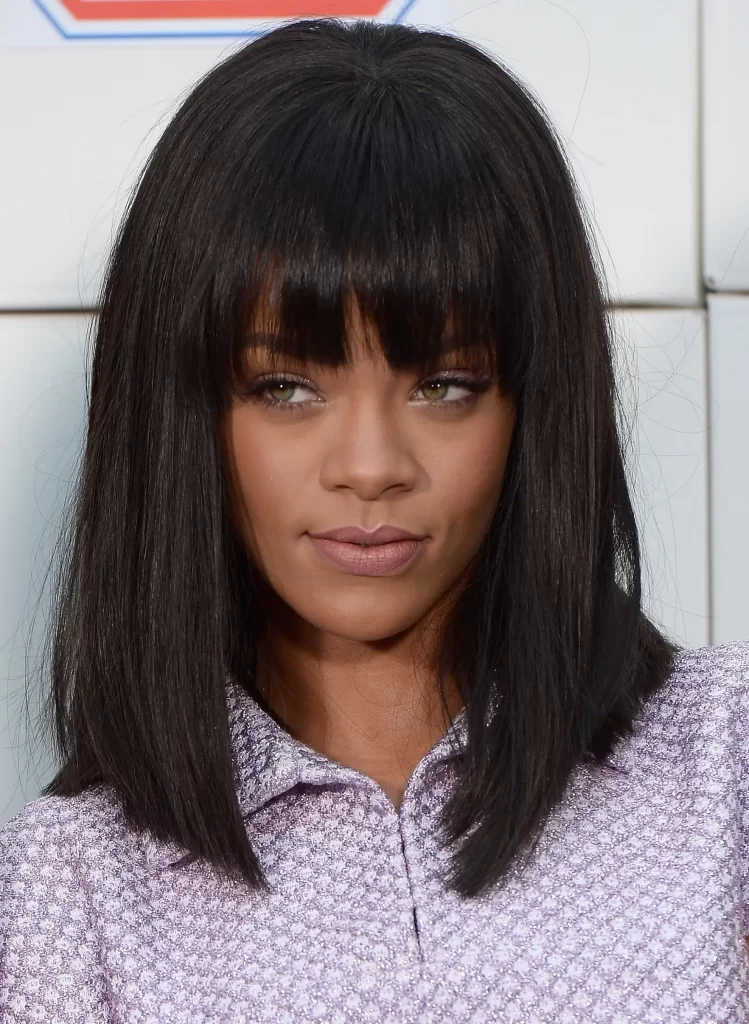 If you have long or shoulder-length hair, you can make this hairstyle for heart-shaped faces. Blow-dry your bangs straight and add blunt bangs to frame your face. Keep your blunt bangs at brow level to bring attention to your eyes and cheekbones rather than your forehead.
Wisp with long Hair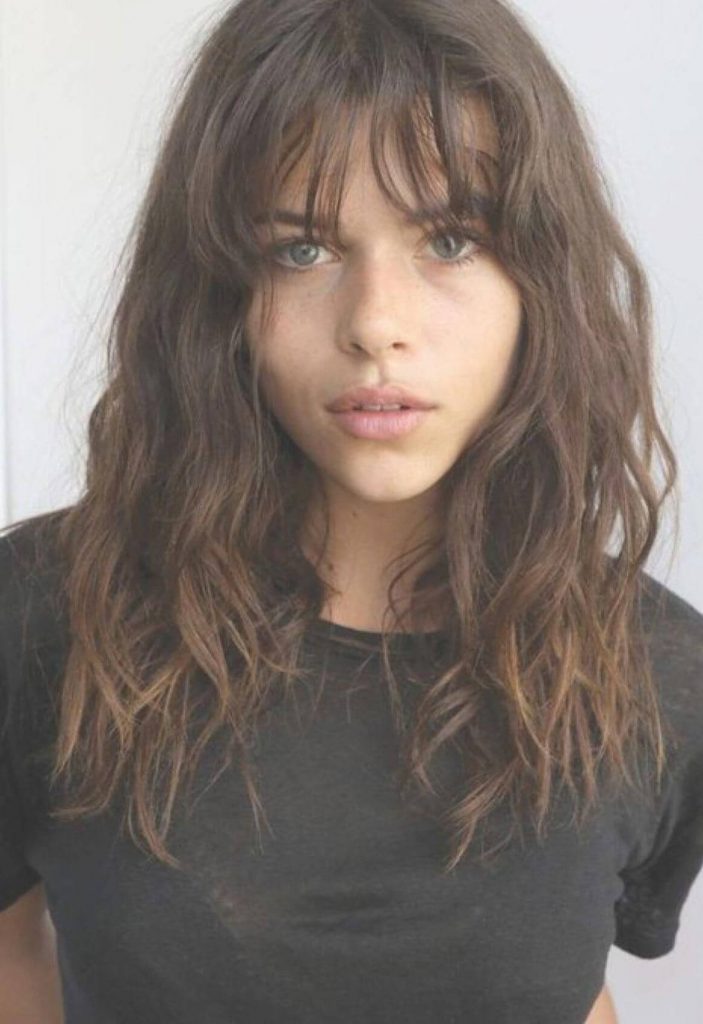 The eyes and cheekbones are highlighted by the fringe. Long, wispy bangs might be a good choice for heart-shaped faces because they reduce the width of the forehead.
Triangle Face Shape
The jawline is wider than the width of your cheekbones, which is wider than the width of your forehead if you have a Triangle facial shape. Longer hairstyles might help to hide a prominent jawline. When choosing a shorter hairstyle, add volume to the top to give the face more fullness.
Heavy Fringes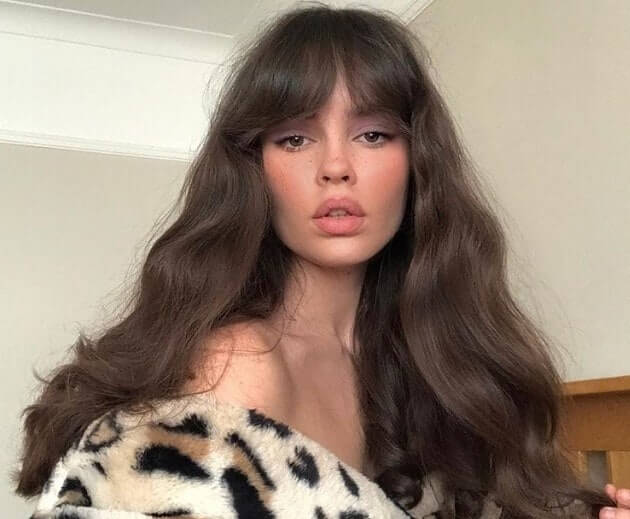 Choose a strong fringe cut straight through for rounder triangles. This creates the appearance of fullness in the areas of the forehead and cheekbones. The outcome is a delicate, young appearance.
Chin Grazing Bob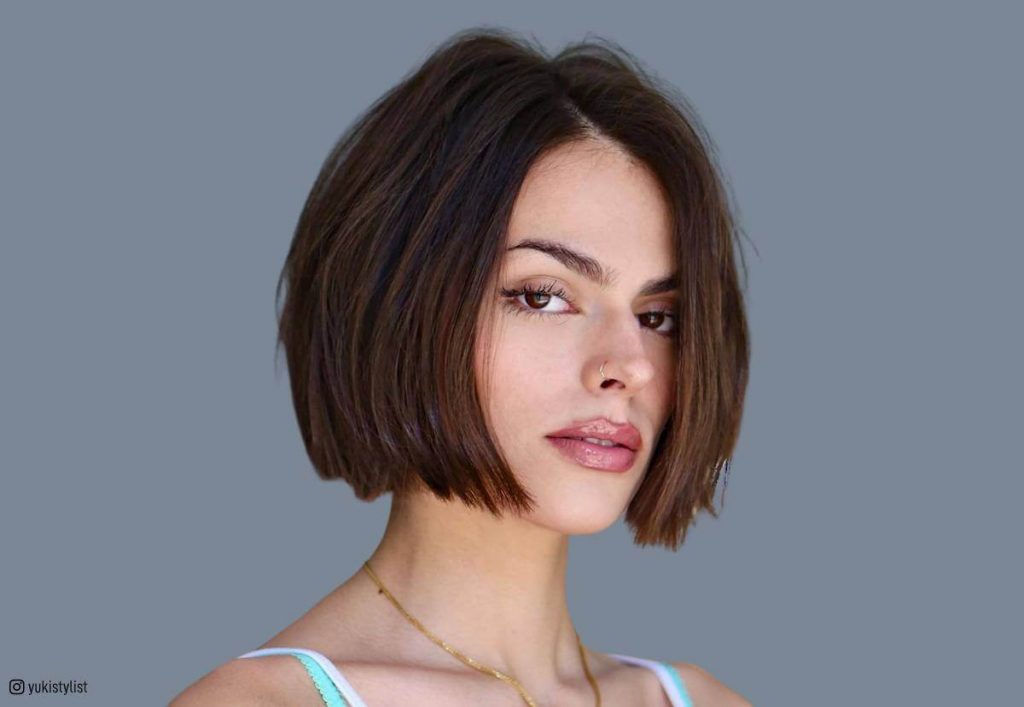 Triangle face shapes benefit from shorter hairstyles because they don't make your face appear longer. A chin-length haircut is ideal since it ends exactly where your face does. However, it's important to add some layers or roughness to avoid making the jawline appear even wider.
Long Layers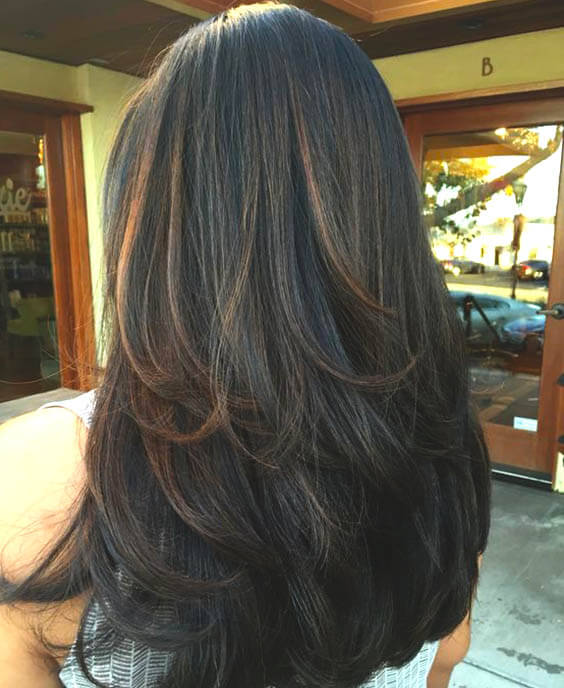 On triangle facial shapes, hair that extends past the chest isn't the most flattering. It can draw attention to your broader jawline while neglecting your smaller forehead. If you choose a lengthier cut, make sure there are layers and texture to assist restore the form of your face.
Oblong Face Shape
A long and narrow bone structure characterises this face type and your chin and jawline will be round as well. Longer hair makes the face appear longer by pulling it down. Keep your style short or add shorter layers if you have an oblong face. Adding curls and substance to the hair can also make the face appear bigger.
Curtain Bangs with Bob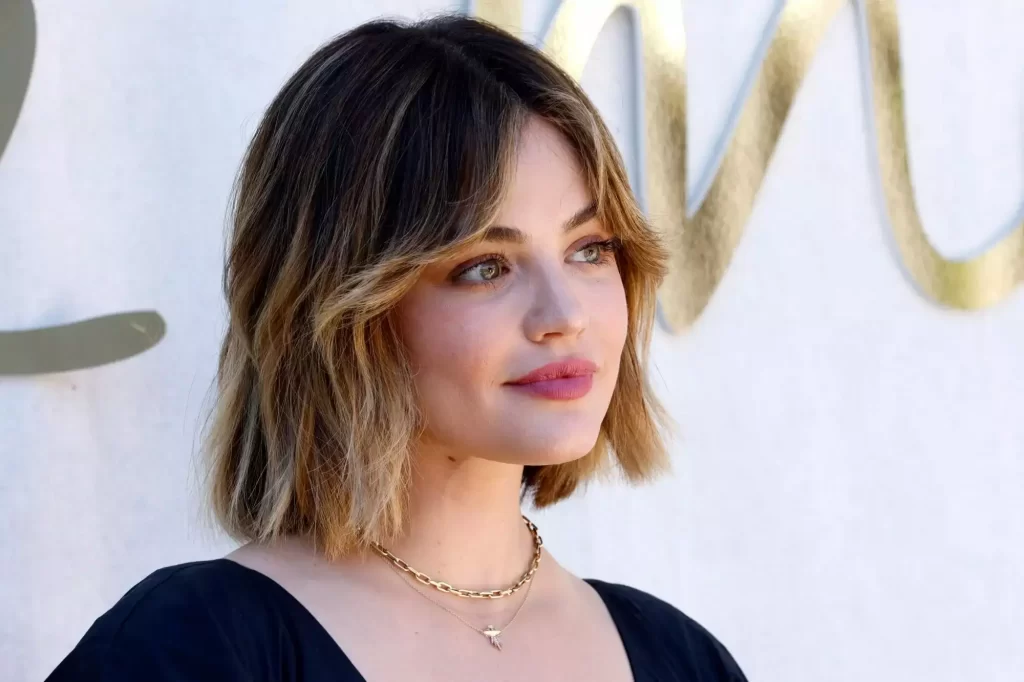 Short bobs with curtain bangs can give you a very refreshing look. It will not make your face look smaller, but rather give it a good shape.
Angled Bob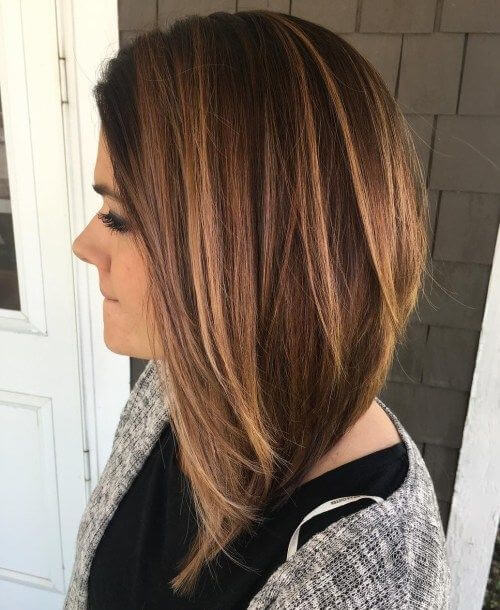 Replace your harsh bob with this neat and trendy angled bob. The wispy ends provide softness, and the overall angled cut shifts the focus away from the face's length. With some subtle side bangs, such hairstyles for oblong faces look fantastic.
Super Short Bob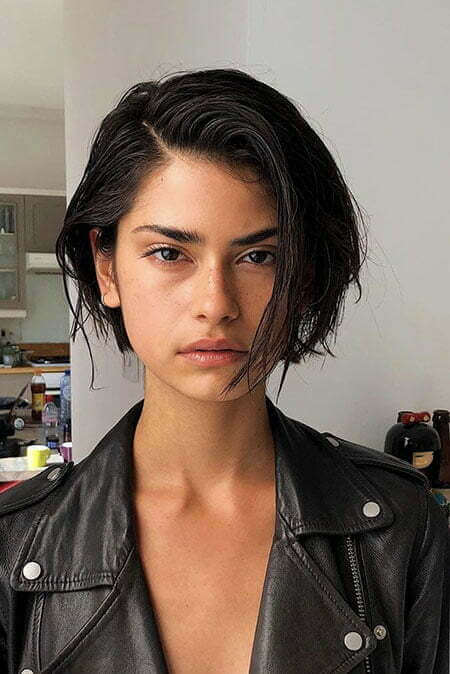 Super short hairstyles for oblong faces are once again winning out. Because it is trimmed along the natural texture of the hair, this hairstyle is simple to maintain. On a daily basis, you won't have to worry about styling this one.
Love is in the Hair!
Let's freshen up your look by getting an amazing haircut. Follow the guide we have mentioned above. Let us know in the comments below about your go-to haircut.