Hair is one of the most important components you need to focus on to achieve your beauty goals.
A well-done hairstyle can uplift your look and make you appear more put together and groomed.
For all the straight-haired girls out there, we have got you covered. In this article, we bring to you 8 hairstyles for straight hair that are celebrity inspired and deserve a try!
8 Celebrity Inspired Hairstyles for Straight Hair
Below are 8 Celebrity Inspired Hairstyles for straight hair that are classic, chic, and versatile!
A Sleek Ponytail
Pretty Fishtail Braid
A Cool and Messy Bun
Center/Side-Part
A Casual Half Bun
A Cute Braided Headband
Trendy Cornrows
The Hippie Band
Now let's talk about each hairstyle, how to do it, and pro tips that always work magic!
1. A Sleek Ponytail
A sleek ponytail is one of the most put-together hairstyles you can try out if you have straight hair. It looks pretty and formal and it seems like you have put a lot of effort into styling yourself.
Ariana Grande is probably the most famous celebrity, who pulled off the sleek ponytail like no other! Many others like Kim Kardashian, Tyra Banks, and Rihanna have also given iconic looks to cherish forever!
How to do it?
Comb your hair
Make sure there are no knots
Tie a ponytail after pulling your hair back
Secure your hair with an elastic where you want it to
Use a strand of hair and wrap it around the elastic
Use hair spray to make it look neat and in place
Tip!
Use a serum at the bottom of your hair to give your hair a healthy and even more sleek look!
2. Pretty Fishtail Braid
When you want to put a little more effort into your hairstyle, try a fishtail braid!
It looks pretty, unique, and can lift your look instantly. 
Celebrities like Blake Lively and Rihanna have given us beautiful fishtail braid looks and we surely want to copy them!
How to do it?
Comb your hair and tie a ponytail
Now part your ponytail into two equal sections (1 and 2)
Take one section and then divide it into two sections again (1a, 1b, 2a, 2b)
Now take the outer section (1a) and pull it on the top of the right section (2) of the ponytail
Do not twist at this point
Repeat the step on the right side
Keep repeating on both sides
Tie the bottom when you are done
Tip!
Start at the center of your head. That will make the hairstyle easier
3. A Cool and Messy Bun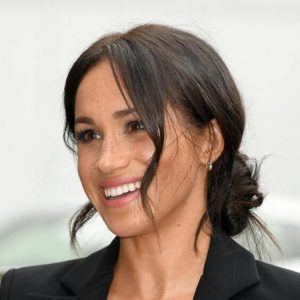 A messy bun is ideal for a casual meetup. When you are running late but you still want to look presentable, a messy bun can save your day!
Celebrities like Meghan Markle, Zendaya, and Emma Stone, have given us great inspiration to try out the messy bun hairdo and it's time for you to try it out as well!
How to do it?
Comb your hair and flip your head over
Divide the hair into two sections (center part or side part)
Use your fingers to collect as much hair as you can
Make a ponytail
Now take strands of hair and start tucking them in the hair tie
Pull hair from the other side and tuck it in 
Form a bun and pin loose hair where needed 
Pro Tip!
Use a hairspray to keep the hair strands in place
4. Center/Side Part
This is one of the easiest yet most flattering hairstyles for straight hair. It looks fun, formal, and pretty all at the same time. 
We have seen Bella Hadid, Gigi Hadid, Salena Gomez, and many others rocking both center and side parts and we can't wait to try out ourselves! 
How to do it?
Comb your hair
Use a fine comb to make sections where you want the partition
Go as deep as you like
Add cute accessories
Optional
Curl the bottom to add more volume
Tip!
Add accessories like barrettes, glittery clips, or bobby pins to look extra special!
5. A Casual Half Bun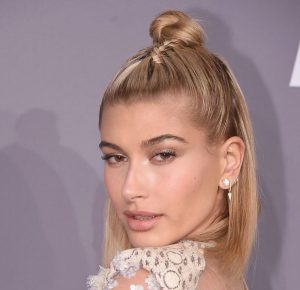 This is another fun look you should try out if you find less time to get ready. The half-bun looks trendy, and cool and can set you apart from others.
In the image, you can see Hailey Bieber with a half bun styled to perfection!
How to do it?
Comb your hair
Pull all your hair back neatly
Tie a ponytail but leave most of your hair behind
Now loosen up the ponytail
Tie it in a bun
Tip!
Backcomb your hair before making the bun to add volume.
6. A Cute Braided Headband
A braided headband looks cute, and elegant and works for both teens and older women.
In the given picture Sarah Hyland shows us how a braided headband can uplift your whole look!
How to do it?
Comb your hair
Side part your hair and start braiding from there
Keep adding a new piece of hair as you proceed
Braid till you reach the end of your ear
Tie it with a clip
Tip!
Add an accessory like a floral clip to hide the pin at the end. That will make you look more formal.
7. Trendy Cornrows
Now, this is a trendy hairstyle you must try out!
The cornrows make your hair look fun and aren't hard to make. 
In the image, you can see Shakira with side cornrows and she looks stunning!
How to do it?
Doing cornrows for the first time is a bit tricky. We recommend you watch a video tutorial if you are an absolute beginner.
Tip!
Start with a few cornrows at a time till you master the art!
8. The Hippie Band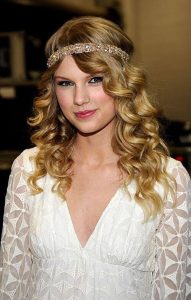 This look is effortless, chic, and unique. It will set you apart from others and is the perfect look for girls looking for a trendy vibe! 
Taylor Swift can be seen looking cute and trendy at the same time in this hippy headband hairdo!
How to do it?
Center or side-part your hair
Add a headband
If you don't have a headband then make two braids of your hair from the sides
Tie them back like a headband 
Tip!
Curl your hair from the bottom to give yourself the Taylor swift look, as seen in the image above! 
It's Time for a New Hairstyle!
Straight hair is delicate and versatile and there are thousands of ways to style them. From braids to ponytails and buns to side parts, you can play around with styles till you find the one that looks the most flattering on you!
Do check out more hair, skin, and makeup-related content on the site. We have tons of tips and guides which can help you achieve your beauty goals!