Shoes are an essential part of every girl's wardrobe. Good shoes can uplift an outfit while poorly worn shoes can completely tear the look apart.
If you want to keep your shoe collection updated and want to know which shoes are trending these days, here are some suggestions to consider!
In this article, we bring 10 trendy shoes that are in fashion these days according to popular fashion magazines.
Trendy Shoes to Try Out
Below are 10 trendy shoes you should consider for your shoe collection. We have made the list based on recommendations from popular fashion magazines like Sunday and Marie Claire.
Kolhapuri – Versatile Desi Footwear
Embellished Flats – Practical and Cute
Khussas – Classic Ethnic Footwear
Platform Heels – A Maximalist Choice
Kitten Heels – Chic and Comfy
Metallics – To Stand Out
Strappy Heels – Dress up Girly
Bright Colored Heels – Brighten Up Your Look
Sporty Sandles – Comfy and Trendy
Mules – 90's Inspired
Now let's talk about each shoe style, what makes it special and how to dress it up!
1. Kolhapuri – Versatile Desi Footwear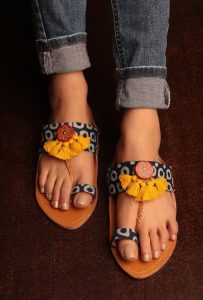 Kolhapuri is a trendy yet, low-key footwear that goes with everything! Whether it's western or eastern, formal or casual, you can't go wrong with a nice pair of Kolhapuri.
Available in multiple designs, colors, and styles, Kolhapuri is a stable that you should keep in your wardrobe.
2. Embellished Flats – Practical and Cute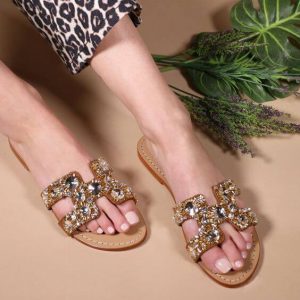 Comfy, cute, and practical, summer flats are a breeze in the humid summer season! Available in different styles you can buy a formal pair of flats as they are comfortable and presentable at the same time.
You can opt for embroidered, bejeweled, or glitter slippers, whatever suits your personality.
Pair it with shalwar kameez, a trouser-shirt, jeans and t-shirt, try anything and you will not go wrong.
3. Khussas – Classic Ethnic Footwear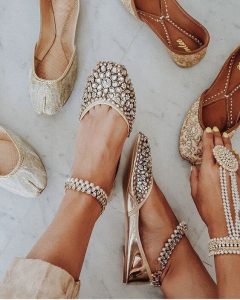 A traditional pair of khussa's can instantly uplift an eastern outfit. Whether you have an old pair or have bought a new one, it's a classic that never seems to go out of style!
Pair it with a shalwar kameez, jeans, and kurta, or a formal ethnic dress it will never disappoint you!
You can find pairs that are minimalistic, embellished, simple, or brightly colored. The choices are endless! According to the Sunday Magazine, hand-painted khussa's are expected to become a trend this summer!
4. Platform Heels – A Maximalist Choice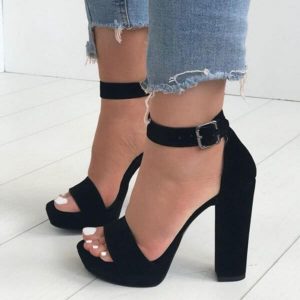 Platform heels symbolize high fashion as they have dominated the runway for a long time. The heels are great for people who want to appear taller and enhance their height at an event.
Even if you are already quite tall, platform heels are a statement piece at any gathering. The shoes have a maximalist appeal and can be paired with an extravagant dress to finish off the look.
If you want to keep things casual, you can try these heels with a loose shirt, jeans, and chunky gold jewelry to look polished!
5. Kitten Heels – Comfy Yet Trendy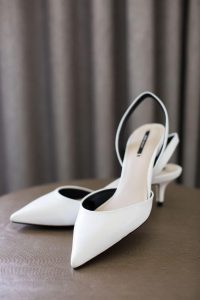 Want to wear heels without hurting your feet? If so, kitten heels are a trend to follow this summer! Featuring a cone-shaped front and low heels, these pair of shoes are a go-to for girls who want to dress up chic without the pain!
You can dress them up with a formal gown, or dress them down with a casual outfit, they go with everything and can be worn all day!
6. Metallics – To Stand Out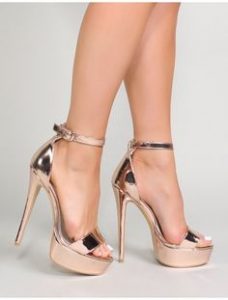 If you want to stand out, metallic footwear should be on your list. Reflecting the sun's light, these shows can make you the center of attention at any gathering.
Whether you are at a party or a formal event, metallic footwear can easily be dressed up or down as you like. You can get a flashy pair of pumps or slip-ons, which are all about the drama.
If don't like too much bling, you can get a pair of heels with a metallic hint to make you shine.
7. Strappy Heels – Dress Up Girly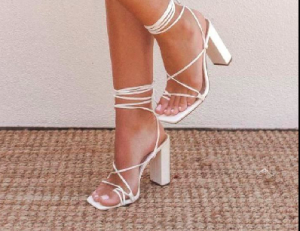 Strappy heels are one of the prettiest types of footwear any girl can have. They look beautiful, cute, and chic and are available in multiple colors and styles.
You can pair it with gowns, skirts, trousers, etc. They are very feminine and can make a boring dress, girly and sweet in no time!
8. Bright Colored Heels -Brighten Up Your Look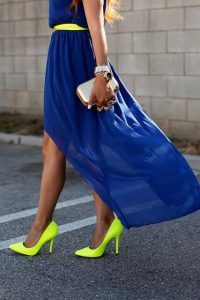 A bright pair of heels can add a pop of color to a dull outfit and can enhance your look without effort. You can opt for a neon pair, a shimmery pair, or an embellished one. Just make sure it suits your style and adds an instant pop of color.
You might be wearing a simple outfit that gives a simple and minimalist vibe but having a bright pair of heels can help you uplift the outfit whenever you feel like it.
You can invest in a pink, red, purple, green, yellow, or an attractive blue pair.
9. Sporty Sandles – Comfy and Trendy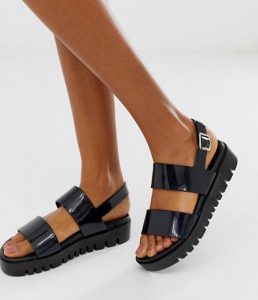 Sporty sandals are functional and fashionable at the same time. Easy to wear all day, these shoes are easy to slip on and can make you look runway ready in no time. Spotted on runways, these shoes are casual and cool.
Try them out with jeans and trousers or even short dresses and you will look chic every time!
10. Mules – 90's Inspired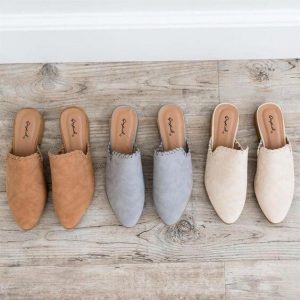 Mules are 90's inspired footwear that are still relevant. These are easy to wear as they don't have any straps and laces and look good on multiple outfits.
Buying a trendy pair can help you lift a boring outfit and make yourself look trendy without putting any effort.
Add a Trendy Pair to Your Collection!
In this article, we went through 10 trendy shoes that you should try out this year. We explored various shoes from embellished flats and sporty sandals that are comfy and stylish to kitten and platforms heels that are chic and stylish.
Keeping trends in mind while designing your wardrobe is a great way to stay up to date and relevant. While all of the above-mentioned shows are available in different colors and designs, we recommend you keep the ones that suit your style so can form a wardrobe that suits you the most.