Mindanos Islamabad is offering delicious food to all diners in the capital city of Islamabad. With the variety of cuisines and a perfect location, this place has the heart of many. Scroll to see all the details of the restaurant that you need to know.
Mindanos Restaurant in Islamabad and Rawalpindi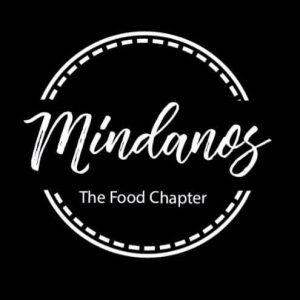 Branches & Contact Info
Mindanos Islamabad can be easily reached from all corners due to its location in the center of the city in F-6 Markaz. They have also opened a new branch in Bahria Town, Phase 7 to serve its nearby customers. If you wish to contact the restaurant for inquiries, reservation, and other information, you can visit and contact them via their social media pages ( Facebook and Instagram ) or contact numbers:
Location
Contact Number
1st Floor, Unit 1, Block E, F-6 Markaz, Islamabad
(051) 8316715
(051) 8316714
Ground Floor, Bahria Theme Park Avenue, Bahria Town Phase 7
(051) 8444450
If you wish to be part of the Mindanos family and be their regular customers, you can sign up to their Newsletter on their official website for amazing promo offers.
Opening Hours
The opening hours of Mindanos Islamabad can be tracked below:
| | |
| --- | --- |
| Monday – Friday | 12.00 pm – 12.00 am |
| Saturday | 12.00 pm – 12.00 am |
| Sunday | 12.00 pm – 12.00 am |
Online Reservation at Mindanos
As the restaurant receives a high influx of visitors regardless of the days, it is best if you reserve your seats to confirm if you visit with your family. They are active on their official social media pages like Facebook and Instagram, so you can reach them anytime to make reservations online or ask any query.
Mindanos Menu
Mindanos features a specially created menu that brings together all of the delicacies under one roof. So, if you or anyone in your group/family is a coffee lover, wants to satisfy snack cravings, is in the mood for steaks, wants to try Thai, Italian, or Chinese cuisine, or wants to have a delicious dessert with a cup of tea or cooler, this is the spot for you!
Mindanos Story
Mindanos was launched in response to the growing trend of fusion in our daily lives: fusion in music, fusion in fashion and style, and so on. Mindanos is mostly a casual meeting spot that may also accommodate a formal event. The name was created specifically for this special culinary chapter, and it was inspired by the name of a Philippine island, Mindanao, which is known for its astounding cultural diversity and social peace.
Mindanos Ambiance
Mindanos serves everything fresh and tasteful served under an appealing ambiance and perfect for spending time with your friends and family. Look forward to making some cozy memories with your closed ones with delicious food and a memorable time spent in a relaxing ambiance.
Must Try Dishes of Mindanos
Mindanos Islamabad offers mixed cuisines including Continental, Chinese, Italian, Thai, and much more. Starting from their first meal breakfast to a closing meal of the day i.e. dinner, Mindanos is for all! Additionally, they have a separate kids menu, so parents can eat relaxly. The must try out dishes from their menu include:
Molten Chicken Lasagna
Cheesy Chicken
Chicken Stroganoff
Blue Cheese Steak
Beef Chili Dry
Chicken Mozzarella Sticks
Mindanos Hi-Tea
At the Mindanos, prestigious visitors can enjoy a delectable hi-tea buffet at a reasonable price. Due to the enormous volume of diners they receive on a regular basis, it is served in two slots. The Special Lasagna and Singaporean Chowmein are delectable dishes that you must try if you want a satisfying supper. You can never get enough of its taste, with over 30 items in their Hi-tea buffet and a comprehensive menu of sweets.
The Hi-Tea buffet at Mindanos Islamabad is served in two slots and its timings are:
Slot 1: 3 PM – 4:45 PM
Slot 2: 5:15 PM – 7 PM
Price of Hi-tea at Mindanos Islamabad is: PKR 1,199 + tax per person approximately.
Rating of Mindanos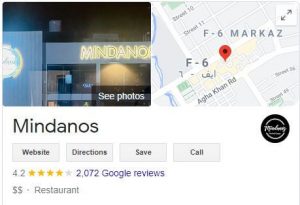 Mindanos Islamabad has received a 4.2 star rating on Google. Based on the reviews from 2,072 people, it is highly loved for its extraordinary and relaxing ambiance and food quality. The hi-tea offered is also a must try, at least once, so you can get the idea of why this eatery is hyped by many in the capital city.
Eat Mubarak!