The full name of Navratri is Sharad Navratri (Sanskrit: "Nine Nights"). Hinduism celebrates Navratri as a significant holiday in honor of the divine feminine.
Hindus in Pakistan are in minority and often we hear reports about inhumane treatment to this minority community. However, among Pakistan's small Hindu population, Navratri enthusiasm is evident. Celebrations for this festival are in full swing in Pakistan's largest city, Karachi. The details for this Hindu festival are as below:
Duration: 9 days
Month: September – October (in Hinduism it is Ashvin)
Dates: 26 September – 5 October 2022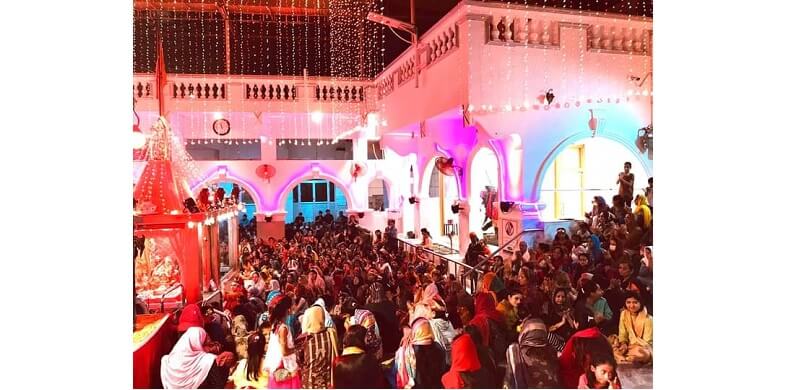 It is one of the most significant and well-known holidays in which worshippers of the goddess Durga honor her nine forms. The celebrations went on until midnight, during which point an arti and puja were performed, followed by prayers for shakti, or power. After that, prasad was distributed.
Worshipers dress in the colors that correspond to each day, which is marked by a different color each day. The victory of good over evil is celebrated on the tenth day following the nine-night period on Vijayadashmi. It is also known as Vijayadashami or Dussehra. The colors, along with the dates and their importance, are listed below:
Day 1 (26 September)
Color: Yellow (signifies happiness and cheerfulness)
Tithi: Ghatasthapana or Pratipada
Significance: On this day, people worship Durga in her Shailputri form, which she took after her father, the Mountain King Himavat.
Day 2 (27 September)
Color: Green (signifies nourishing qualities and aspects of nature)
Tithi: Dwitiya
Significance: Brahmacharini, the goddess Durga's unmarried form, is revered and worshiped on this day.
Day 3 (28 September)
Color: Gray (denotes destruction of evil)
Tithi: Tritiya or Chaturthi
Significance: On this day, followers of the goddess Durga adore her in her Chandraghanta form.
Day 4 (29 September)
Color: Orange (symbolizes brightness, knowledge, and tranquility)
Tithi: Panchami
Significance: On this day, devotees worship the goddess Kushmanda.
Day 5 (30 September)
Color: White (denotes calm, peace, serenity and purity)
Tithi: Shashti.
Significance: Devotees on this day pray to Skanda Mata, the mother of Lord Kartikeya.
Day 6 (01 October)
Color: Red (symbolizes passion and anger)
Tithi: Saptami.
Significance: The Katyayani form of the goddess Durga is worshiped on this day by her devotees.
Day 7 (02 October)
Color: Blue
Tithi: Ashtami.
Significance: On this day, Kaalaratri is worshiped.
Day 8 (03 October)
Color: Pink
Significance: Mahagauri is worshiped.
Day 9 (04 October)
Color: Purple (signifies admiration for the beauty of nature)
Significance: Siddhidhatri is worshiped.
One of the nine incarnations of the Hindu goddess Durga, noted for her strength, might, and capacity for protection, is honored every evening.