Highlights:
Pakistani team participates in the Street Child Football World Cup
Team left for Doha on 6th October
8 player team finalized after trials in 17 cities
Street Child Football World Cup starts from October 7 to 15
The Pakistani football team left for Qatar for the Street Child Football World Cup 2022 happening in Doha.
The Street Child Football World Cup 2022 is scheduled from October 7 to 15.
The Pakistani Street Child Football Team 
Syed Zia Ul Noor, the Country Director of Muslim Hands (a nonprofit), talking about the team, stated that the organization had selected 8 players for the team after conducting trials in 17 cities.
The Pakistan team is participating in the event for the 3rd time. The team had qualified for the final round in the 2018 edition but lost to Uzbekistan.
The Pakistani team this year includes players from Khyber Pakhtunkhwa, Balochistan, Gilgit-Baltistan, and Punjab after a yearlong trial.
According to Zia Ul Noor, the Muslim Hands was determined to actively mentor the youth to represent the country at international forums and to encourage children to move forward.
The families of the selected football players were also given stipends during the trial process as most of the children work at various places.
Sahil Khattak – a Promising Goalkeeper
One of the players in the Pakistan squad this year is a 16-year-old goalkeeper Sahil Khattak. He is inspired by renowned German and Bayern Munich shot-stopper Manuel Neuer.
He stated in an interview with SAMAA, that he is hopeful about performing well for the county and will do his best to bring the trophy home.
FIFA Street Child Football World Cup – More than a Game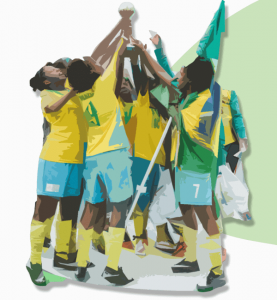 Ahead of the FIFA World Cup 2022, 28 teams, from 24 countries, will represent street children across the globe at the Street Child World Cup 2022.
A female team of 13 girls along with 15 boys will come together in the tournament. The Street Child World Cup brings street-connected children every year from across the world.
The teams interact in a football tournament and an art festival to bring creativity out of underprivileged children.
The President Meets With the Street Child Football Team
The President of Pakistan Dr. Arif Alvi recently met the team representing the country at the tournament. 
The President stated the government is actively working to engage underprivileged children in healthy and fruitful activities.
He emphasized the need to create an enabling environment for unprivileged children through education, training, and vital skills. With some effort, we can encourage them and make them realize their full potential.
During the meeting, the President handed over the National Flag to the team captain encouraging them to give their best!