Wild Wings, located in the heart of Islamabad, is Pakistan's first and only sports lounge and restaurant. Wild Wings brings you wings, burgers, shakes and much more. Wild Wings is a restaurant that should be visited at least once, preferably late at night. Everything about the services, management, and employees is outstanding.
Wild Wings Islamabad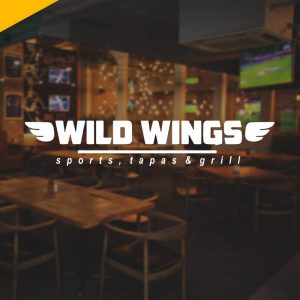 Franchises & Contact Info
Wild Wings is opened at 5 different locations in Islamabad alone, covering the entire Islamabad and easily accessible to all of its citizens. Take a look at the complete address and contact info for an easy reach.
| | |
| --- | --- |
| Location | Contact Number |
| The Centaurus Mall, 4 Jinnah Avenue, F-8/4, Islamabad | 0348 1116667 |
| Olympus Mall, F-11, Islamabad | 0348 1116667 |
| Central Park Sector G DHA Phase II, Islamabad | 0315 9999071 |
| Beverly Centre, Jinnah Ave, F 6/1 Blue Area, Islamabad | (051) 8891106 |
| I-8 Markaz, Fantom Mall, Islamabad | (051) 8350005 |
Opening Hours
The opening hours of Wild Wings Islamabad can be tracked below. The timings are mentioned across different outlets for your ease.
| | | |
| --- | --- | --- |
| The Centaurus Mall | Monday – Sunday | 12.00 pm to 2.00 am |
| Olympus Mall | Monday – Sunday | 11.30 am to 12.00 am |
| DHA Phase II | Monday – Sunday | 12.00 pm to 12.00 am |
| Beverly Centre | Monday – Sunday | 12.00 pm to 11.30 pm |
| Fantom Mall | Monday – Sunday | 12.00 pm to 12.00 am |
Reservation
You can visit their official website to reserve your table online. Just fill in your name, contact, email, number of persons, and a customized message to reserve a table instantly. You can also contact them at the specific branch and reserve a table over call.
Menu
This restaurant's menu includes a lot more than just wings. They not only have a large selection of wings, but they also serve quick fast food. Salads, grilled burgers, steaks, chicken wraps, flat bread, shakes, desserts, and more are among the menu options. They also serve delectable appetizers to whet your appetite before the main course arrives. Furthermore, the food's presentation will brighten your day.
Ambiance
If you're a true fan of wings, trust me you'll love this place. Despite the fact that the restaurant's name sounds haunted and spooky, it is one of Islamabad's most notable and reliable eateries, serving a wide range of wings. The atmosphere at Wild Wings is quiet and comfortable. This restaurant exudes a sense of tranquility that will compel you to return time and time again. LEDs are fixed to the walls of every outlet, so you won't be bored while waiting. Furthermore, a foosball table is located near the restaurant's door, where you may play and delight yourself.
Must-Try Items from the Menu
From the ratings and reviews of multiple lovers of Wild Wings Islamabad, we have compiled a list of must-try items from their menu that are worth trying.
Traditional Wings
Chili Cheetos Burger
Chicken Parmesan
Hell's Fire Steak
Fondue Fries
Chicken Tacos
Bacon Cheese Burger
The Traditional Wings from their menu is the top speciality. The wings are enjoyed with the wild sauce of choice; you can make it sweet, sour, or the balance of both depending on your mood and taste. The special Chili Cheetos Burger includes a crispy chicken filet crumbed with cheetos, topped with jalapenos, and Chang's special sauce. Chicken Parmesan is definitely one of the favorites as it includes a fried chicken breast that is topped with spicy chili garlic sauce and cheese, and served with spaghetti. For all the spicy steak lovers out there, Hell's Fire Steak is a must-try, the presentation is really good. Additionally, you can appease your appetite with the Fire Cracker Fondue Fries. These fries are topped with special fire cracker, jalapeno, cheddar sauces, and crispy sausage bits. Chicken Tacos is another great item from the menu to meet your cravings. These crispy chicken tacos are served with three different sauces to enjoy different tastes. Lastly, the juicy Bacon Cheese Burger to meet the hunger of some real beefy foodies.
Hi-Tea at Wild Wings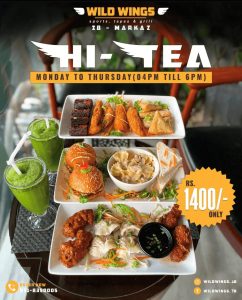 Are you up for some delicious and flavorful hi-tea? Wild Wings Islamabad offers Hi-Tea for 2 in just PKR 1,400 + Tax. This drool worthy hi-tea offers some great food and great vibes.
The Hi-Tea for 2 is available Monday to Thursday from 4 pm to 6 pm.
Rating of Wild Wings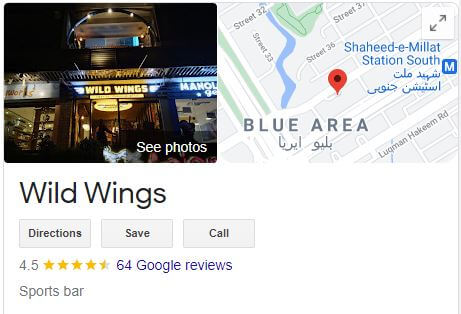 Wild Wings Islamabad has received a 4.5-stars rating on Google. People are talking about its amazing ambiance and courteous staff. They have a lot of variety on the menu, serving all foods that are rich in taste. The serving size is really good and their traditional wings served with the sauce of choice are never to be missed.
GO WILD! ENJOY WILD!