The city of lights, Karachi, is well-known for its diverse range of ethnic and cultural versatility, cuisines of cultural fusions and the welcoming nature of its people. But what really sets Karachi apart is "biryani" and the love that people have for the dish.
If you are a Karachite or someone from around the world visiting Karachi, Biryani is always a must-try dish for you. People here love to experiment with the royal dish and take pride in presenting it before the guests. Its popularity among people of all cultures itself speaks for its taste and deliciousness.
So in case you don't know where to find the best biryani in Karachi, we've got your back. 
List of Best Biryani Spots In Karachi (2023)
Below you can find a list of 14 Biryani Spots in Karachi that sell delicious and finger-licking biryani:
| | | | |
| --- | --- | --- | --- |
| # | Best Biryani Spots in Karachi | Contact Number | Location |
| 1 | The White Biryani | 0333 1300991 | D.H.A Phase 6 |
| 2 | Farhan Biryani and Pakwan Center | 0348 4679100 | Block 9 Bhittaiabad |
| 3 | Madni Biryani | 021 36973131 | Sector 15-A/5 |
| 4 | Student Biryani | 021 111111778 | Empress Market Karachi |
| 5 | Mirchi 360's Nawabi Biryani | 0306 0360360 | DHA Phase 5 |
| 6 | Shahi Biryani | 0300 2456048 | DHA Phase 5 |
| 7 | Premier Biryani | 021 34662828 | Block 16 Gulberg Town |
| 8 | Biryani of the Seas | 0346 3339347 | Prince Complex, Frere Police Station Road |
| 9 | Biryani Center | 021 35838582 | DHA Phase 5 |
| 10 | Jeddah Biryani | 0335 2290903 | Block 5 Clifton |
| 11 | Ghousia Nalli Biryani | 0300 2106954 | Liaquatabad Commercial Area, |
| 12 | Al Rehman Biryani | 0314 2961604 | Hajra Manzil, Kharadar |
| 13 | Jummah Biryani | 0311 1100119 | Saddar Mobile Market |
| 14 | Allah Wala Biryani | 0311 1111292 | Main Sharah-e-Quaideen |
| 15 | Darbar Restaurant | 021 34810465 | A-1, Block 6 |
1. The White Biryani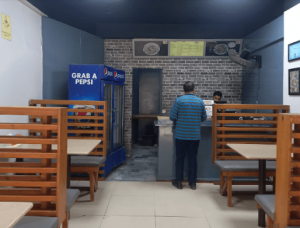 Located in DHA Phase 6, The White Biryani offers an amazing delivery service. So when you place an order here, you can devour the best biryani experience that too in a quick delivery time. Along with the delicious and scrumptious chicken and beef biryani, you can enjoy the city's most famous shami kebab with creamy and refreshing mint raita. The spicy taste palette with seasoned flavorful rice topped with fresh salad and raita makes the whole munching experience worthwhile. 
Address: Plot 22-C, Rahat Commercial Lane 2, Phase 6, DHA
Opening Hours:
2. Farhan Biryani and Pakwan Centre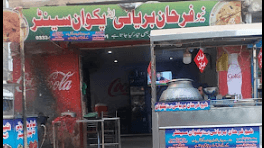 This might be the first time you get to know about this spot, but believe us or not, Farhan Biryani offers the most delicious biryani in Karachi that too, at the most affordable rates. Situated at Pehalwan Chowk, Gulistan-e-Johar, you can easily access Farhan Biryani and Pakwan Centre on your way back home after a busy day. Farhan Biryani not only offers you the best flavorful chicken biryani in town but also includes a variety of pulao choices, zardah, raita, and salad.
Address: Block 9 Bhittaiabad
Opening Hours:
3. Madni Biryani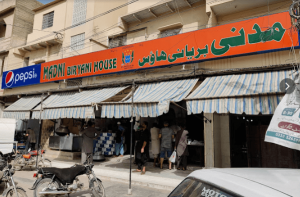 Madni Biryani is hands down the best choice for biryani in Karachi for its most affordable rates, taste, and authenticity. The restaurant is one of the ideal places for an eatery, and its lavish buffet is available throughout the week, including weekends. The place is not only famous for its biryani but also offers a wide range of other food choices, such as Chicken Nihari, Taza Fried Fish, Khamiri Roti, and Shree Mall. Situated in the Buffer Zone, Madni Biryani offers Dine-in, pickup, and delivery services in the nearby areas. 
Address: R-31, Sector 15-A/5, Buffer Zone
Opening Hours:
4. Student Biryani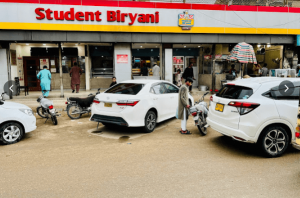 People of Karachi are famous for their adaptive taste buds for hot and spicy flavors. Thus one of the oldest biryani spots in Karachi, Student Biryani, is the go-to choice for biryani among most people in Karachi. The food vendor now runs many cafes in Pakistan, Canada, the UAE, and Australia. Besides mouth-watering biryani, you can also choose from a variety of cuisines served at Student Biryani, along with beverages at very affordable rates. 
Address: Van St, Empress Market, Central Jacob Lines
Opening Hours:
5. Mirchi 360's Nawabi Biryani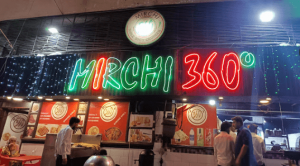 Next on our list, Mirchi 360 is famous for maintaining its scrumptious flavor all these years, which you definitely do not want to miss. This legendary biryani spot brings you a spicy range of biryanis with flavors that won't disappoint you at all. Their must-try dishes include zinger burger, tikka leg, green tikka, malai boti, mayo fries, and especially their mutton biryani. The ambiance gives you a great feeling as this place is a favorite choice among families. 
Address: Khadda Market, Badar Commercial Area, DHA Phase 5
Opening Hours:
6. Shahi Biryani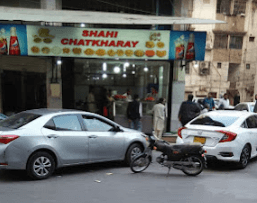 There's no denying the fact that biryani is considered a royal dish among the people of Karachi, and as the name suggests, Shahi Biryani brings you a heavenly cooked range of biryani delivered in family packs to singles and combo deals with extra masala biryani of your choice. Shahi Biryani brings you different options of mutton biryani, chicken biryani, or plain biryani, as per your preference, with no compromise on taste. Local herbs and roasted spices are the secrets behind their exquisite taste, presented with ginger raita that adds to the absolute feast. 
Address: Phase 5, Khayaban-e-Mujahid, DHA
Opening Hours:
7. Premier Biryani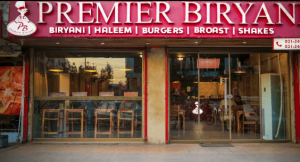 Located in Defence Housing Authority Phase II, Premier Biryani is another famous biryani hub in Karachi that is known for its casual dining and amazing biryani variations. This place serves karachi best biryani at an inexpensive price range. Among the most frequently ordered items here are chicken biryani, shami kebab, haleem, and their special zarda. 
Address: Block 16 Gulberg Town
Opening Hours:
12 pm to 12 am (everyday)
8. Biryani Of The Seas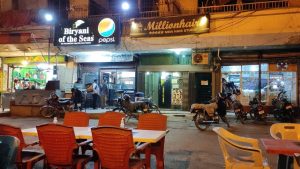 You must also try your hands on Biryani Of The Seas for the ultimate biryani experience. The divine taste and spices of their chicken and prawn biryani will leave you wanting more. Their generous serving size and amazing taste provide real value for money. The family ambiance at the restaurant leaves a lasting impression, and you'd definitely want to visit the place again. Don't forget to try their freshly cooked fish biryani. 
Address: Shop No. 20, Prince Complex, Frere Police Station Road
Opening Hours:
Mon-Sat: 12 PM – 2 AM
Sun: 4 PM – 12 AM
9. Biryani Center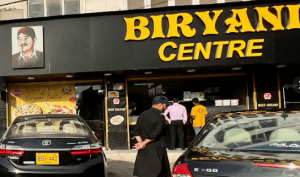 Biryani Center came into existence in 2001, and since then, it has been offering a variety of dishes to its customers. Serving karachi famous biryani, they make suure to maintain the same great taste for over years. All the ingredients used by them are of high quality, and the standard of hygiene is maintained in all branches. Moreover, their buffet has diverse and authentic regional food and won't cost you a fortune. Do visit their amazing branches for authentic biryani and lavish ambiance.
Address: 26th Commercial Street, Tauheed Commercial Area, DHA Phase 5
Opening Hours:
10am – 12am (daily)
10. Jeddah Biryani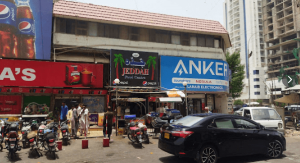 It is one of the oldest biryani spots in Karachi. The taste of their biryani is so delicious and tempting. You will never get tired of eating Jeddah Biryani. Additionally, you have a wide variety of biryani options you can choose from, and you can customize the spice level according to your taste. The best part? The place is not limited to biryani because you can get other delicious dishes such as chicken keema, chicken karahi, malai boti, and much more.
Address: Cristal Court, Shop No 5, Block 5 Clifton
Opening Hours:
11 AM to 12 PM
11. Ghousia Nalli Biryani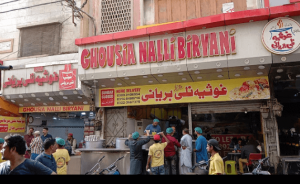 Ghousia Nalli Biryani is one of the new crazes for the people of Karachi because you can not find a good Nalli Biryani anywhere else in Karachi. Therefore, the place is always filled with people and usually has a long waiting time, but obviously, the taste of the biryani is worth it. The price is also very reasonable, and if you like, you can have Nalli separately as well. Moreover, if you are someone who likes sweet dishes after every meal, then they can provide delicious Zarda for you. 
Address: 2/240, Liaquatabad Commercial Area, Main Sarafa bazar
Opening Hours:
11:30 AM to 10:00 PM
12. Al Rehman Biryani
One of the finest and freshly served biryani can be found at Al Rehman Biryani. Their single serving is enough to fulfill your appetite; however, you can also order a double serving as well. In Addition to the delicious biryani, they have Kheer and Zarda as the desserts. You can also order from food panda and get your biryani delivered to home.
Address: Hajra Manzil, Gk-7/73, Nakhuda St, Kharadar
Opening Hours:
11:30 AM to 12:00 AM
13. Jummah Biryani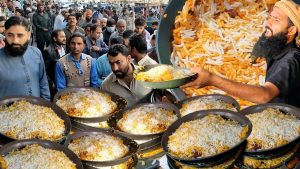 When we are talking about the ,Karachi Best Biryani how can we leave Jummah Biryani? Jummah Beef Biryani is a very famous biryani in Karachi, and people from different cities come to taste it. One of the special things about this spot is that biryani is only sold after Jummah prayers on each Friday. Even though they do not have a big restaurant, when they open their setup, they sell 20 days approximately on a single setup. 
Address: Bambino Cinema, Saddar Mobile Market
Opening Hours:
After Jummah Namaz
14. Allah Wala Biryani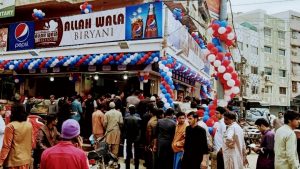 Allah Wala Biryani has started its journey with one aim, and that is to cater to each and every type of event without compromising the quality of the food. Even though they started the business with a very small shop, now they have secured the top spot in Karachi. They are catering all kinds of events and opening new franchises in Karachi. 
Address: Society Office, Chowrongi, Main Sharah-e-Quaideen
Opening Hours:
11:00 AM to 2:00 AM
15. Darbar Restauarnt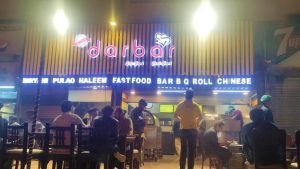 When it comes to the finest biryani in Karachi, Darbar Restaurant also stands out as a beloved choice among food enthusiasts. Renowned for its delectable cuisine and inviting ambiance, Darbar Restaurant consistently delivers an extraordinary dining experience for its patrons. Alongside their signature biryani, Darbar also offers a diverse range of culinary delights, including flavorful haleem, tantalizing pulao, mouthwatering Chinese dishes, delightful desserts, and refreshing beverages.
Address: Latif Plaza, A-1, Block 6 Karachi
Opening Hours:
11 am to 2 am
Conclusion
Pakistan holds a great image all around the world for the welcoming nature of its people and amazingly satisfying cuisines from around the country. Visit one of the spots at your convenience and experience the royalty of amazingly seasoned biryani rice with flavors that will leave your taste buds tempted and satisfied.
Also Read: