Looking for a magnificent Iftar buffet spread in Sargodha to share with your loved ones this year? Well, you're in luck! We have compiled a list of the best buffet places in Sargodha in this article. From sumptuous starters to delectable main courses and mouth-watering desserts, the eateries mentioned have a wide range of options waiting for you to break your fast in style. So, don't delay. Bring your loved ones to these eateries and have a blast iftar experience.
Best Iftar Buffets in Sargodha
Here are three of the best iftar buffets that you can experience in Sargodha during this Ramadan:
1. Nawaab Royal Restaurant
Head to Nawaab Royal Restaurant for a rewarding Ramadan culinary experience in Sargodha. Their Ramadan Iftar Buffet is featuring over 25 Pakistani, Chinese & Continental Cuisines. The main course includes mutton biryani, handi gosht, and chicken hara masala. However, if you're craving a taste of Chinese flavors, you can try their vegetable chowmein, Manchurian, and chicken fried rice too. Find the complete Iftar Buffet menu of Nawab Royal Restaurant below:
Buffet Price: PKR 2799 per head
Address: Lahore, Sargodha Rd, inside Charminar Event Complex, Sargodha, Punjab
Contact Number: 048 32144478
2. Dine divine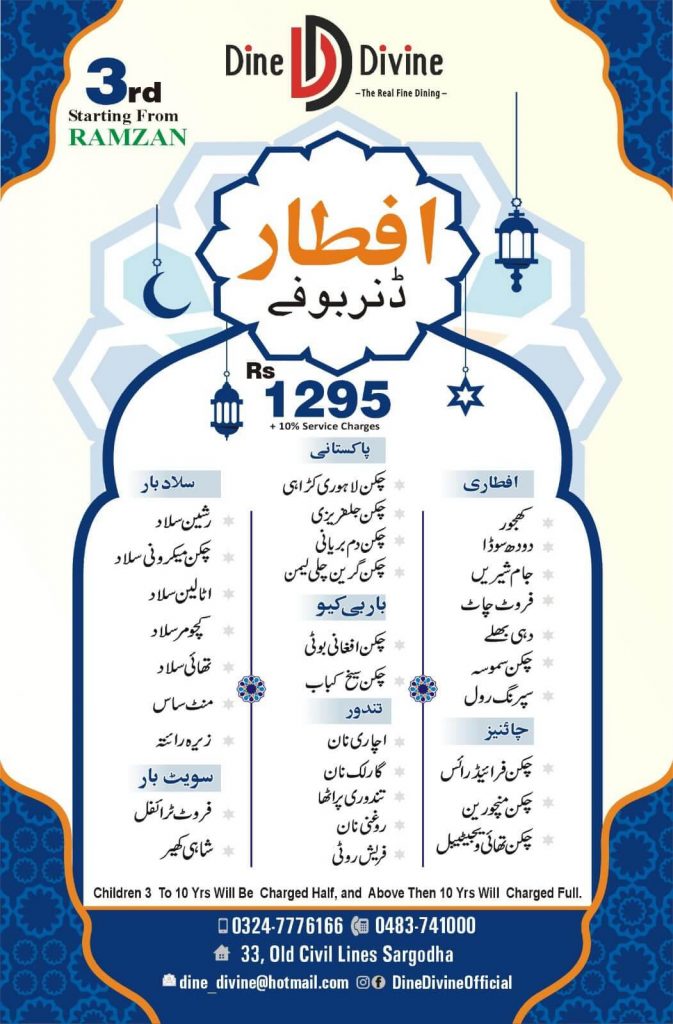 Looking for the perfect intimate spot to indulge in a delicious Iftar meal with your loved ones? Look no further than Dine Divine! With their extensive buffet menus for both sehri and iftar, you're sure to find something to satisfy your taste buds. What's more, Dine Divine's prices are relatively low compared to other eateries, making it an even more attractive option. So, don't hesitate to make a reservation and experience the culinary delights of Dine Divine with your loved ones.
Buffet Price: PKR 1295 per head
Address: 3MC5+J53, Mela Mandi Rd, Tariqabad, Sargodha, Punjab
Contact Number: 048 3741000
3. Saqafat Bakery
Saqafat Bakery, located in the heart of Sargodha, is widely considered to be one of the best bakeries in the city. Whether you are in the mood for pizza, steak, pasta, or burgers, Saqafat Bakery Iftar Buffet has got you covered. In addition to these savory options, the buffet also includes a variety of traditional iftar favorites such as pakoras, dates, and fruit chat. What's more, you can indulge in sweet treats like kheer, pastries, and brownie in the end to round off your meal.
Buffet Price: PKR 1495 per head
Braches: University Road, Farooq Colony | Zafar Ullah Chowk,
Contact Number: 0325 0252992
Conclusion
Whether you are looking for an upscale dining experience or a more casual setting, the options on this list are sure to satisfy your cravings. Next, learn about Iftar buffet places in lahore.