Ismail ibn Musa Menk a famous religious scholar from Zimbabwe, recently visited the Sindh province of Pakistan as a delegate of the UK-based charity organization, the Abdullah Aid Charity.
Mufti Menk shared a video with his followers on Instagram and showed homeless flood victims taking refuge at the riverbanks.
He urged his followers to donate, so the homeless flood affectees can be offered tents as shelter. He encouraged people to donate £100 per tent to either the Abdullah Aid Charity or any other reliable charity they want to.
Considering the millions of displaced people in Pakistan and the urgent need for aid, Mufti Menk apologized to his followers for not catering to any unrelated meetings at the moment.
Mufti Menk Urges People To Support Flood Affectees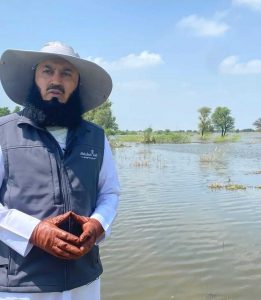 Sharing videos of flood victims Mufti Menk said that he had only one intention and that was to reach out to the needy to deliver some aid and create awareness about the plight of the millions and the need for urgent support.
He stated that the situation in Pakistan is currently"unimaginable". He added that the affected will have to be assisted for the next few years as Pakistan moves towards rehabilitation. 
33 Million People Displaced in Pakistan
Currently, people need shelter, food, clean drinking water, toilets, and medicines, according to authorities.
Record monsoon rains combined with glacial melt in northern Pakistan have triggered the flooding that has impacted nearly 33 million people in the South Asian nation of 220 million, sweeping away homes, commercial buildings, farms, livestock, crops, bridges, and roads, with damages estimated at $30 billion.
While the destruction is evident, there are steps being taken to mitigate the effects of the heavy floods.
Check out MDA Announces to Establish Tent City for Flood Victims in Karachi to see the efforts in Karachi and if you want to lend a helping hand, read the List of NGOs Working in Flood Relief Program.