Health care facilities are one of the most suffered sectors in Pakistan and various Governments have taken steps to make it better and after a lot of work, it has been improved in the past few years. Since Islamabad is the capital of Pakistan therefore the health care facilities are pretty good here. There are various Government and Private hospitals in Islamabad that can give you all kinds of treatments you might need.
Private Hospitals in Islamabad
Here is the list of top private hospitals in Islamabad, that you can visit at the time of need:
| | | |
| --- | --- | --- |
| Private Hospitals in Islamabad | Address | Contact Number |
| Shifa International Hospital | Patras Bukhari Road, H-8/4, Islamabad. | 051 8463000 |
| Ali Medical Centre | Kohistan Road, F-8 Markaz, Islamabad. | 051 8090200 |
| MaxHealth Hospital | 12-K, G-8 Markaz, Islamabad. | 051 8440056 |
| Quaid-e-Azam International Hospital | Peshawar Road, H-13, Islamabad. | 051 8449100 |
| Kulsum International Hospital | Jinnah Avenue, G-6/2 Blue Area, Islamabad. | 051 8446666 |
| UHealth International Hospital | DHA Phase 2, Main GT Road, Islamabad. | 051 3757523 |
| MEDICSI | Saudi Pak Tower, Islamabad. | 051 111111125 |
| Maroof International Hospital | F-10 Markaz, Islamabad. | 051 111644911 |
| International Medical Centre | FECHS E11/2, Islamabad. | 051 2304941 |
| Aziz Medical Centre | Street 16, F6/3, Islamabad. | 051 2873191 |
Shifa International Hospital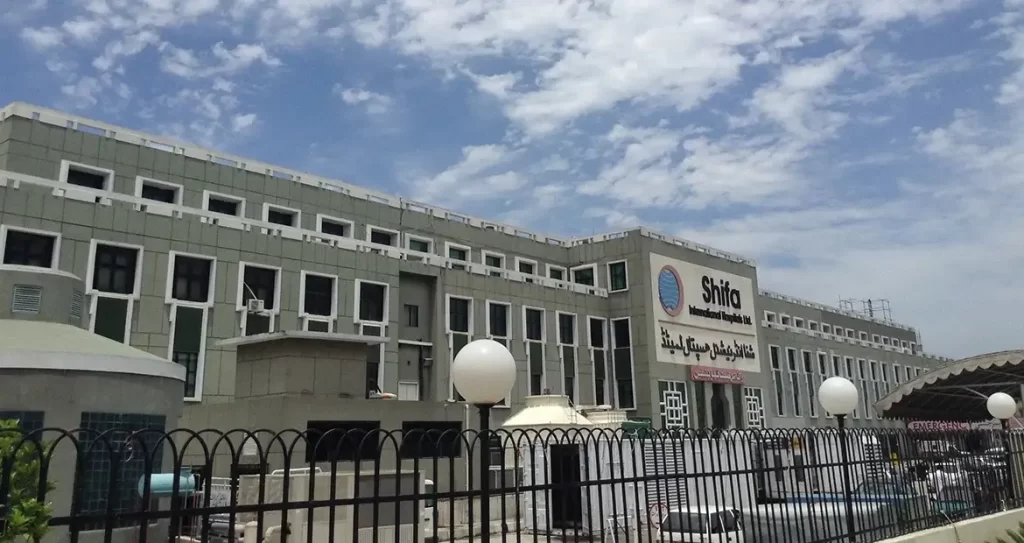 On September 20, 1987, the Hospital was established as a Private Limited Company, which was later transformed to a Public Limited Company on October 12, 1989. The first Shifa office was created at Dr. Zaheer Ahmad's apartment in Islamabad's sector F-8/3. It was later relocated to a rented location in Islamabad's Blue Area, and the site office building was completed in January 1988.
It has cutting-edge facilities and highly trained medical personnel. Shifa International runs a network of medical labs in addition to hospitals. A wide range of clinical and diagnostic services are available at the hospital.
Shifa International Hospital provides following services:
Audiology.
Cardiology.
Dermatology
Endocrinology & Diabetes.
Executive Health Clinics.
Emergency Medicine/ Services.
Gastroenterology & Hepatology.
Geriatric Care Services.
Stroke centre
Nephrology
Infectious Disease
Psychiatry
Oncology
Nutrition and Dietetics
Palliative Care
Dietiatics
Pulmonology
Rehabilitation Services
Rheumatology
Paediatrics
Palliative Care
Location: Patras Bukhari Road, H-8/4, Islamabad.
Contact: 051 8463000
Ali Medical Centre
Ali Medical Centre is a state-of-the-art multi-specialty hospital with 72 beds. It is strategically placed in Islamabad, Pakistan, in the sector F-8 Markaz. Modern operating theatres, an Intensive Care Unit, a Neonatal Intensive Care Unit, and labour and delivery rooms are all part of the facility. A highly qualified and experienced team of Consultants, Doctors, Nurses, Paramedical Staff, and other Professionals oversee the hospital's numerous departments and guarantee that patients receive high-quality medical care. To deliver world-class health treatment, the hospital is outfitted with cutting-edge technology and sophisticated equipment.
This hospital's visionaries ensured that people from all walks of life could receive the greatest possible health care.
Ali Medical Centre provides following services to the patients:
Dental Service
Dialysis Unit
Cosmetology
Laser Unit
Eye Clinic
Endoscopy
Dietician Service
Day Care
Vaccination
Physiotherapy
Hair Transplant
Kidney Transplant
Labour Room
Neonatal ICU
Operation Theatres
Recovery Room
Mammography
MRI
X Rays
Blood Bank
Child Development
Location: Kohistan Road, F-8 Markaz, Islamabad.
Contact: 051 8090200
MaxHealth Hospital
It is a project of Riphah International Hospital . They have a capacity of 50 beds and a staff of highly qualified professionals. Maxhealth is the only spatiality hospital in the twin cities, and it is supervised by top-notch doctors and professors. They feature a well-equipped ICU, NICU, Emergency Department, Labour Room, Dialysis, Occupational Therapy, and Burn Centre.
The MaxHealth Hospital is designed to give each member of your family timely, responsive, safe, and high-quality services all under one roof. Their expert consultants and professional teams are dedicated to providing you with the greatest service experience possible by providing compassionate treatment in a patient-friendly environment.
The MaxHealth hospital has following services:
Emergency
Pharmacy
Renal Transplant Centre
Burn Centre
NeoNatal ICU
Dialysis Unit
Operation Theatre
ERCP
Endoscopy
Ultrasound
Xray
CT scans
Pathology Lab
CATH Lab
Dental Units
Location: 12-K, G-8 Markaz, Islamabad.
Contact: 051 8440056
Quaid-e-Azam International Hospital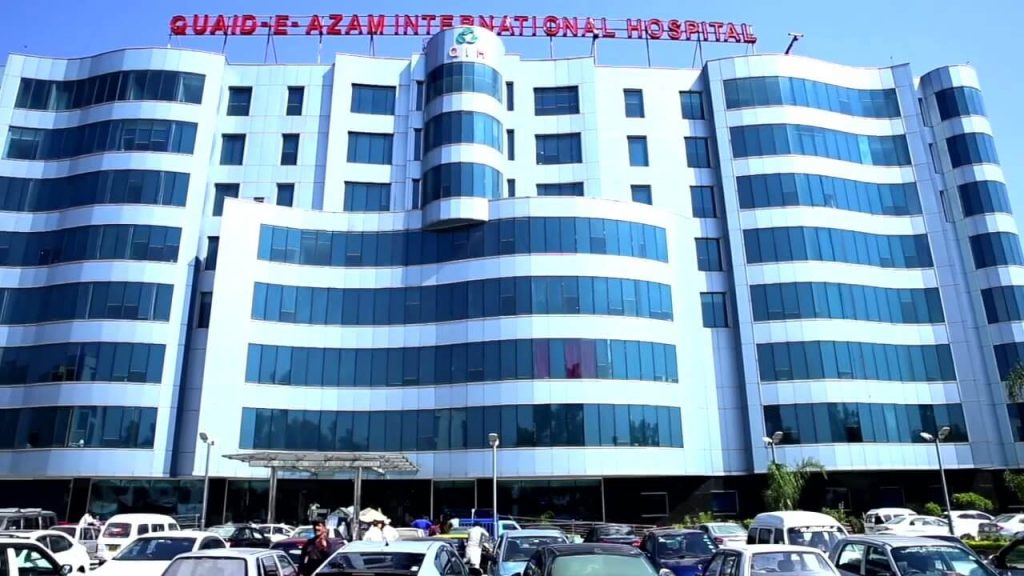 The Quaid-e-Azam International Hospital (QIH) is a project of Global Health Services, a public limited company (unquoted) registered with the Securities and Exchange Commission of Pakistan (SECP). QIH is a state-of-the-art 400-bed hospital located near Golra morr on Peshawar Road in Islamabad. This hospital is not only conveniently positioned to serve the residents of Rawalpindi and Islamabad, but it is also accessible to all of the country's exits, including highways and motorways to KPK, Punjab, Kashmir, and Afghanistan.
The services provided by Quaid-e-Azam International Hospital are:
Anesthesiology
Audiology
Bariatric Surgery
Cardiology
Haematology and Bone Marrow Transplant
Dentistry
Dermatology
Dietetics
Endocrinology
ENT
Endocrine and Breast Surgery
Gastroenterology
Geriatrics
Gynae'
Liver Surgery
Neurology
Neurosurgery
Medicine
Oncology
Physiotherapy
Psychiatry
Urology
Paediatrics Surgery
Location: Peshawar Road, H-13, Islamabad.
Contact: 051 8449100
Kulsum International Hospital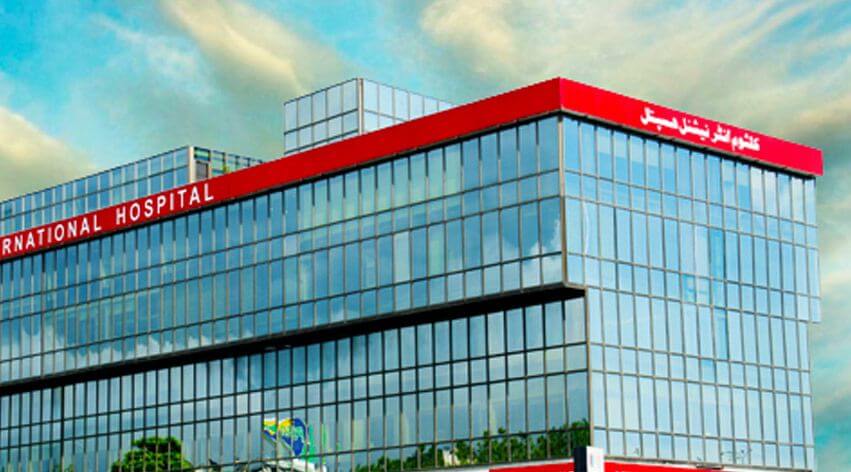 Kulsum International Hospital is one of Islamabad's most affordable private hospitals having 67 beds. It is a good facility for cardiac and general health treatment. The most prominent services offered are Physical therapy, cardiac rehabilitation, and nutrition. Emergency services are available around the clock at Kulsum International Hospital, which provides general and cardiac care. It is their goal to be a regional leader in healthcare providers, with a focus on quality and patient safety.
Islamabad's Kulsum International Hospital is easily accessible from everywhere in the city. Their layout makes it easier for patients to go around, their methods promote family engagement in the healing process, and their setting is conducive to the well-being of both patients and those who care for them. ICU services at their facilities have been excellent for patients in critical condition. It is possible to get a diagnostic test at Kulsum Diagnostics whether you're a patient in the hospital or not.
Kulsum International Hospital attracts patients for its following services:
Cardiology
Pulmonology
Gastroenterology
Pathology
Radiology
General and Laparoscopic Surgery
General Medicine
Location: Jinnah Avenue, G-6/2 Blue Area, Islamabad.
Contact: 051 8446666
UHealth International Hospital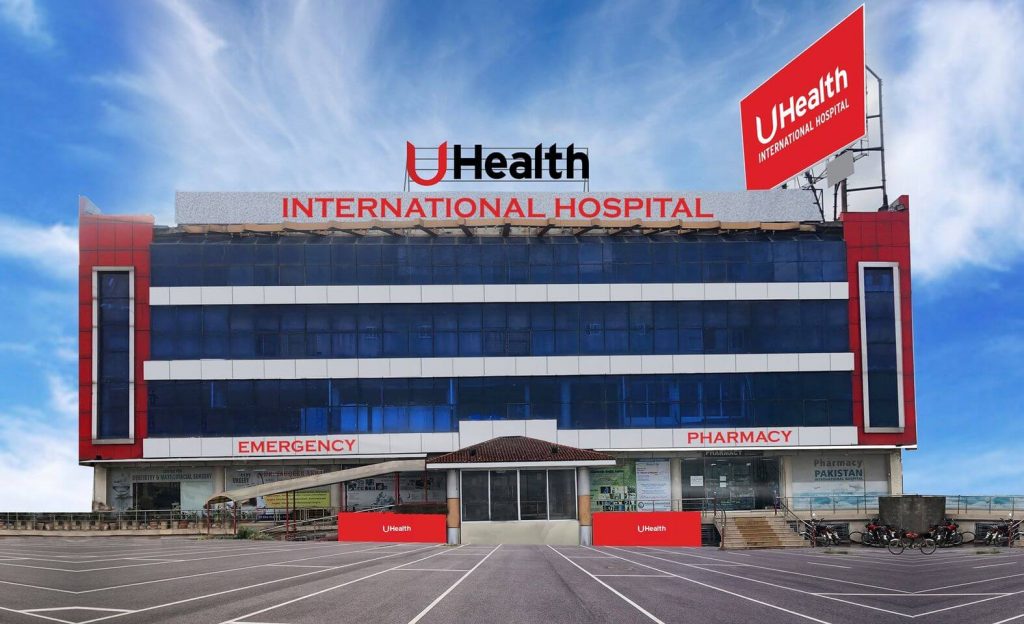 UHealth Group has over a decade of expertise in the healthcare industry and is known for offering high-quality care and valuable experience to all domestic patients via TeleMedicine. Discovery, innovation, and a strong responsibility for the health of communities drive their healthcare products, which are backed up by a team of compassionate and devoted medical professionals with extensive expertise and experience in their fields.
The hospital is offering following services:
Cardiologist
Orthopaedics
Pulmonologist
Paediatrician
Medical Specialist
Ophthalmologist
ENT
Gynaecology
Physiotherapy
Dental Services
Plastic Services
Neuropsychiatry
Location: DHA Phase 2, Main GT Road, Islamabad.

Contact: 051 3757523
MEDICSI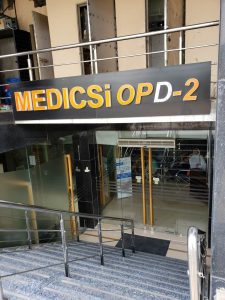 On the Jinnah avenue in Islamabad is the MEDICSI hospital, which provides health care from hygienic doctors who are all highly skilled and educated experts in their respective specialties. When it comes to value, these professionals are unmatched. Cholecystectomy, Cervical Screening, Infertility, Obstetrics/Gynaecology Consultation, Cancer Screening and Operative Hysteroscopy are some of the most popular treatments.
MEDICSI provides you with the highest quality medical care in all main specialities, including obstetrics and gynaecology, surgery, medicine, and paediatrics. The hospital has risen to the challenge of providing relief from pain. Only by appointment will out-patient facilities be provided in the evenings. There is a strong focus on patient care across each facility, which is provided in a comfortable setting.
Top specialties in MEDICSI are:
Anaesthetic
Chest Specialist
Pulmonologist
Radiologist
General Physician
Paediatrician
Gynaecologist
Location: Saudi Pak Tower, Islamabad.
Contact: 051 111111125
Maroof International Hospital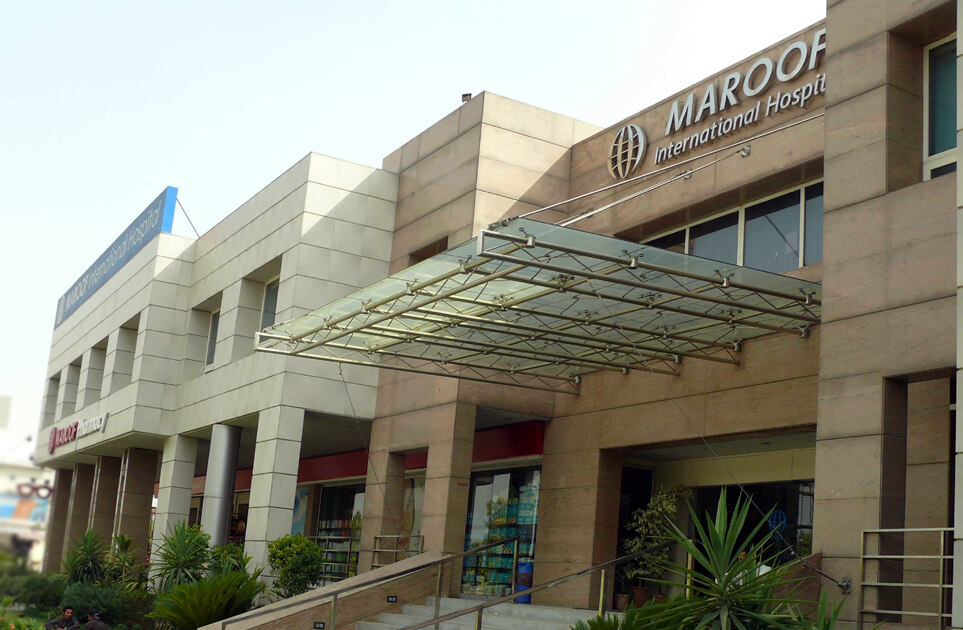 Maroof International Hospital is one of Islamabad's premier hospitals, dedicated to serving the needs of the people with the highest quality medical care. The hospital has been working hard to deliver top-notch health care services since it opened in 2009. The most popular services include; surgeries using the newest equipment and technology, round-the-clock Accident & Emergency Service, Executive, Premiere, Private, Semi-Private, and Shared Rooms, round-the-clock ambulance and Advance Laboratory Facility, and more.
Maroof International Hospital has seven operation theatres, which are equipped with the newest equipment. Hemodialysis is also available on an outpatient basis at this facility. For patients and their loved ones, the ER/Emergency at this hospital creates the sense of a warm and welcoming environment. There is a courteous, knowledgeable, and compassionate staff working in both outpatient and inpatient departments.
Maroof International Hospital has the following departments:
Paediatric
Psychiatry
Cardiology
Gastroenterology
ENT
Rehabilitation
Dental
Nephrology
Orthopaedics
Dermatology
Ophthalmology
Gynaecology and Obstetrician
Internal Medicine
Anaesthesiology
Cancer Care Centre
General Surgery
Cardiothoracic Surgery
Location: F-10 Markaz, Islamabad.
Contact: 051 111644911
Islamabad International Hospital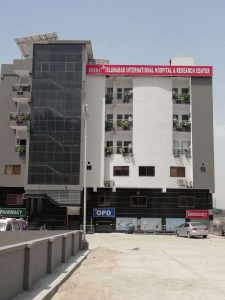 There are numerous specialised centres at Islamabad International Hospital that offer a wide range of comprehensive treatment choices for a variety of health conditions. Over 150 physicians from the United States, Canada, and Europe are involved in providing these services, which include orthopaedics, cardiology, oncology, women's health, and paediatrics. As a result of its advanced technology, the hospital has been ranked among the top healthcare providers in the area.
By building a patient-centred atmosphere and focusing on a holistic approach to medicine and caring for the patient's body, mind, and soul, International Medical Centre hopes to become a trusted healthcare institution in the region.
This hospital has various clinics including:
Orthopaedics
Urology
Cardiology
Gynaecology
Neurosurgery
Gastroenterology
Medical Specialist
Dermatology
General Laparoscopic Surgery
Paediatrics
ENT
Radiology
Location: FECHS E11/2, Islamabad.
Contact: 051 2304941
Aziz Medical Centre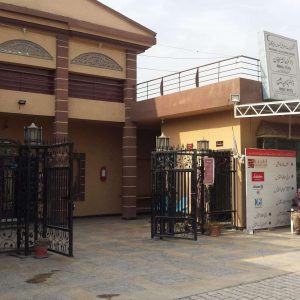 Dr. Ali Raza Jan founded Aziz Medical Centre, formerly known as Aziz Nursing Home, in Rawalpindi in 1962. Aziz Medical Centre in Islamabad was developed as a contemporary out-patient clinic after serving the community for nearly half a century. This clinic has the most up-to-date diagnostic imaging x-ray unit, a state-of-the-art fully automated laboratory, and a minor trauma and emergency facility. Dr. Ahmed Raza Jan, the clinic's director, and his competent staff are on hand to assist patients and greet them with a smile and the highest care.
The Medical centre has following services:
Trauma Centre
Diagnostic Unit
Screening Tests
Medical Examination
TB Screening
Vaccination
DNA Sample Collection
Outpatient Appointment
Location: Street 16, F6/3, Islamabad.
Contact: 051 2873191
Stay Fit Stay Healthy!
Private hospitals can provide the best health care facilities to you and your loved ones. Although these hospitals are a bit expensive, then again health comes first, so spending a little extra amount of money will save you from many issues.