To the delight of all the music lovers, the Swedish based audio streaming platform, Spotify might soon be coming to Pakistan.
On a Saturday evening, 15 November 2020, Spotify created a verified Instagram account for Pakistan. Yes! An account with Instagram's infamous blue tick, so it definitely can't be faked. Even though the company did not announce or issue any updates, regarding the launch of their services in the country, the account instantly gathered more than 19,000 followers on the platform.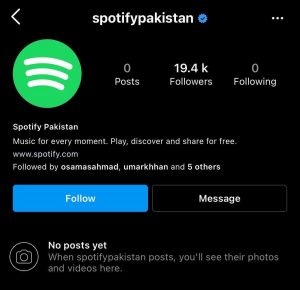 Does this mean, we Pakistanis are eager for Spotify to come? I think we definitely are.
At present, Spotify is one of the largest music sharing platforms in the world, with over 144 million subscribers. However, both Apple Music and Spotify have a neck to neck competition with each other but it seems like Spotify is soon going to take the lead and Apple Music behind.
Spotify is a completely free software to download, available on both Android and Apple devices. However, you have to subscribe to the premium for additional features such as Ad-free music, play any song on-demand, download and listen to songs offline and, enjoy high-quality music just for, $9.99 per month.
But that's not it! Spotify offers 4 different plans as well. You can select as per your need.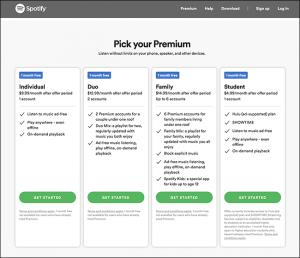 If the platform is launched in Pakistan, the users will be able to enjoy an experience that has over 60 million tracks, 4 billion playlists, and featuring local artists.
What Does This Mean For Pakistan?
This is an amazing opportunity for artists here in Pakistan. You ask why? Well not only will the Pakistani artists will be able to upload their music, making a following on the platform but will also be able to share their music with the existing Spotify community. Which will allow the users to reach a broader audience through this platform. From a general perspective, such a big Swedish company, considering to launch its app in Pakistan is huge within itself.
Why Spotify?
We've seen many audio streaming platforms in the past, one of the most popular streaming platforms was SoundCloud, but it lost its popularity with time. With Spotify, you have the ability to stream original music of any artist of your choice of any genre. Let it be pop, rock, R&B, rap, or any other genre. The other interesting feature of this audio streaming app is that, on every Friday of every week, artists release new music which is available on the platform under the category of 'New releases'. Apart from this one of the most interesting and unique features of this app is its Podcasts. Spotify has grown its catalog for podcasts to more than a million and almost all genres of podcasts are available.
Isn't this excited? I don't know if you guys are excited or not but we definitely are! However, this information still needs to be confirmed but we're quite sure that Spotify is coming to Pakistan. Sooner or later.