Healthy, thick hair is not only important for your overall hygiene, but also for your appearance. It improves your personality, complements your features, and sets the tone for the rest of your outfit. And, certainly, it doesn't matter if they are straight or curly, black or brown, short or long; what really matters is how beautiful, thick, and groomed they are.
Unfortunately, hair loss has become a very common concern these days. Hormonal fluctuations, autoimmune diseases, thyroid disorders, and stress are all influencing hair growth in millions of people today. One survey even found that nearly 35 million men and 21 million women get affected by this problem every year.
Well, if you also are dealing with this problem, we've got you covered. We've compiled some of the expert-approved tips in this post to help you naturally grow long, thick hair in no time. All of these tips work like magic for hair loss sufferers, so we believe you should try them as well. Keep reading to learn more!
12 Easy and Simple Tips to Make Your Hair Grow
Wondering how to improve your hair growth? Try these effective tips and get that hair you can flaunt really soon.
Massage your scalp with Aloe vera gel
Shampoo Less
Increase Your Protein Consumption
Apply Egg Mask
Try Peppermint
Replace Your Pillowcase
Use The Inversion Method
Get a Trim Regularly
Apply Onion Juice
Find Fatty Fish
Give Green Tea a Shot
Drink Coffee
Massage your Scalp with Aloe Vera Gel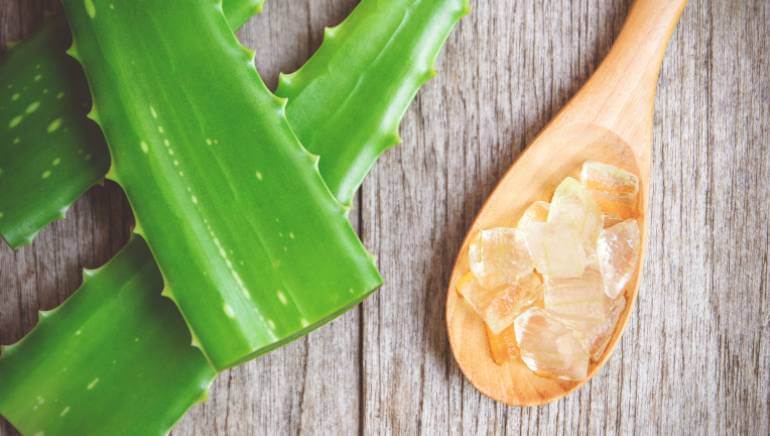 Aloe vera is one of the best natural hair loss methods. Aloe vera soothes and relaxes a damaged scalp, promoting a healthy environment for hair follicles to regenerate and thrive. Aloe also aids in the removal of sebum, an oil that clogs follicles and hinders hair growth. Simply massage pure aloe vera gel straight along your scalp to successfully employ this natural hair loss remedy, or look for an aloe vera-based shampoo.
Shampoo Less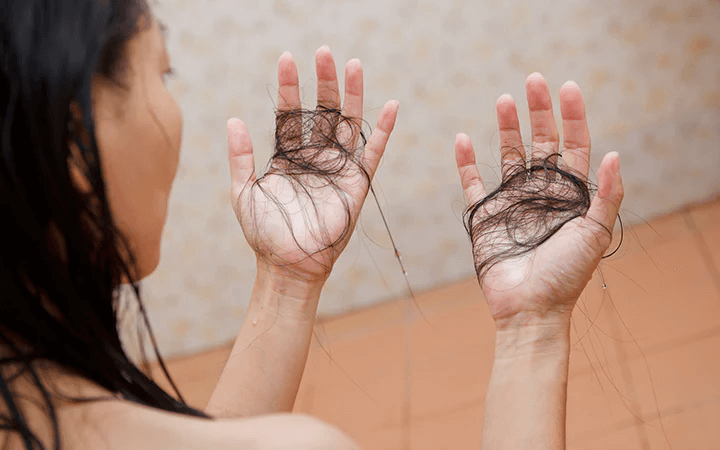 It's a popular myth that shampooing your hair every day is the key to lustrous, smooth hair. The truth, however, is totally different. Excessive shampooing strips your hair of its natural oil, leaving it dry and brittle. Shampooing twice a week, or at most every other day, is okay, but even then, be sure to oil your scalp before shampooing.
Increase Your Protein Consumption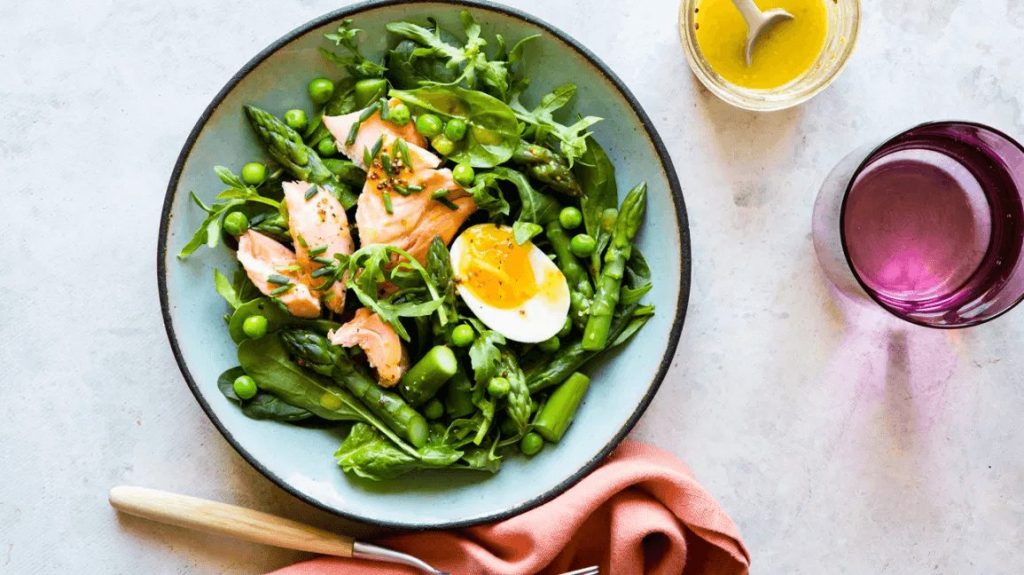 Because growth is not optimal when you restrict your food, you will shed hair strands. And with that, it is clear that good hair development necessitates a well-balanced diet rich in protein. Many dermatologists, in general, recommend that you should consume at least 50 grams of protein every day. Some cheap and healthy sources of protein include eggs, shrimp, fatty fish, almonds, and cottage cheese.
Apply Egg Mask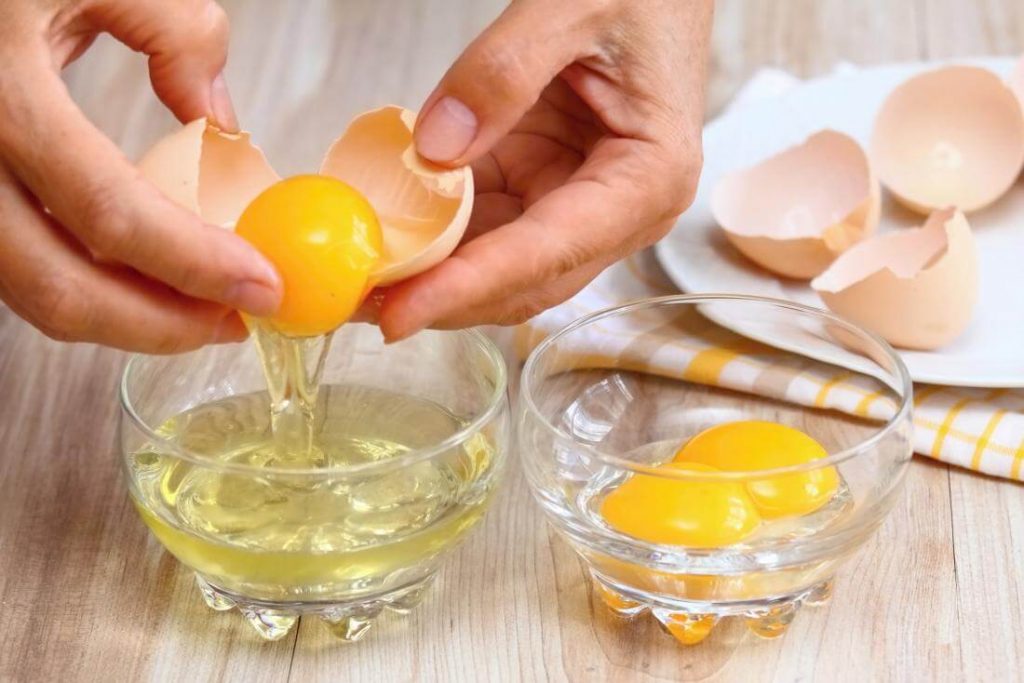 This is one of the ancient hair care practices. Eggs, which are rich in protein and biotin, will nourish and improve the texture of your damaged long locks. This remedy also aids in the prevention of baldness. In general, egg masks lower the risk of full baldness by moisturizing the scalp and encouraging follicle development.
Try Peppermint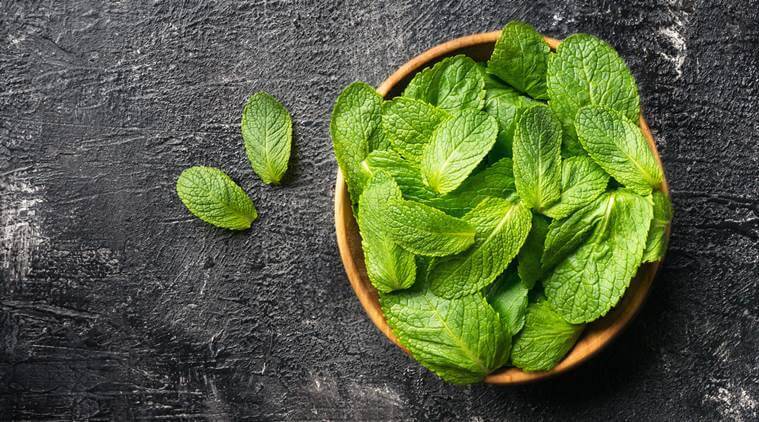 Another traditional herbal remedy for treating hair loss and promoting human hair growth is peppermint oil. The herb peppermint is well known for reducing itching and inflammation of the scalp since it has antifungal and anti-inflammatory properties. What's more, peppermint also increases blood flow and enhances the amount of nutrition the follicles receive. However, please remember to always use it with a carrier oil because doing so directly can irritate or create rashes.
Replace Your Pillowcase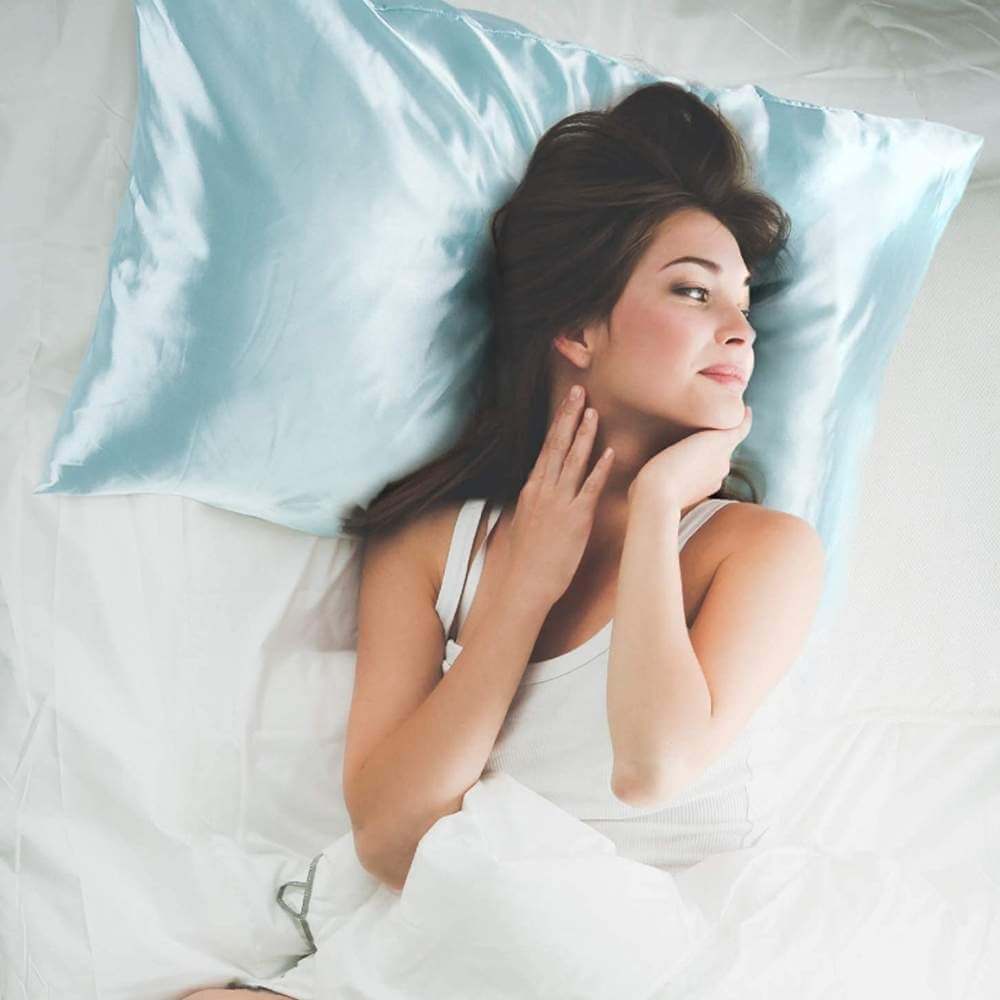 To nourish your hair while you sleep, use a sateen or silk pillowcase instead of a cotton pillowcase. Because cotton loses moisture and silk holds it when you sleep on a silk or satin pillowcase, the oils from your strands are retained rather than absorbed. This ultimately helps you keep your hair nourished and healthy.
Use The Inversion Method
If you've never heard of this strategy, you're in for a treat. Tilt your head down and massage your hair with the tips of your fingers while you shampoo. Blood will flow to your head as you massage, promoting scalp circulation. The majority of professionals generally advise hair loss sufferers to try this hack every time they wash their hair. This way they enhance blood circulation in their head and notice better hair growth.
Get a Trim Regularly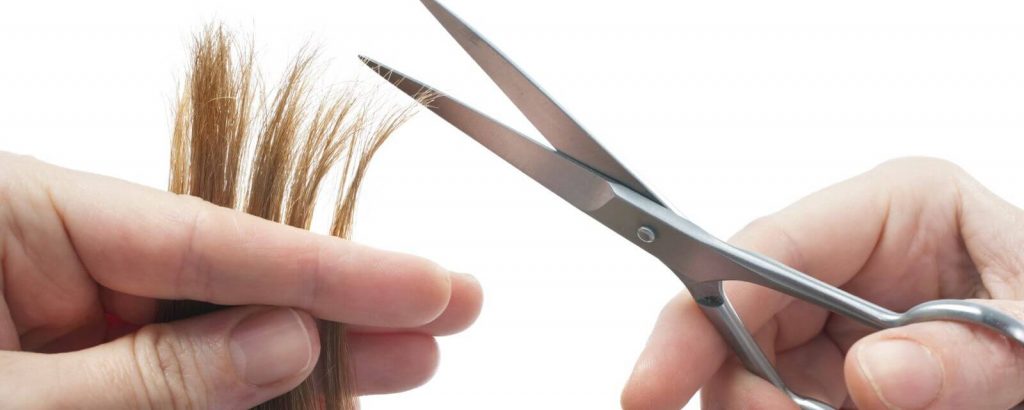 There are three phases our hair goes through. These include antigen, catagen and telogen. The antigen stage is when the cells in the hair roots are dividing quickly. During catagen, on the other hand, the outer root sheath shrinks and unites to the hair root. Telogen, the last stage, is marked by breakage, split ends, and hair loss. You can avoid this unpleasant period and promote hair growth by trimming your hair. Make appointments for regular hair trimming and watch your hair grow like never before.
Onion Juice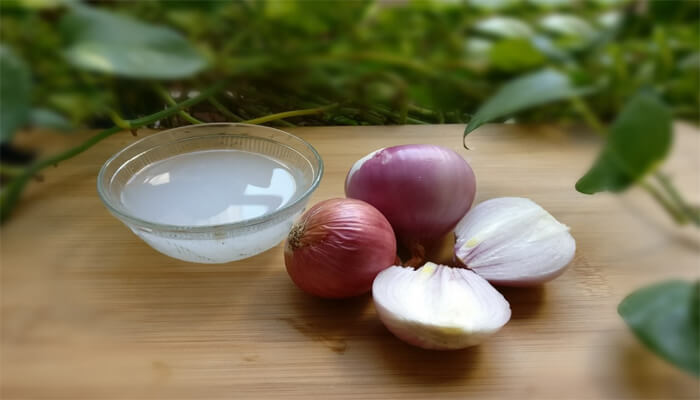 The high sulfur content of onion juice is also said to help the scalp's blood circulation. Although there isn't enough evidence to support claims that this remedy helps reduce hair loss, studies have indicated that applying onion juice to the hair and scalp may aid hair regrowth in persons with patchy hair loss.
Find Fatty Fish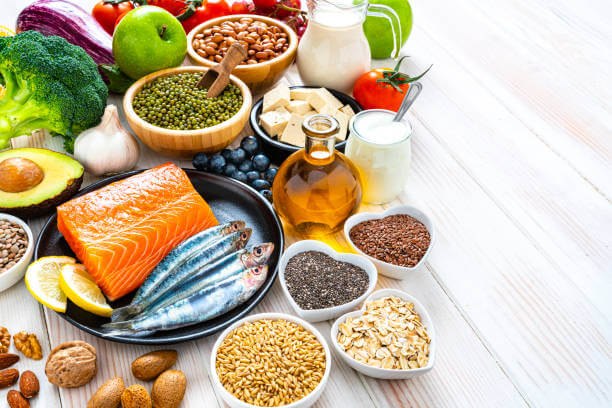 Essential omega-3 fatty acids can also promote scalp health and the strength and appearance of your hair. They have also been linked to better skin suppleness and are essential for the hydration and growth of skin tissue. By eating grilled salmon with a side of vibrant, fresh vegetables for lunch, you can increase the amount of beneficial fat in your diet.
Give Green Tea Shot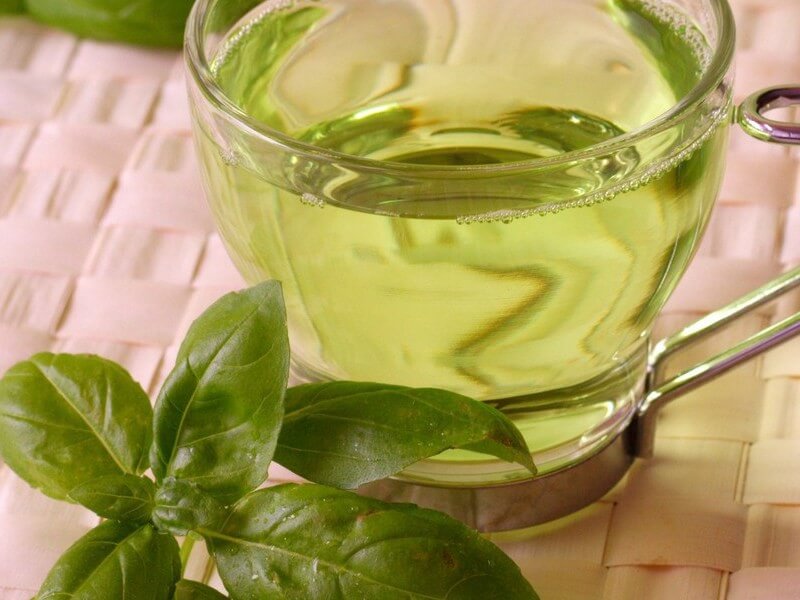 Still, experiencing hair loss? Don't worry, include green tea into your hair care routine, and watch the magic happen! Yes, ladies and gentlemen, your favorite beverage could function as a "wonder treatment" for your hair loss too! Green tea is not only widely accessible, but it also has very few, if any, negative side effects and is chemical-free. As for the method, a few green tea bags should be brewed for around 15 minutes in roughly half a liter of water. Then wait for some time for it to cool. Following a gentle shampoo wash, take the green tea and massage it into your scalp for ten minutes. Rinse your hair once again in cold water and get your hair back on track!
Drink Coffee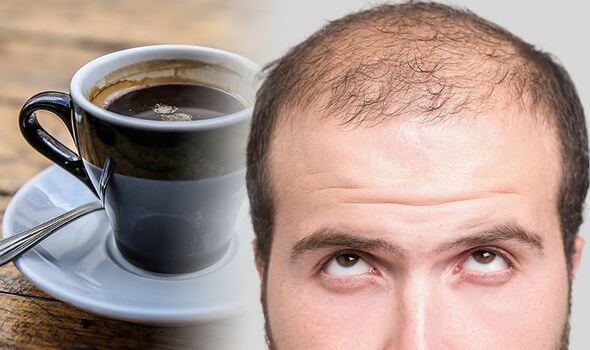 Coffee contains a lot of caffeine. And according to research, caffeine can lengthen the hair shaft and stimulate hair growth by extending the anagen phase. Along with protecting your hair from damage, coffee can give it a natural shine as well. Thus, whether you want to slow down hair thinning and make your hair shiny, use coffee. Please be aware, though, that consuming significant amounts of caffeine on a regular basis can lead to a number of health issues. In fact, consuming too much coffee is thought to be the second biggest cause of cancer.
PRP Therapy – A More Permanent Solution
If everything else fails, go for PRP therapy. It is a non-surgical, and natural cosmetic treatment that requires the use of your own blood. Precisely speaking, doctors create a platelet-rich plasma from the blood taken from your body and then inject it into your scalp. Results from PRP have always been encouraging. Patients noticed increased natural hair growth in just a few months. It is however important to note that you must receive these injections once every month for the next five to six months. This not only promotes hair growth but also aids in keeping the effects longer.
Your Best Hair Affair
It's not too much to ask to have the long, thick hair that so many people desire. But when pollution and dust worsen, your hair eventually loses its shine and becomes brittle. Keeping that in mind, we attempted to compile a few easy and effective tips for you to enhance hair development.
The best thing about these methods is that you don't even have to go too far as most of the ingredients can be found in your house. Yes, that's right. You can achieve the thick, luscious hair of your dreams without stepping out!